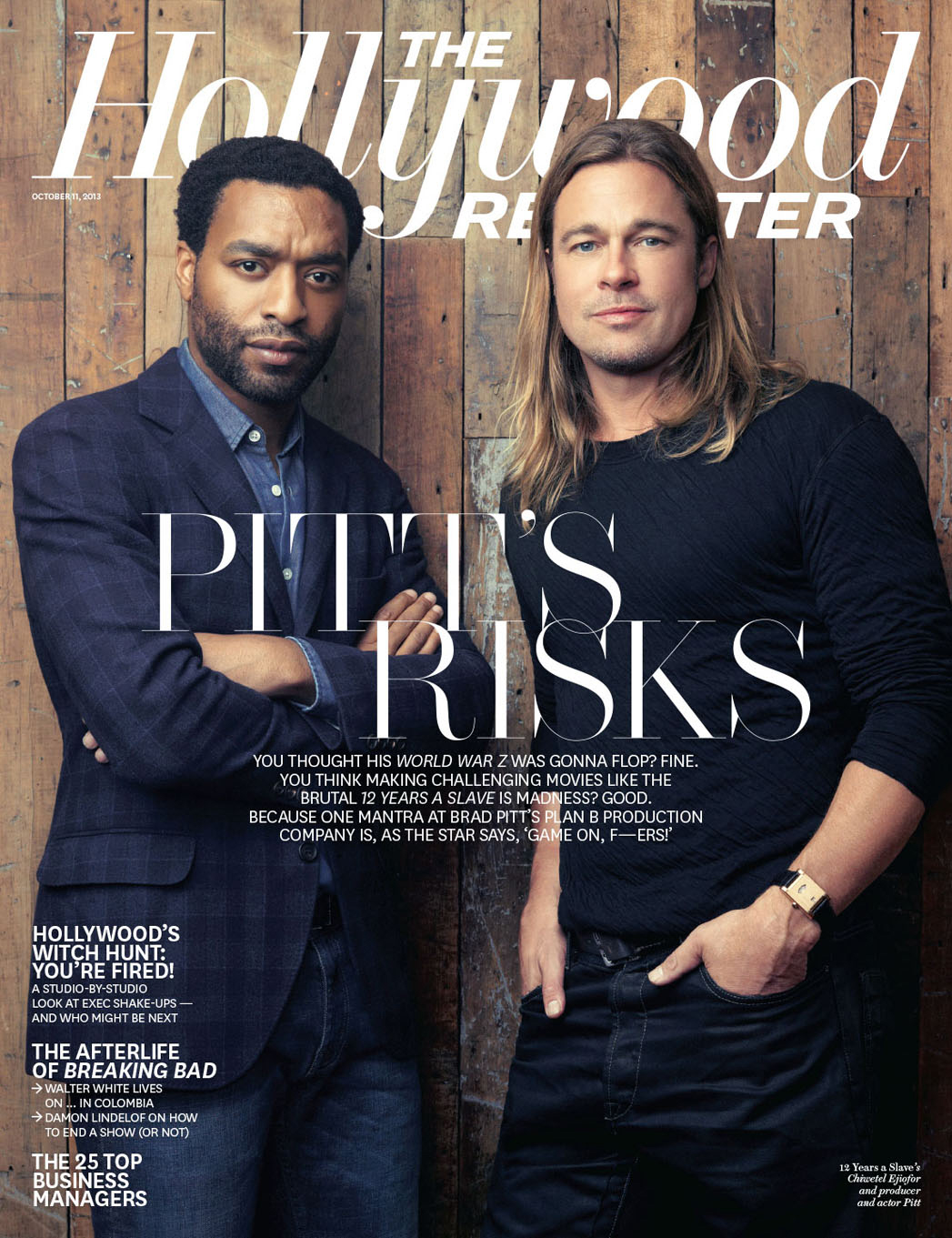 Unless you're a die-hard loonie for Brad Pitt or you're just fascinated by insidery-industry pieces, I wouldn't really suggest reading the new cover story from The Hollywood Reporter. THR is all about 12 Years a Slave – which I totally want to see, of course – but more than that, the piece is all about Brad Pitt and how he's an amazing producer and Plan B (his company) is the wave of the future. You can read the full piece here. I guess some gloating was in order, and everything has come together beautifully for Brad this year. He had two potential failures with World War Z and 12 Years a Slave, but both turned out beautifully. WWZ has made more than $500 million and 12 Years is a shoo-in for many Oscar nominations. After years of making artsy films that no one saw, Brad has finally come into his own as a producer. Which is the point of this story. Here are some highlights:
Brad on the criticism and bad press he received for WWZ and 12 Years: Pitt, rather than giving in to his critics, dug in his heels and thought, "Game on, f—ers."

On a WWZ sequel: "We are talking about it," says Pitt. "We are going to investigate a script. We have a lot of ideas we will cull from. Nobody is writing just yet, but we are compiling our ideas."

Brad's love of 1960s and '70s films: "I'm a fan of film first and was since I was a little boy sitting in Missouri," he notes. "I go back to One Flew Over the Cuckoo's Nest and All the President's Men. And Dr. Strangelove is still the funniest film I have ever seen." As to more recent work, he adds: "There Will Be Blood is one of my absolute favorites; incredible, a whole film dedicated to someone's hatred."

Meeting Steve McQueen (director of 12 Years): "We met in London over a couple of bottles of wine," recalls Pitt, "and ended up talking until the wee hours of the night about art and history — he was a video artist first." (McQueen, 43, is a recipient of Britain's Turner prize, its most prestigious award for an artist under age 50.)

Henry Louis Gates is a consultant on 12 Years!! The book, a best-seller that sold 27,000 copies when it was published in 1853, is one of a mere 101 "fugitive slave narratives" written before the Civil War, says Harvard University professor Henry Louis Gates, a consultant on the film. Of those, only this one "is the narrative of a free man who was kidnapped and manages in this case to be liberated."

Brad wants to be a producer more than an actor: "As I get older, I am enjoying more the producorial side of things — not being so forefront in the camera — the creativity of putting the pieces together."

Plan B's strategy: "We follow the storytellers, and our little garage band of a production company's mandate was [always] to help complex films get over the hill if they need a little push. We are in a fortunate position to do that."
Basically, Brad really wants an Oscar this year. And who knows, he might get it. I think there's probably a better chance that Brad will get an Oscar for producing 12 Years rather than Chiwetel Ejiofor for Best Actor. That's not a slam on Chiwetel – I just think that the buzz is about the whole movie rather than Chiwetel's performance in particular. That being said, Michael Fassbender has been getting singled out a lot, hasn't he? Unf. Please let Brad, Michael, Chiwetel, Idris Elba and Benedict Cumberbatch all get invitations to the Oscars! PLEASE.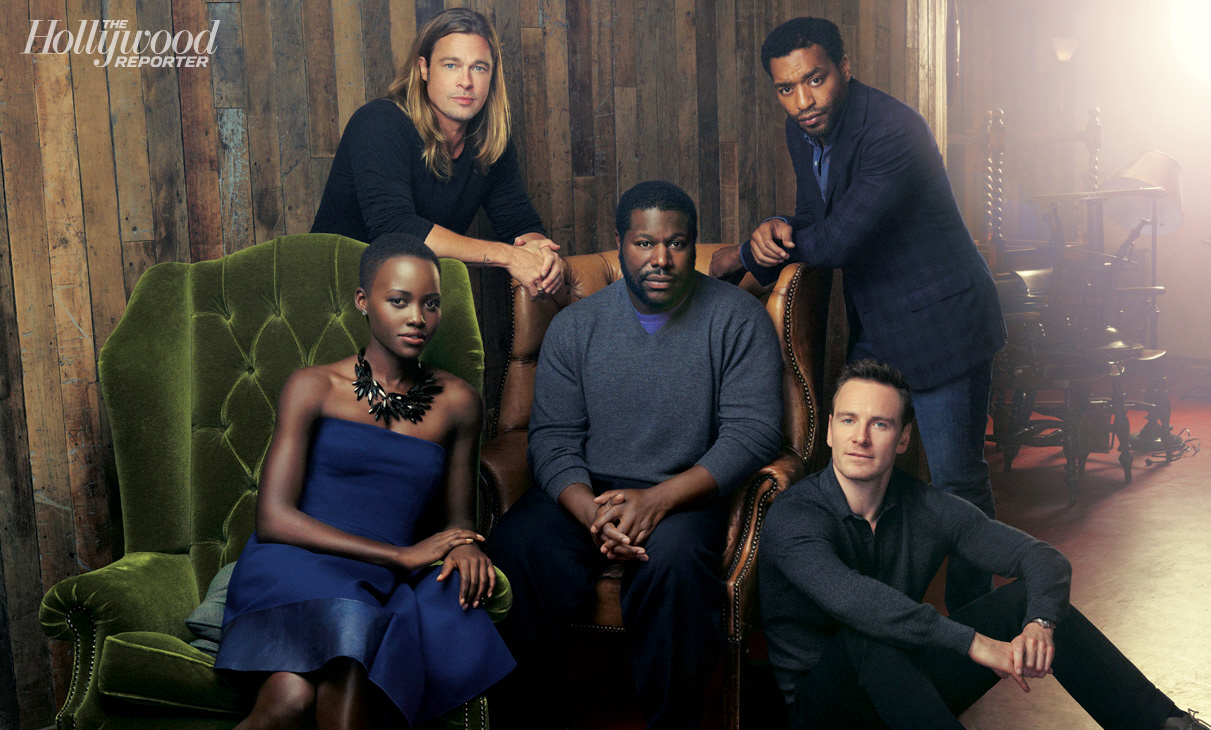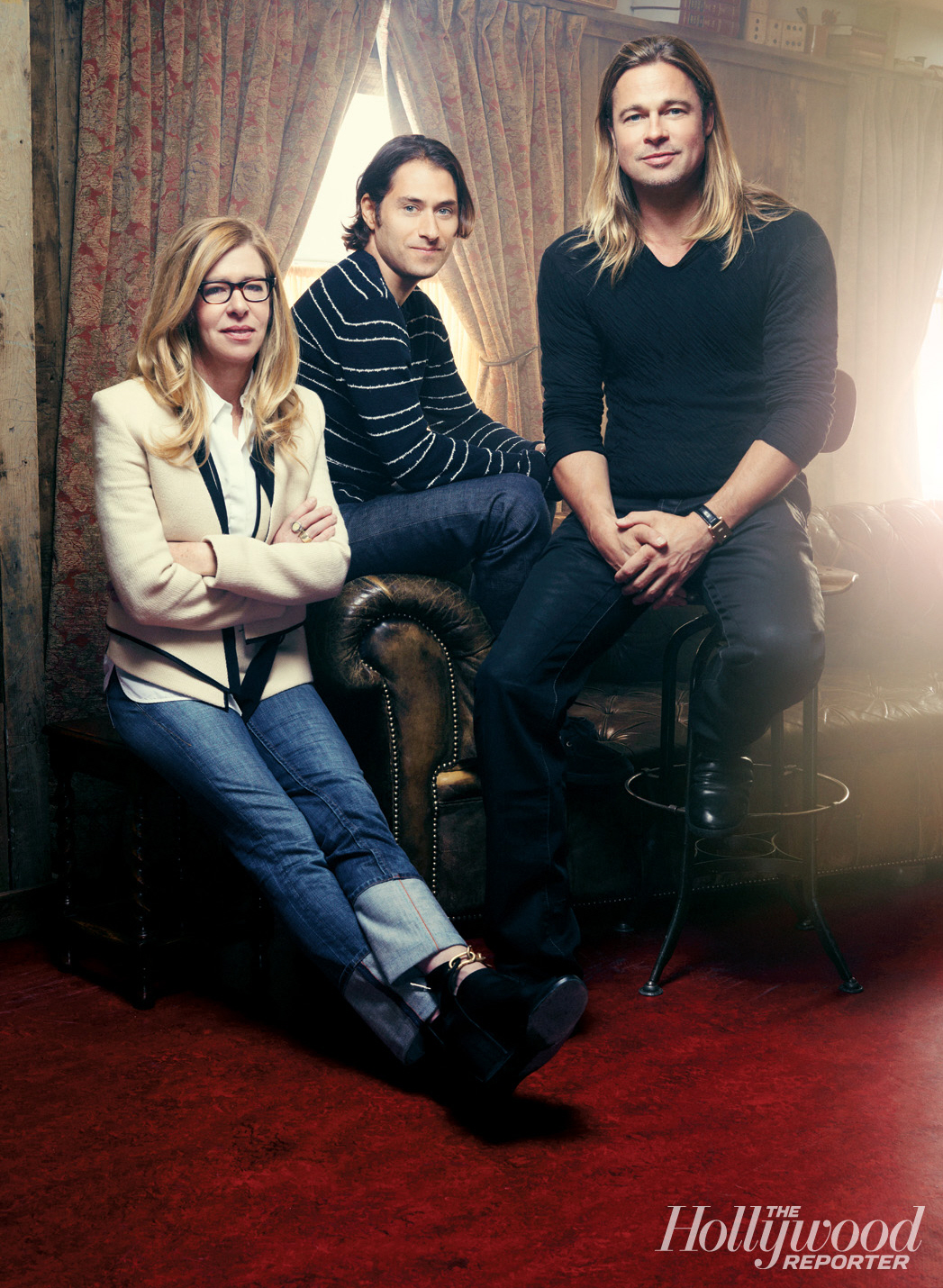 Photos courtesy of The Hollywood Reporter.