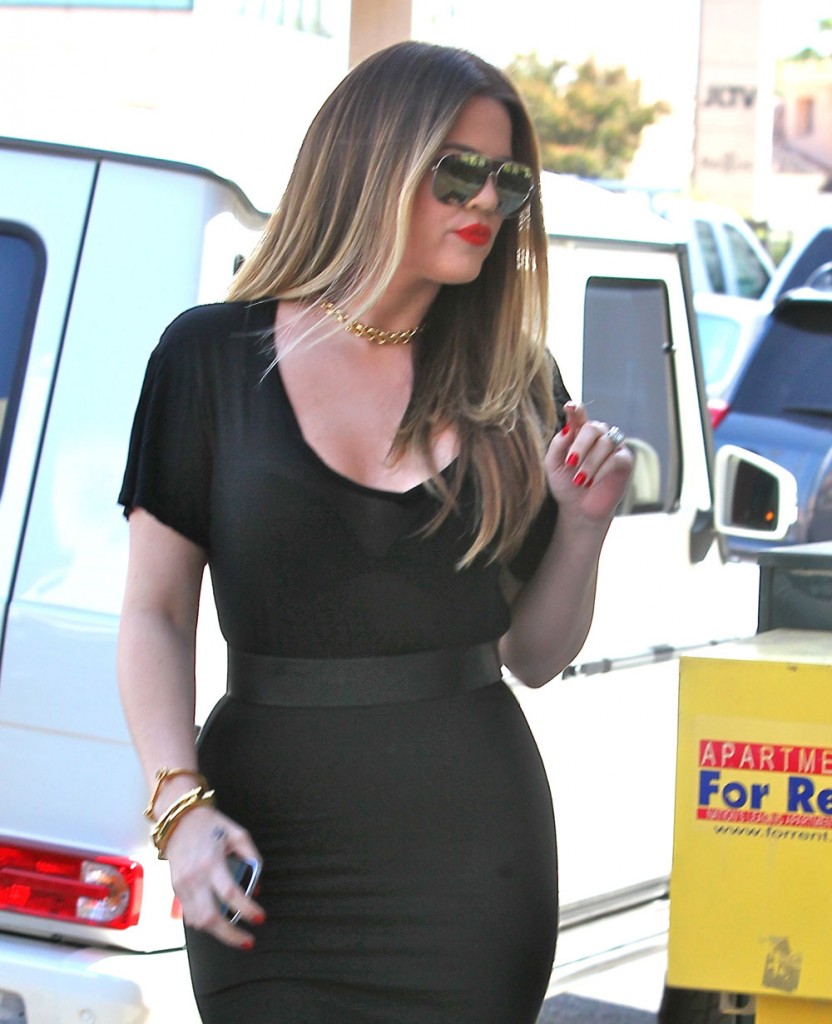 We haven't been covering the latest news on Khloe Kardashian and Lamar Odom because it's just sad. Lamar is a full blown addict now, and has been holed up smoking crack with a couple of women. His NBA career is probably over. Khloe wasn't able to contact him for days at a time, although she spoke to him on their anniversary and he visited her this week. Prior to that we heard that he had cheated on Khloe for years. So Lamar was unfaithful for a long time, but we heard that Khloe still loves him and was be willing to give him another chance if he goes to rehab. That's not going to happen, although Lamar is insisting that he's sober. TMZ ran a story yesterday claiming that Lamar had been sober for "five days," that he'd done it on his own, and that he swore he would be able to maintain his sobriety without rehab. Apparently Lamar went to see Khloe Tuesday to tell her this, and things quickly went downhill from there.
Khloe Kardashian had a nuclear confrontation with Lamar Odom that could be the last straw in their marriage … TMZ has learned.

As TMZ first reported … Lamar went to their Tarzana house Tuesday … to pick up some clothes and speak with Khloe. Now we know what was said … and what she found.

Sources connected with the couple tell TMZ … Lamar told her he had been sober for 3 days and planned to stay sober on his own … without going to rehab. We're told Khloe recoiled in anger, telling Lamar he was in denial and needed rehab. She also said she wanted nothing to do with him until he entered an inpatient program.

Our sources say at some point during the meeting, Khloe found a pipe with a stash that looked like crack in a baggie. It's not clear if she found it on his person or the clothes he was picking up from the house.

Sources close to Lamar tell us Khloe went ballistic, calling Lamar a "liar" and telling him, "I'm done with you." Khloe then threw him out of the house.

Our sources say Lamar seemed "out of it" during the meeting and even accused Khloe of stealing his stash.

As for the marriage … we're told Khloe has "not done anything legal yet," but, as she put it, finding the stash "was the last straw."
Khloe has had a lot of things happen in her marriage that I would have considered the last straw. The first mistress, for instance. After all she's gone through, it sounds like she's ready to throw in the towel. There are stories in both US Magazine and People, the celebrity mouthpiece magazines, that Khloe is about to file for divorce. US has run several lengthy print stories about Khloe's marriage, and I do believe that they have a solid source. That goes without saying for People.
Us confirms TMZ's story that Khloe and Lamar met on Tuesday (not that they fought specifically), which is also backed up by a paparazzo who was camped outside Khloe's place at the time. Us also claims that prior to that, on Lamar and Khloe's anniversary, Khloe called Lamar and told him she was planning to file for divorce. A source tells US that "Khloe was very firm. She think it's best they both move on." People Mag reports that Khloe "is finally accepting her marriage may be over."
Meanwhile Khloe's family has been urging her to divorce Lamar. Supposedly Kim told Khloe that Lamar was "damaging their brand" and that she needed to leave him. This left Khloe upset and in tears. Kim may have been right. The ratings for Keeping Up With The Kardashians are down overall.
This makes me wonder, is this Khloe's decision to divorce Lamar or is her family making these announcements to try and get her to cave? I hope she's calling the shots. I want her to divorce Lamar, but I also want her to be in control of her life.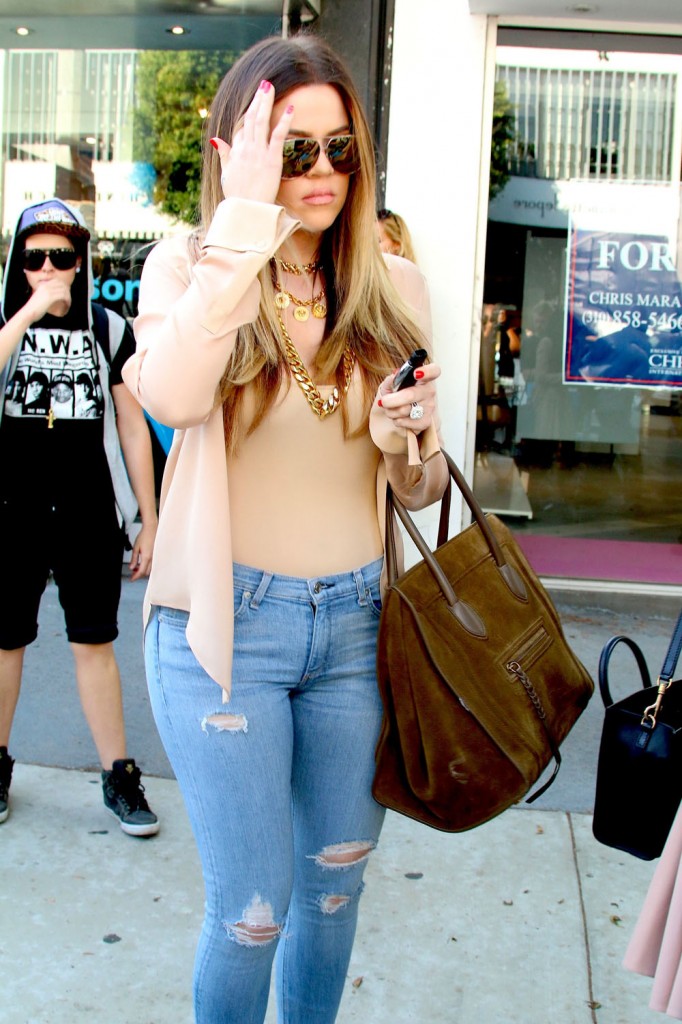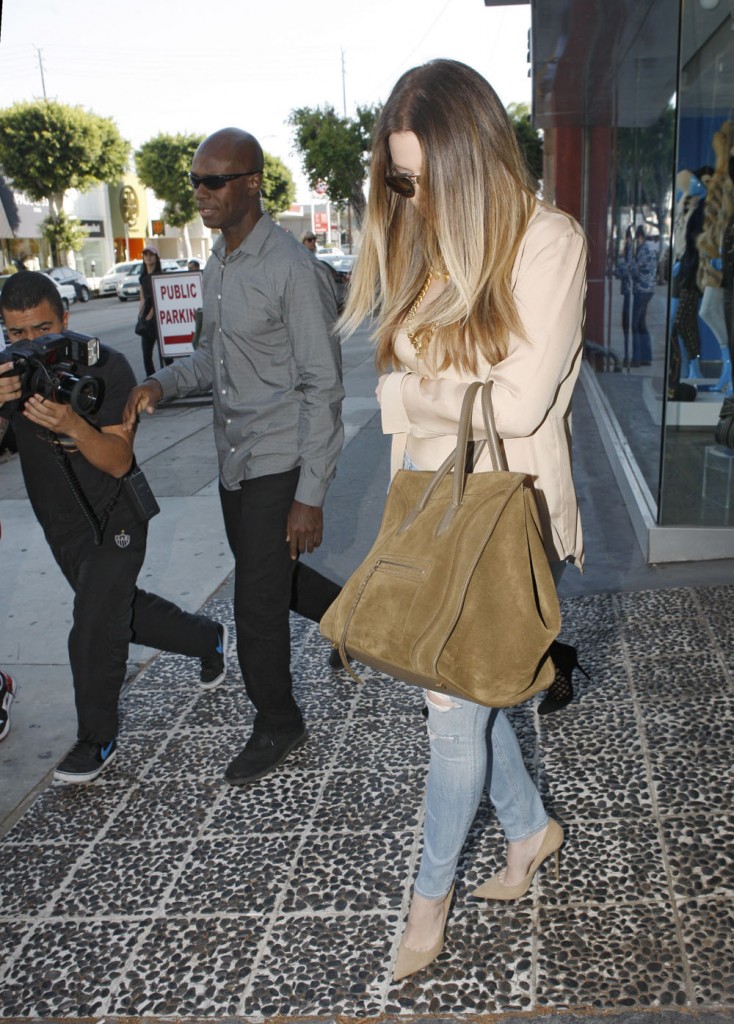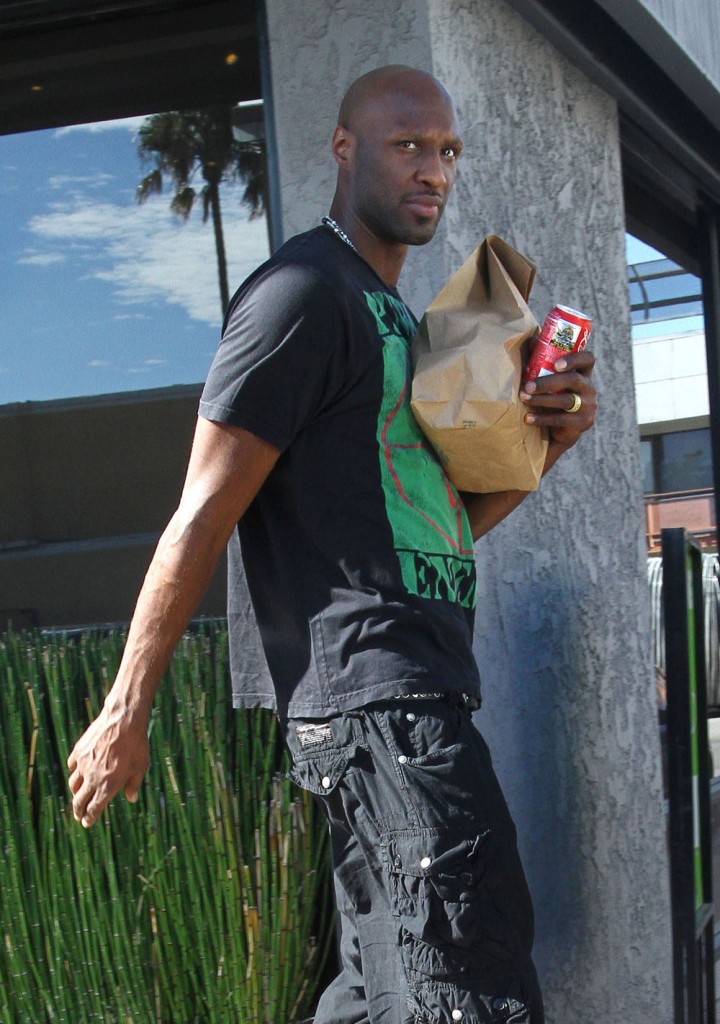 Khloe is shown out shopping with her mom and Kylie and filming the show on 10-2. That guy in the background is a bodyguard type. Credit: WENN. Lamar is shown on 8-21. Credit: FameFlynet