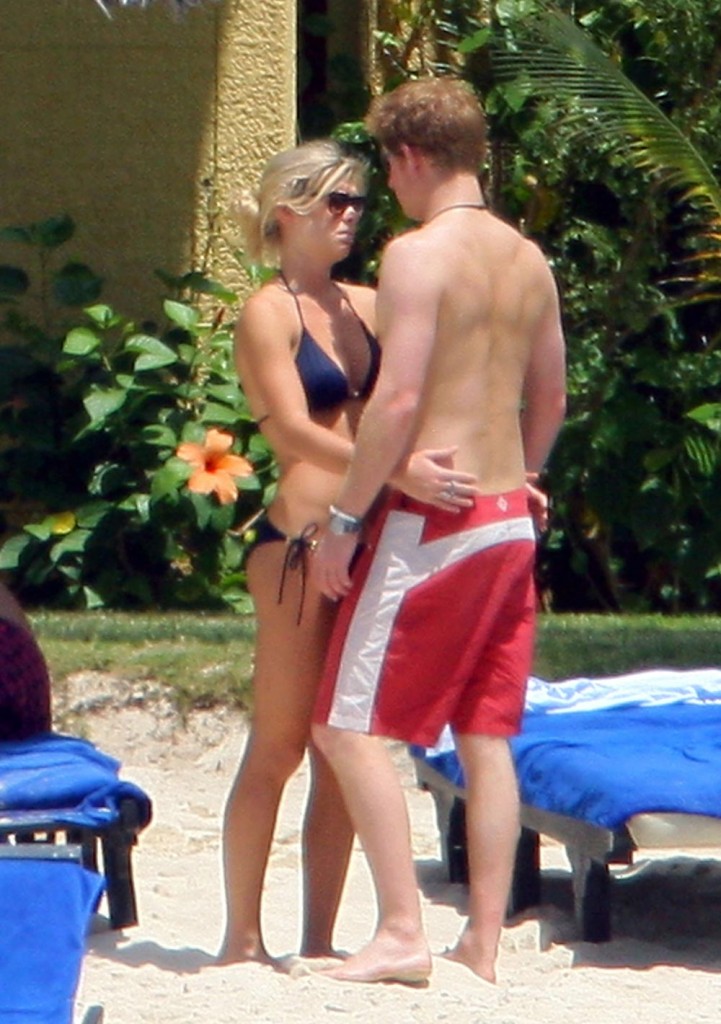 Fans of hot ginger royals rejoice! Prince Harry and Chelsy Davy have broken up. Officially now, because it's in People magazine and because a "royal source" actually confirmed the breakup. Chelsy and Harry have been dating on-and-off for five years, according to People, but I think it's been shorter length of time. People magazine also claims that Harry is 23, when he's 24 years old. He's a Virgo born in 1984, which makes him 24 – I know this because I love a hot ginger man, and we're the same sign.
The breakup comes at a weird time. The couple just took a romantic vacation to Mauritius, and Prince Harry is still feeling the sting of the public's anger over his recently publicized 2005-6 racist comments. Chelsy is a Zimbabwe-born heiress who is usually photographed with a drink and cigarette. She's got a great figure, but I don't understand why people talk about her like she's some great beauty – she's rather average looking, in my opinion.
Britain's Prince Harry and his Zimbabwe-born girlfriend Chelsy Davy, 23, are calling it quits after five years, a palace source confirms to PEOPLE.

The 24-year-old prince parted amicably with Davy, a post-graduate law student at Leeds University, three weeks after the couple spent a romantic holiday together in the Indian Ocean nation of Mauritius.

"They are remaining friends," says the royal source. "There have been all sorts of reasons given [for the split] but suffice it to say they felt that it had run its course."

According to the British newspaper News of the World, Davy, the daughter of a millionaire safari operator, made the decision to break up after tiring of the prince's playboy antics.

The pair met through mutual friends in 2004 and conducted a long-distance relationship for three years while Davy studied at a university in Cape Town, South Africa, and Harry was enrolled at Britain's Sandhurst military academy.

Last week, Harry – who recently came under fire for uttering racist comments caught on videotape – began a new phase of his military career, a 2½-year course with the Army Air Corps in helicopter pilot training.
From People
For royal watchers like myself, this news is pretty good. Harry will most likely go through a phase where he will hook up with random eligible girls, then in a little while he'll settle down with some fun, interesting girl who will provide some good gossip. Harry has always reminded me of his uncle, Prince Andrew, The Duke of York. Andrew is a pretty good guy who always liked the ladies, especially the ones who aren't that classy. Andrew also had a long, distinguished military career, which I see for Harry. And whenever Prince Charles takes the throne (in like twenty years or whenever), Harry will be the new Duke of York, the title bestowed on the second son of the monarch. In any case, I'm rejoicing that Prince Harry is back on the market, and I know I'm not alone!
Prince Harry and Chelsy Davy are shown on 12/29/08 during their vacation on Mauritius Island. Credit: Bauergriffin. They're also shown on 5/5/08 at a service for soldiers lost in Afghanistan. Credit: WENN