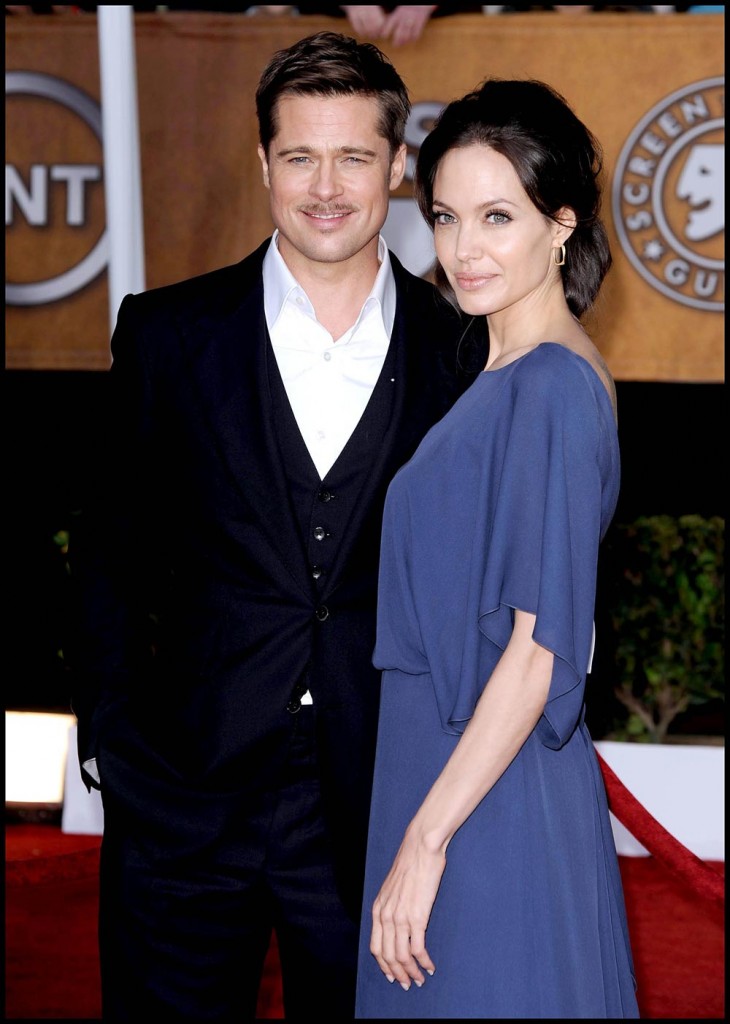 Angelina's interview with Rancic

Brad's interview with Rancic
Brad Pitt and Angelina Jolie had tongues wagging as usual at the Golden Globes two weeks ago when they actively ignored E! correspondent Ryan Seacrest's attempts to interview them. Seacrest had an awkward interview with the couple at the 2007 Globes in which he asked kind of pointless personal questions. On his radio show the next day, he was critical of Brad and Angelina's responses and called Angelina "cold." Angelina did seem a little out of it, but she was nice enough. Seacrest should have realized at least by that next day that her mother was very sick at the time. Angelina's mom passed away from cancer just two weeks later.
At the SAG Awards on Sunday, E! avoided another Seacrest debacle by using celeb-friendly correspondents Giuliana Rancic and Debbie Matenopoulos instead. They were positive and upbeat with the attendees, peppering them with compliments and asking appropriate, informed questions about their hair, makeup, families and work. They basically did their job, which is more than you can say for Seacrest's red carpet behavior at multiple awards ceremonies.
Brad and Angelina responded well in separate interviews with Rancic. They both deferred giving in depth answers to a specific personal question, though, which is particularly telling considering that they were being interviewed separately. It's possible Brad overheard Angelina's response first, it's hard to tell because he's off camera. He's usually more reticent with the press anyway:
Angelina Jolie and Brad Pitt praised each other on the red carpet at Sunday's Screen Actors Guild Awards in Los Angeles.

Asked if she likes having Pitt as her date at award shows, Jolie told E!'s Giuliana Rancic, "We've been doing it together for four years – it's aways nice. I don't think I'd want to be doing it alone. It's nice to be doing it with your best friend … and have a laugh in the middle of the show."

She declined to answer a question about how Pitt has changed her. "It seems like a really odd moment for all of that. I'm sorry," she said. Later, she added that Pitt "is a wonderful man … the person I admire the most in the world. I think he is extraordinary."

Jolie wore a Max Azria dress, Tiffany earrings and ring and Christian Louboutin shoes.

"I just like to be comfortable," she said of getting ready. "I see what comfortable options are out there."

Do the kids help her prep?

"They play, they get their nails done, they run around," she said. "Most of the time, they're a bit bored…. They don't find it that interesting."

Pitt did a separate interview. When told by Rancic that Jolie's beauty never gets old, he said, "No, it never gets old – I am here to testify."

The actor also called Jolie "amazing … a fantastic mother."

Like Jolie, he declined to answer a question about how the actress has changed him.

"I don't want to get into it," he said. "We're happy to be here."
[From US Weekly]
Rancic was more formal with Brad and Angelina and probed a little deeper with them than she did with other celebrities. She explained that "You're kind of like America's favorite couple, and one of the favorite couples in the world, and I think that's why people like to know about you guys."
Maybe people should put away the preconceived notions with Brad and Angelina and treat them like they do the other celebrities and mainly focus on their work and what they're wearing. They're obviously uncomfortable talking about personal stuff at that kind of chaotic event. It's hard not to ask them about it when we think we know so much about them, though.
Hopefully E! learned their lesson with Seacrest and will keep him away from the Oscars too.