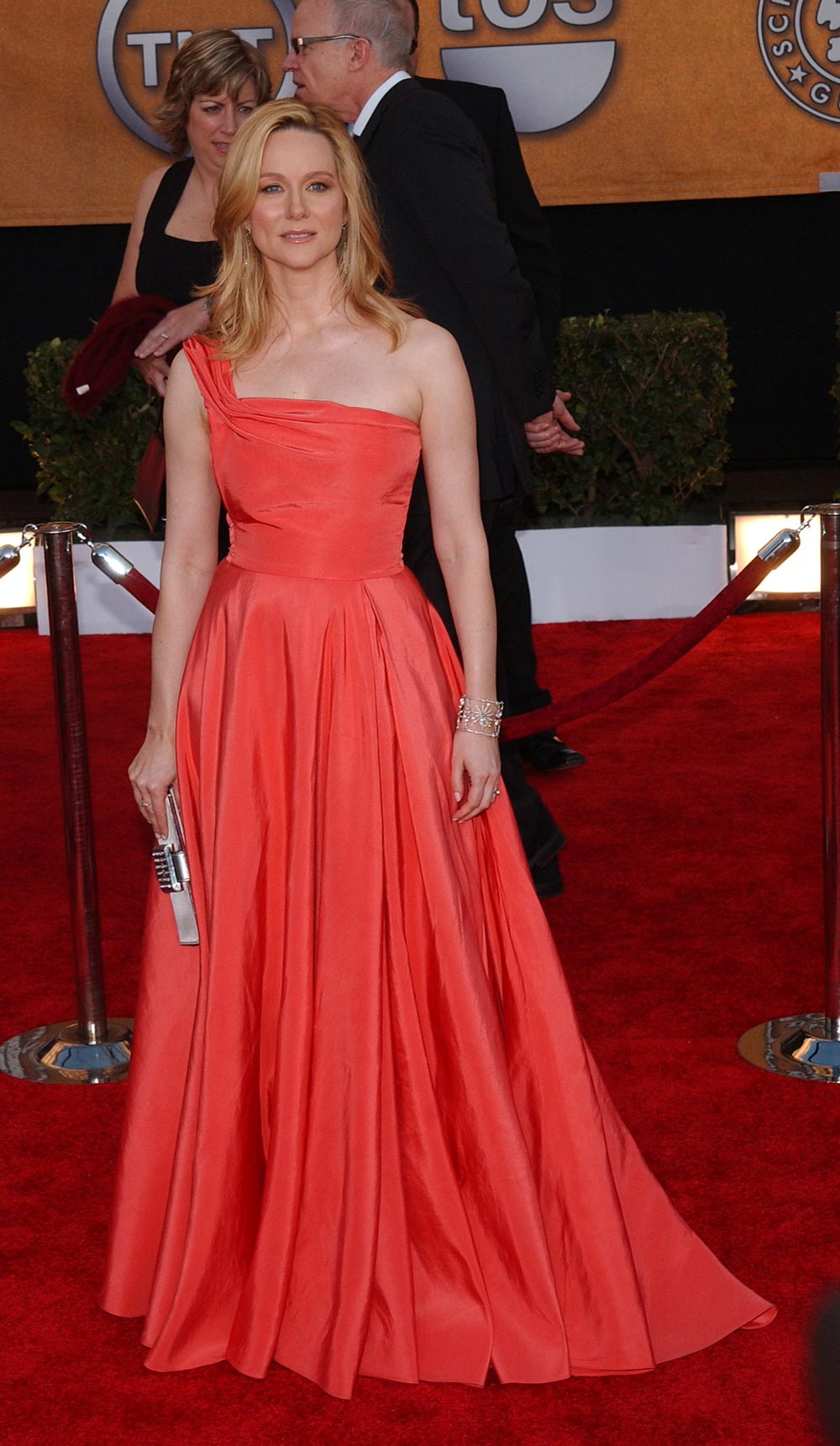 Fashion at the SAG Awards last night included some understated gowns along with calculated risks that worked. My favorites are the classic looks although the more inventive gowns didn't all fall flat.
I'm going to avoid naming best and worst dressed at the SAGs, as everyone has a different opinion and maybe it's better just to let my preferences be known without a firm label. My tastes are conservative and I prefer clean lines and solid colors, and may overlook more daring gowns that many of you love. I'll let you know what I liked, though, as it's hard not to insert my opinion.
E! Online points out that many of the dresses last night featured single shoulders, a detail that was also seen on first lady Michelle Obama's much talked about Jason Wu inaugural night gown.
Liked
Laura Linney was lovely in salmon Michael Kors.
Taraji Henson was stunning in flattering white Herve Leroux.
Evan Rachel Wood's Monique Lhuillier dress was amazing. She paired it with questionable purple sandal shoes and a purple clutch. The clutch may have worked with more neutral shoes.
Claire Danes looks quite thin in red Nina Ricci. She doesn't quite fill out the top, but it's a lovely dress and looks great on her otherwise. At least she didn't stuff it.
Teri Hatcher's pure white Monique Lhuillier gown is huge with plenty of fabric but it doesn't overwhelm her figure and I think she pulls off the look.
Disliked
Christina Applegate's green draped Emanuel Ungaro was just unflattering.
America Ferrera's Vera Wang gown featured hip-enhancing fabric gathered at the side and a confusing black sash that ended in a stomped-on flower.
Eva Longoria Parker wore a peach-colored Jenny Packham gown that featured little asymmetric ruffles at the wist and a jeweled collar.
January Jones wore an ugly Andrew Gn black dress with a giant gold neckline and bodice.
Rosario Dawson was wrapped like a mummy in too-shiny Dolce & Gabbana.
Marcia Cross, like poor Rene Zellweger at the Globes, fell prey to Carolina Herrera's latest fashion experiment. What happened to Herrera's classic style?
Marisa Tomei was a fashion miss once again in a yellow v-neck gown with a huge bow at the shoulder.
Also shown in order are Nicolette Sheridan, Olivia Wilde, Kyra Sedgwick, Susan Sarandon, Robin Wright Penn and Sean Penn, Amy Poehler, Julia Ormond, Diane Lane and Josh Brolin, Jane Krakowski, Holly Hunter, Jenna Fischer, Anne Hathaway, Tina Fey, Lisa Edelstein, Laura Dern, Kate Winslet, Penelope Cruz, Brad Pitt and Angelina Jolie, Emily Blunt, Christina Hendricks, Jennifer Morrison, Amy Adams, and Viola Davis.
Photo Credit: WENN