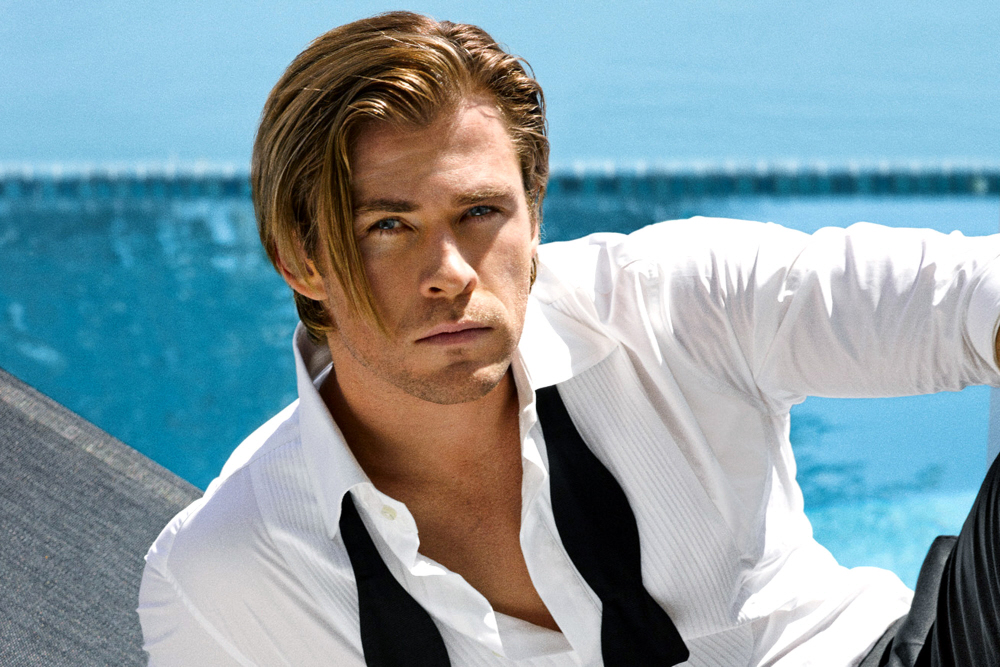 Ugh, I've been waiting most of the day for Details Mag to release their cover story on Chris Hemsworth. I don't know what I was expecting, but this interview is kind of letdown. Chris is nice enough, but it's clear throughout the piece that Chris thinks of his Thor promotion (and work) as a complete chore. He's trying not to be an a—hole about it, but he's totally over Marvel and all of it. You can read the full interview here, and here are some highlights:
His breakout on Home and Away. "We shot 20 scenes a day, five shows a week," Hemsworth says of the series that would serve as his lucky break, his acting school, and his personal crucible of endurance. "Three and a half years playing the same character can be sort of mind-numbing," Hemsworth says with a wincing grin. "My character was in a fire, a cyclone, a helicopter crash, a plane crash. I was hoping for a big, dramatic death."

Natalie Portman on CH. "He's like a person you actually want to hang out with," she says. "A full human…There's no scoop, except he's rad. The scoop is he's just great at everything." (Portman adds that she'd like to see him stretch out and do a comedy: "When we were doing the first Thor, we would joke that we should remake The Way We Were. Little Jewish girl, a smoking-hot Gentile. If we work together again, that's clearly our project.")

His rapid ascent to the A-list: "Maybe I'm asking myself the same question you're asking. I've worked my ass off over the years, but I can't help but see that, relatively speaking, it all has been rather quick."

Talking about himself: "It's funny," he says on the subject of himself as subject. "No other job forces you to think about yourself this much. That's a scary thing, because before you know it, it's all pointed inward. You're taught to think, 'Okay, what do I want out of this scene? How am I feeling here?' Then it's like, 'Awww, f–k off, I.' You start to hate I! The biggest thing is, you worry about being boring,."

He doesn't even want to share with directors: "I worked with plenty of directors who are like, 'Yeah, but what's in there? Tell me about that time . . .' And I'm like, 'Listen, there is something in there, but I ain't gonna tell you and exploit it.' I hold that stuff pretty close. We all like the drama of the wildest personalities, but I'm not going to invent something to wallow in just to make me sound interesting."

Research for Cyber: "I did two months of computer lessons before we started shooting," he says. "This computer teacher with a Ph.D. from UCLA would come into this little room and give me lessons in Unix commands and whatnot. It was exciting the first day or two, then I was like, 'Oh no, this is why I didn't take a desk job.' Drank more coffee than I'd ever had in my life, because it was literally putting me to sleep. I think I enjoyed sword fighting more than computer lessons," he says. The nerd training eventually paid off. "I learned to type, for one," Hemsworth says. "I can't say I can hack into your Swiss bank account, but I can pretend to. There's an intelligence to this character that's certainly beyond my intelligence and some of the characters I've played before. They can make me smarter in the editing."

Working on CGI-heavy films versus dramas: "These days, even 5-year-olds will look at something and say, 'Ah, the CGI's crap—I'm not watching this.'" But once he did try a character-driven role, he thought: "Oh my God, what a relief." Hemsworth relished the change of pace and the new challenges. "It was incredibly satisfying to be on a much more intimate set, focused on the truth of a scene, as opposed to 'Now swing on a wire and smash the bad guy with your ax,'" he says. "The fear, the newness," Hemsworth continues, snapping his fingers excitedly, "is what keeps you on your game."

His wedding anniversary: "Uh, I should know the answer to this. There's a bit of a dispute . . ." Long story somewhat shortened: A little group of friends and family descended on Sumba, and it was such a laid-back couple of weeks that no one can agree on when the actual ceremony took place. The ring his wife gave him is engraved with a date, but Hemsworth is pretty sure it was a couple of days later. "So yeah, answer about the date of my wedding: somewhere in December."

Learning how to say no: "You spend so long having your hand up, saying, 'C'mon, c'mon—pick me!,' there's a fear of saying no to things. It's bred into you. I get sh-t sent to me and I think, 'I should probably just take this.' But now I try to say, 'Hold on—do you even like it?' I do have a little control now. That's the transition—I'm not at the mercy of someone else so much. And that is just as scary as it is liberating."
As much as I want to paint Chris as some dumb meathead, he's not. He's not, like, Benedict Cumberbatch-level eloquent or self-aware, but Chris is a smart enough guy and he's making some interesting choices for his career and for how he presents himself. I buy that he doesn't want to spend an interview being psychoanalyzed and prodded, and I think he handles that aversion very well. What he needs to work on: stop making it sound like such a f—king chore to merely promote the Thor franchise. We get it, it's silly and it's not a beloved character drama. But still, you signed on to it and they're paying you so much money and no one is holding a gun to your head. Enough. Just show up and smile.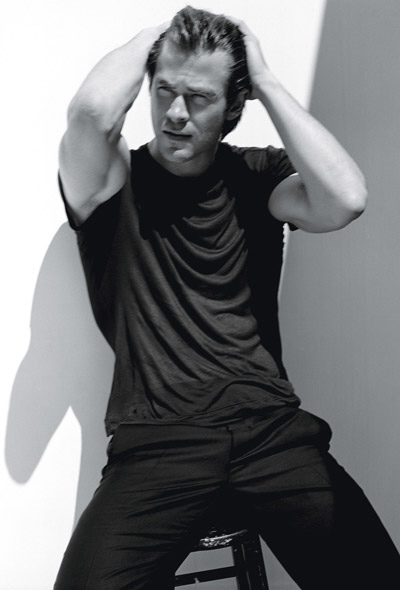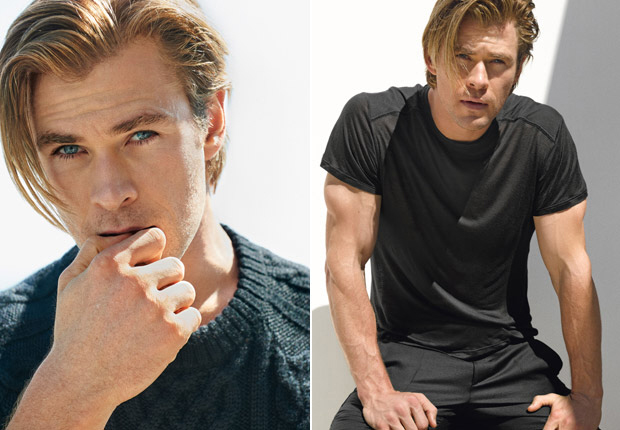 Photos courtesy of Details.