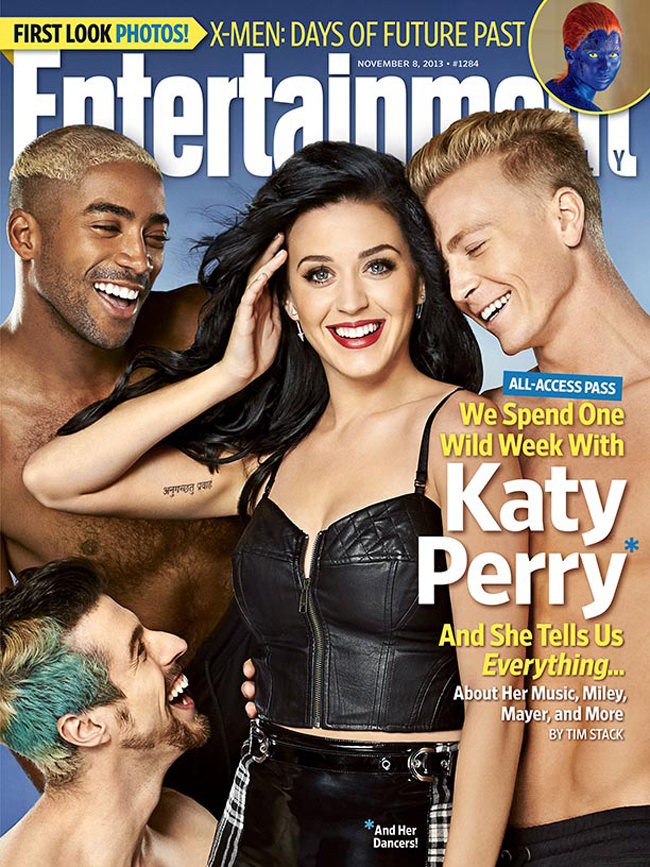 Katy Perry covers the November 8th issue of Entertainment Weekly to promote Prism. She is flanked by adoring men with rainbow-colored hair, which I guess means Katy is pushing her status as a gay icon. My gay boyfriend is pretty indifferent to Katy and (if forced to choose) says he'd take Lady Gaga as a more authentic icon. Hmm.
Prism debuted at #1 on the Billboard chart this week. Katy sold 286,000 copies, which beats Miley Cyrus' Bangers at 270,000 in its first week. Out with the old, and in with the new. Prism shall soon be replaced by either Eminem or Gaga's upcoming records. There will never be another Michael Jackson, who held on to the #1 album slot for 37 weeks when he released Thriller in 1982. Isn't that sad? I'm not sure if it's a sign that pop stars aren't what they used to be or if the digital era really has killed the album. These days, I usually buy single songs to avoid spending money on filler songs. If it's an artist I really love, then I'll spring for the whole package. That rarely happens though.
In this EW interview, Katy's head is really in the clouds about boyfriend John Mayer, who was the inspiration for her "Legendary Lovers" song. Granted, they've been together 15 months, but a couple of breakups (so far) does not bode well. Us Weekly keeps stressing that Katy and John are oh-so-serious together, and "Everyone knows it's just a question of when John will propose." A source tells Us the couple "realize[s] they must be together," so they "Skype and text all day." Does this source sound like it's coming from Katy's camp? I can't imagine any of John's friends would pour the sugar on so heavily. God, I hope Katy isn't pressuring John into a proposal. Here are some EW excerpts:
John Mayer inspired the "Legendary Lovers" song: "I actually wrote it in an email one time, and after I wrote it I looked — we had a long courtship before anything was [public], just writing letters to each other — and seeing 'legendary lovers,' it sounded so nice. Some things float into my mind, and I process them, and [then] I make songs about them."

On Miley Cyrus: "She's what, 19 or 20? She's just living her life. She's super young, and there's no directing book on how to do this. Each of us find our own way, and some of us make it out alive and some of us don't. I mean, Madonna was naked [too]. The thing is, people come to me and ask me, out of default, what I think about all these girls, but at the end of it all I shouldn't be considered the behavior police, because I'm not always going to be on my best behavior!"

On rivalry with Lady Gaga: "Gaga and I like to publicly dismiss it because it's not healthy. You want to feel music. You want it to resonate and relate to you. You can't look at it like a competition because you ruin the reason why you love music. But I think that sometimes our fan groups are so big and strong, they use it as ammunition."
[From EW.com]
I don't necessarily buy Katy's version of a leisurely courtship between herself and John. They physically hooked up only a few months after she and Russell Brand split. Were they writing these letters while she was married to Rusty? So sketchy.
Here's a photo of Katy in London last week. She and John were at the Shoreditch House club but did not walk together to their car. John looked slightly uncomfortable (see photo in the below gallery).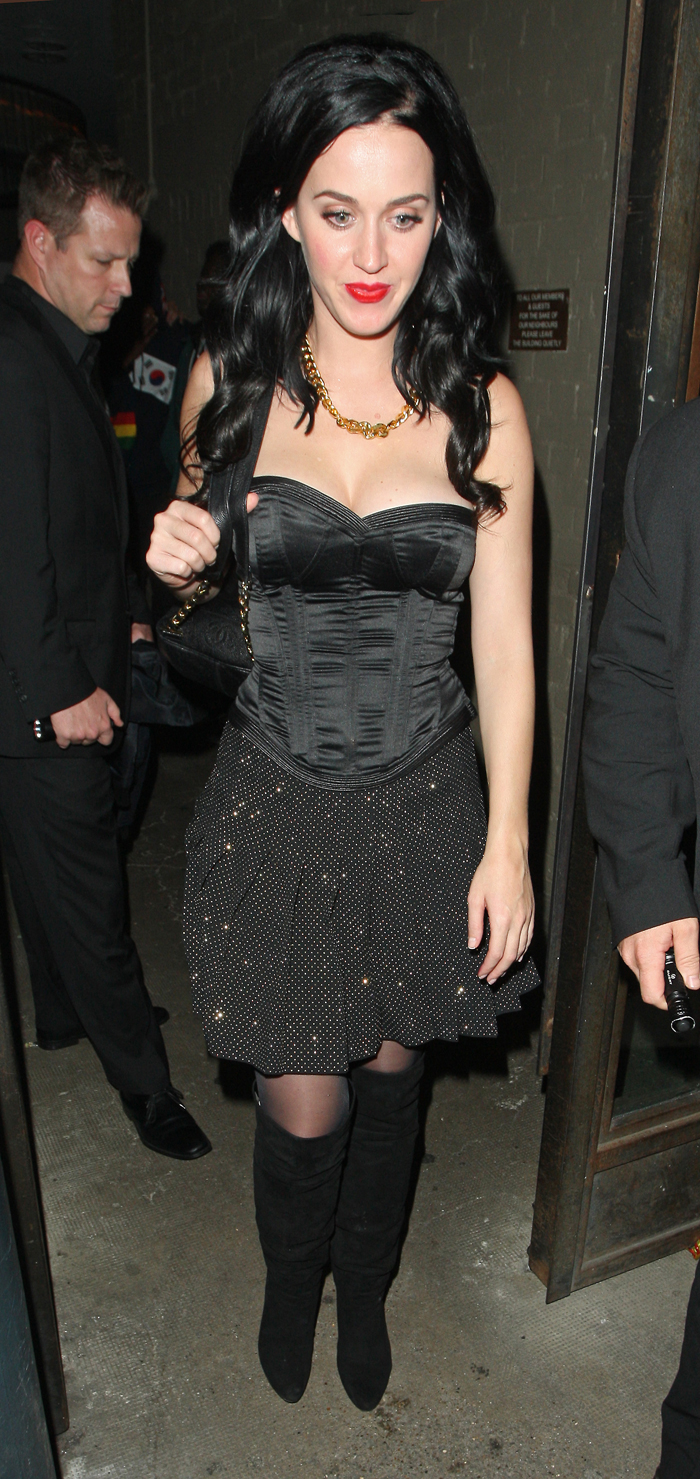 Katy landed in Narita, Japan yesterday. She was wearing her silly "Katy kat" ears.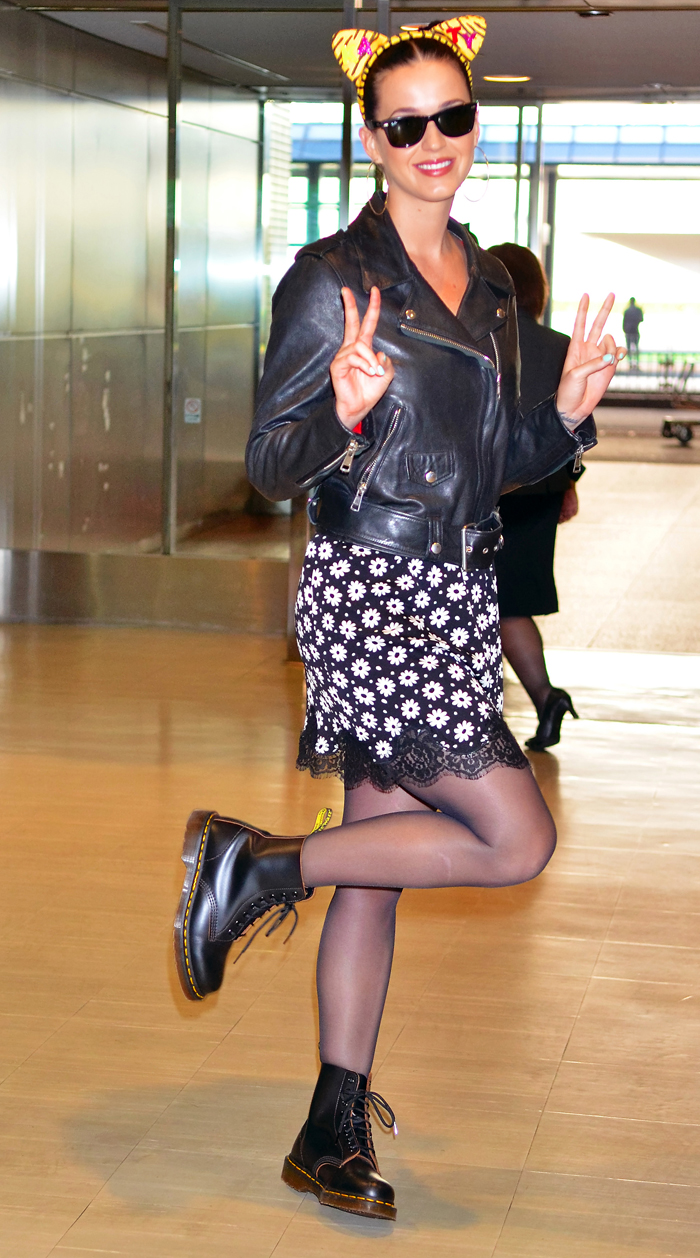 Photos courtesy of EW.com, Fame/Flynet & WENN