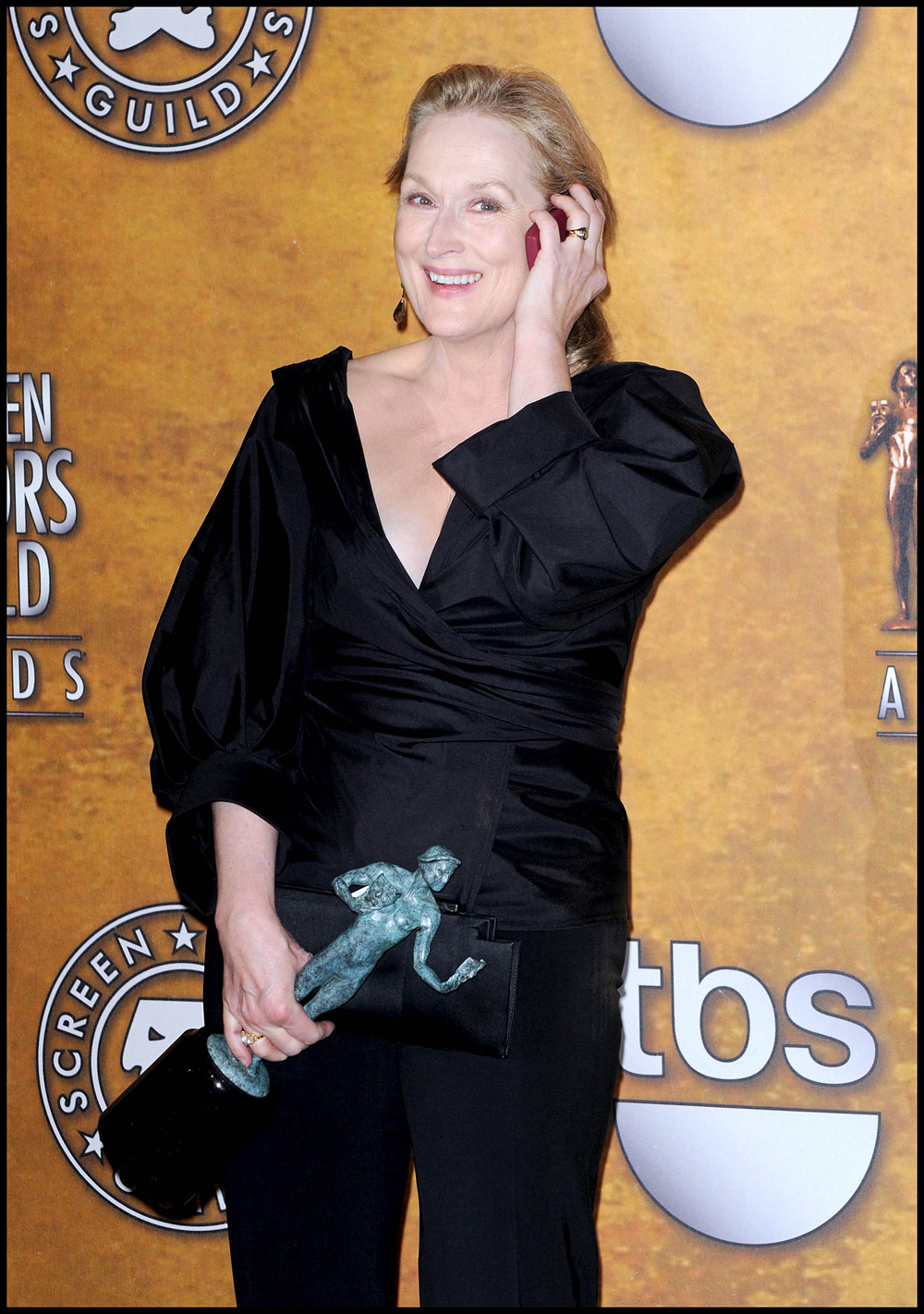 Have you heard the rumor that Meryl Streep is going to be stunt-cast on "30 Rock"? Lots of sources are saying it's for sure, but all I can find out is that Alec Baldwin and Meryl Streep were talking after their SAG wins on Sunday, and that Baldwin talked Meryl into promising she would guest-star. According to A Socialite's Life, "Alec supposedly cornered Meryl after her Best Actress SAG award win and sweet-talked her into a role when she was high on life." Doesn't mean it's going to happen, but I hope it does. Meryl would be wonderful on "30 Rock" – I wish she would do more comedy, she has a gift for it.
But Meryl isn't through with award season yet! She just won another Best Actress trophy, this time by AARP's The Magazine. AARP also honored Frank Langella and Gus Van Sant.
The U.S. publication AARP The Magazine has declared "Frost/Nixon" 2008′s Best Movie for Grownups.

Based on the post-Watergate television interviews between British journalist David Frost and former U.S. president Richard Nixon, director Ron Howard's screen adaptation of Peter Morgan's play "Frost/Nixon" was selected by the editors of AARP The Magazine, a publication that describes itself as the "definitive voice" for Americans over the age of 50 and the "world's largest-circulation magazine" with more than 34 million readers.

AARP also bestowed its award for Best Grownup Love Story on Last Chance Harvey while its prize for Best Buddy Picture went to "The Family That Preys" and its Best Movie for Grownups Who Refuse to Grow Up honor went to "Iron Man."

Frank Langella won the Best Actor 50 and Over title for his portrayal of Nixon in "Frost/Nixon;" Meryl Streep was named Best Actress 50 and Over for her performance as Sister Aloysius Beauvier in "Doubt;" and Gus Van Sant was honored as Best Director 50 and Over for filming "Milk."

"It is clear that Hollywood is paying attention not only to the tastes of moviegoers age 50 (and over), but also to the enormous talent of filmmakers age 50-plus," Nancy Graham, editor of AARP The Magazine, said in a statement. "From drama and history, to musicals and biopics, actors over 50 took center stage on the silver screen last year and we're proud to recognize them for their hard work and creative achievements."
[From United Press International]
Instead of going to a negative place and making a couple of light-hearted old-people jokes (I'm not, I swear), I'll just congratulate the winners. They were recognized by their peers for the second time this week. First, their acting peers at the SAGs, now their same-aged peers at AARP. What I've always found ironic about the AARP's The Magazine (and yes, I have read it), is that it seems like a celebration of people doing everything but retiring. Perhaps an organizational name change is in order.
Here's Meryl Streep at the SAG awards on Sunday. Images thanks to WENN.