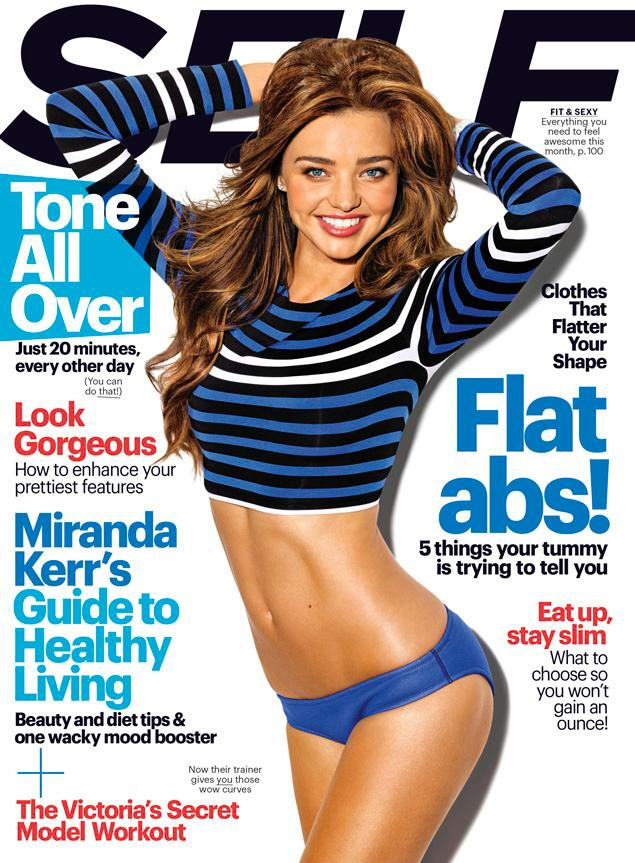 Miranda Kerr covers the new issue (December) issue of Self Magazine. The cover shoot is meh – I don't really know what to say about a photoshoot that isn't about clothes, really. Her butt looks cute in one of the photos. Her abs look great. Eh. You would think that Miranda probably gave this interview before she and Orlando announced their split, but it seems like she's perfectly willing to talk vaguely about "happiness" and "choices" and "challenges". Miranda is very New Age-y, which… I mean, it's fine. She's harmless. But she tends to make this big pronouncements about marriage and men and happiness, and these days it just seems false because, you know, her marriage is in shambles and everyone thinks she banged Justin Bieber. Anyway, some highlights from the interview:
She's so friggin' happy: "If I'm having a challenging moment, I jump for joy. Literally. After a minute, I feel better, and after a few minutes, I'm really happy. Everything else just drops off. It gets me out of my head and into my body, and it makes me feel present. Everyone has challenges. But if you know your strengths and expand on them, you're going to radiate."

Happiness: "Happiness is a choice we make. You can wake up and say, 'Oh, I can't believe it's so cold,' or you can say, 'Oh, wow, this is a great opportunity for me to try out my new sweater.' No one can be consistently positive, but why not make the choice that makes you feel better rather than the one that drags you down?"

Her mantra: "'I am a being of light and love, and I radiate that to everyone I meet.' It helps me keep things joyful."

Her healthy meals: "For breakfast, I'll have either eggs with sauerkraut and avocado, or oatmeal with honey and goat's milk. For lunch, I'll have grilled fish and a salad with kale, spinach, broccoli, fennel, avocado, pine nuts and feta cheese. Dinner is lentil soup and steamed vegetables or roasted chicken."

On indulging: "When you indulge, enjoy every minute of it, because that's the whole point! If you're like, 'Oh, I can't have this, but I'm going to eat it anyway,' how can you ever feel satisfied? Savor it and you won't feel like you want more."
[From Self Mag, via Us Weekly]
"I am a being of light and love, and I radiate that to everyone I meet." I can't. I admire positive people, I am in awe of perpetual optimists, but I just can't even imagine saying anything like that to pump myself up. If I need to pump myself up, I tell myself: "Don't f—k up, don't f—k up." If I want to give myself a compliment, I'll look at my cleavage in the mirror and say to myself, "Nice t-ts." Okay, let me try Miranda's way… Hi, I'm a being of light and happiness and sparkles and I fart rainbows. Sigh… it did not work.
Photos courtesy of Self.