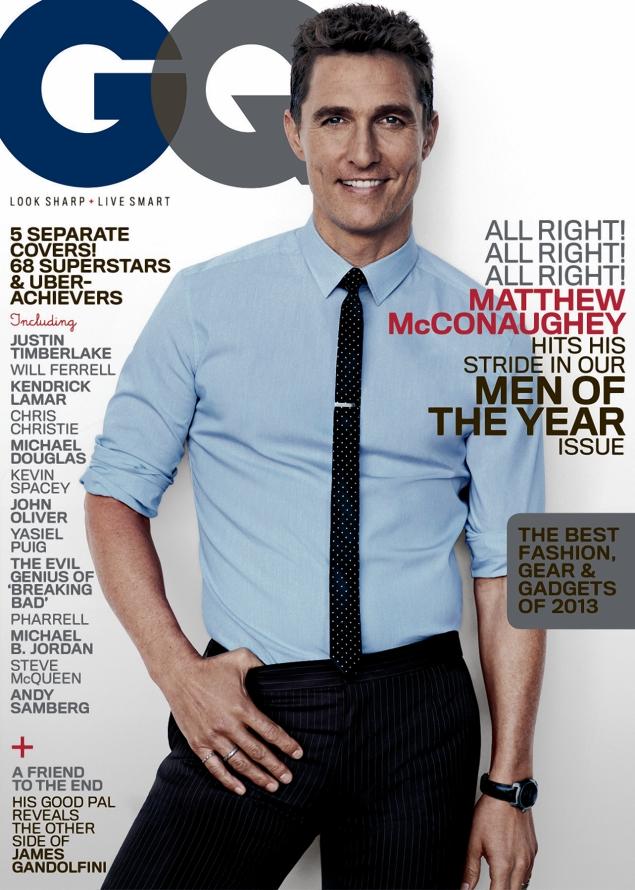 I know this post won't get a ton of love because Matthew McConaughey is the killer of all gossip-related conversation around here. Pffft, I still adore him. Matty has been honored by GQ as leading man of the year (as opposed to whiny Justin Timberlake's status as GQ's #hashtag of the year). Unlike JT, Matty's up for some serious Oscar consideration with his roles in Dallas Buyers Club and The Wolf of Wall Street. So sure … Matthew McConaughey makes a great leading man of the year. It's about damn time he got some recognition beyond being the dude who did yoga outside for years. More on that later.
This interview is pretty amusing. Matty speaks from inside his beloved Airstream trailer. He talks about how he only recently realized people saw him as such a laid back dude. You know, a brah. He speaks of his subsequent desire to get serious again with his acting. Remember when he was in really great movies like A Time To Kill and Contact? That seems like a lifetime ago, and Matthew's ready to get back to that caliber. Don't think for a moment that he regrets all those romcoms though. Never!
On people's perception of him: McConaughey says he had "no frequency of his conception" until recently. "Now I get it. Outdoors, shirtless on the beach, does a lot of rom-coms, girlfriend loves him, good-looking. It's like he rolls out of bed and shows up and makes it look easy."

He won't trash his romcom streak: "I was enjoying myself. My relationship with acting was fine. But like in any relationship, you need to shake things up. It didn't mean what we'd been doing was less than. I just wanted a charge. Like, 'Let's throw a spark into this.'"

Hel-lo ladies: "Of course I still play the congas naked. I just close the windows."

On being selfish: "I got much more selfish. I'm a fan of the word selfish. Self. Ish," he repeats, drawing it out. "When I say I have gotten a lot more self-ish, I mean I am less concerned with what people think of me. I'm not worried about how I'm perceived. Selfish has always gotten a bad rap. You should do for you. I wanted new experiences."

His collection of personal aphorisms, truths, and rap lyrics: "I got 821 of them," he says, nodding toward a slim laptop containing "aphorisms, bumper stickers, truths, and rhymes," many of which he has come up with himself. Lately he has been writing bits of rap songs. Rollin' through yellow lights on my skateboard, he speak-sings. Kiss the fire and walk away whistlin'"

He accepted a wrestling challenge in an African village: "So there I was in this little village on the Niger River." Matthew McConaughey is talking about a trip he took a few years ago, one of the walkabouts he is fond of going on whenever the Hollywood air gets too rarefied. "Word had gotten out that there was a strong white man, a boxer. So I'm lying there outside, stretchin,' when I hear these young male voices, and it sounded like they were talking sh-t," he says. He asked his guide to translate: "They saying they are champion of the village wrestlers, and they want to wrestle Strong White Man," he says, transitioning into a sort of Tarzan accent. "And all of a sudden, the volume of the crowd comes up, like, two decibels. And I look up, and there's a huge guy wearing, like, a burlap sack. He looks at me, and he points to his chest." McConaughey points to his famous pecs, peeking out of his white V-neck like a pair of toasted dinner rolls. "Then he points at me. Then he points over there to a sandpit. And my heart is going babababababababa. But my brain is going, 'You have to, dude.' So I go and get in the sandpit. I'm barefoot, no shirt; he's barefoot, no shirt. I don't know the rules, but I am about to find out."

Woody Harrelson on McConaughey: "Matthew is a divisive figure in Hollywood. I have found myself defending him to people who don't really know him, who for some reason feel very antagonistically toward him. He's a good guy, he's great-looking, has a perfect body, his career's through the roof. People resented that, and the way they justified it is, 'He has never done a movie of substance.' They can't say that anymore."
[From GQ.com]
The wrestling story is kind of creepy. McConaughey never mentions who won the match, but it was probably the other guy. Who knows — the story might not even be true. It could just be a figment of his pot-addled imagination. Is he really writing rap lyrics? Rap and naked bongos could be the beginning of a beautiful friendship.
I had some fun digging through the Celebitchy archives from Matthew's endless summer of public exercising. From 2005 to 2007, the dude was always striking a shirtless pose. I miss those days. He looked like he was having so much fun.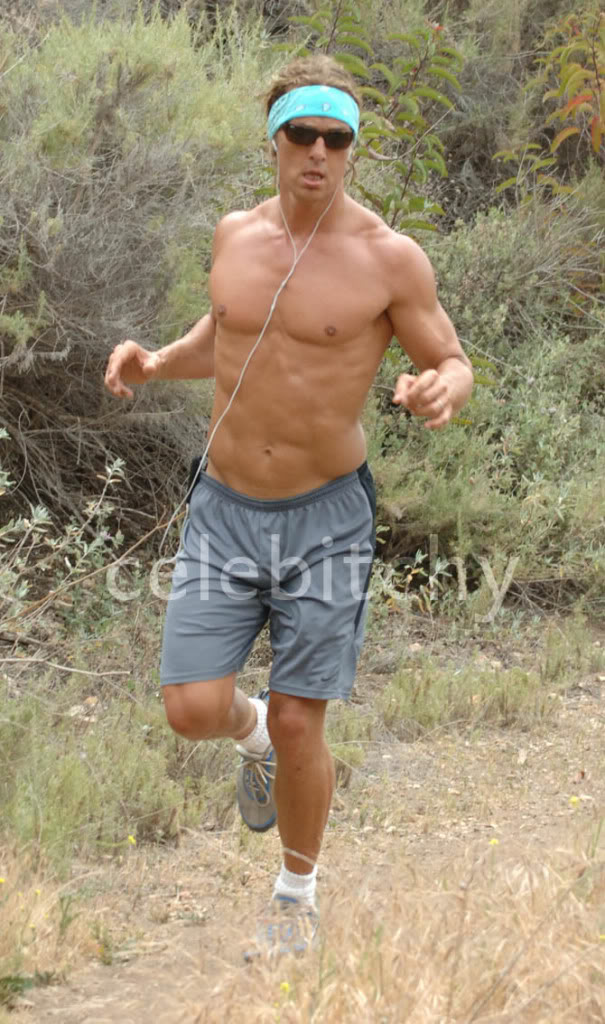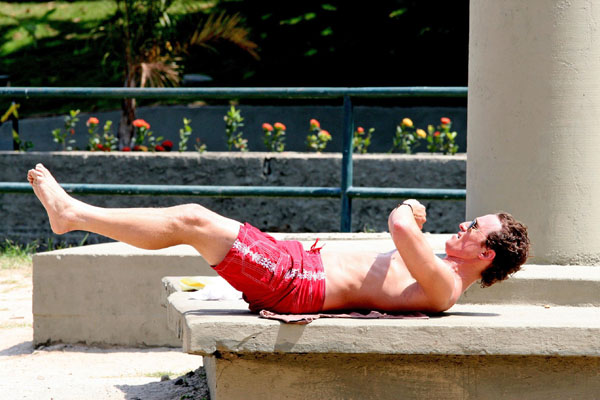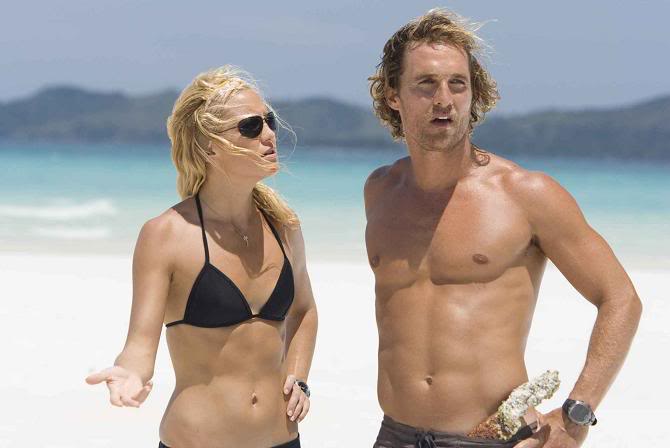 Photos courtesy of Splash News, BauerGriffinOnline & GQ