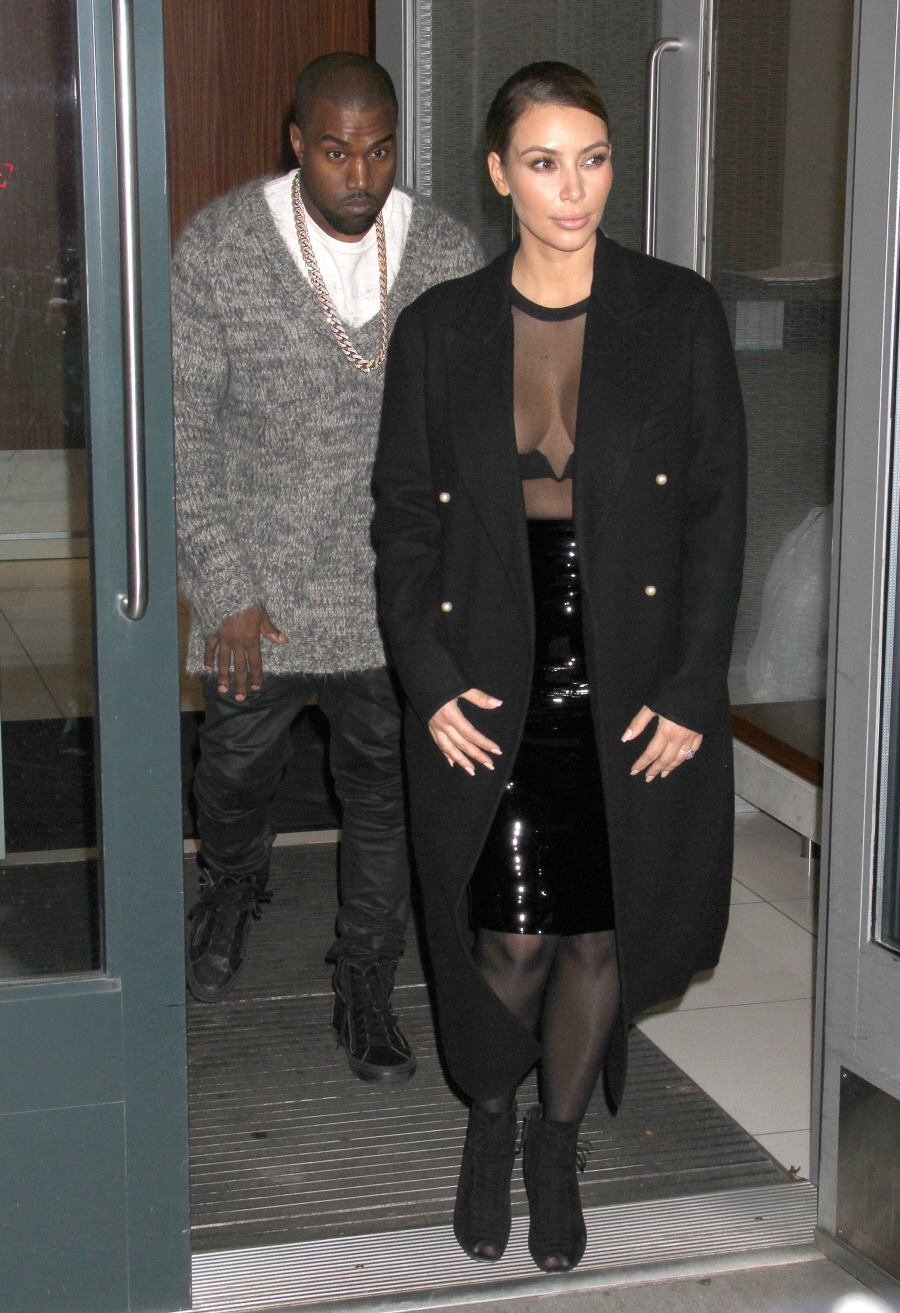 Here are some photos of Kanye West and Kim Kardashian last night in NYC. Everyone says that Kanye is styling Kim these days, and I guess I believe that. He's introduced her to many designers and I guess they're making stuff especially for her these days. But I'm reminded of just how much Kanye is like any other dude when it comes to women's fashion: ask your boyfriend or husband about how HE would like you to dress, and the answer will usually be "tighter, low-cut, shorter skirts, show more skin." Your man wants to see your body. Your man wants to show you off. Which is fine. But let's not call him a fashion genius, you know? So, that's why I believe Kanye is dressing Kim – because it looks like her boobs are on a platter. That's how Kanye wants her to dress and that's fine, but it's not some genius style.
Anyway, as we discussed yesterday, Kanye "cast" Kim in his new music video for "Bound 2". The song is terrible and the video is… well, budget and hilarious. Many of you said it looked like it was already an SNL parody, which is true. Here's the video again. Again, this is sort of NSFW because of shadowy boobs and the language.
Well, that was awful. And funny. And in case you didn't know, the half-naked woman banging the motorcycle is supposed to be… Kim? HAHAHAHA. So, obviously, everyone was like, "Damn, post-production airbrushing much?" And now Hollywood Life has an "exclusive" about how NONE of this mess was Photoshopped.
Kim's post-baby body looked so amazing in Kanye's 'Bound 2′ that it left fans wondering if her figure was digitally enhanced for the music video. Now Kim is fighting back against the rumors, saying her body in the video is 100 percent natural, a source tells HollywoodLife.com EXCLUSIVELY.

Kim Kardashian, 33, has lost almost 50 pounds since giving birth, and she looks slimmer than ever in her topless appearance in Kanye West's "Bound 2″ video, which was released on Nov. 19. Kim may look to good to be true, but she worked hard for her rocking body and didn't have any help from the digital editing team, a source close to the reality star tells HollywoodLife.com.

Believe it or not, Kim's body really does look as beautiful in real life as it does in Kanye's new video, in which she is shown topless and straddling her future husband on a motorcycle.

"She wanted to get in shape before filming," a source tells HollywoodLife.com EXCLUSIVELY. "Kanye had been begging her for a while to do something with him. She is not photoshopped!"

Kim told People magazine she lost 43 pounds between June and November. "This was the biggest challenge of my life, and I still have some to go, but I feel so accomplished that I did this," she said.

Kim slimmed down by following the Atkins diet, eating grilled salmon, cheese omelets and grilled chicken, while steering clear of carbs and alcohol. She also takes classes at Barry's Bootcamp and Pilates Plus to stay in shape and keep her curves.
Why does Kim always have to take it one step too far? I believe that she's lost 43 pounds. I believe that she's been working out and dieting (and maybe a little lipo too). But here's what I don't believe: that Kim's body was completely unaltered in this music video. Absolutely NO ONE should believe that.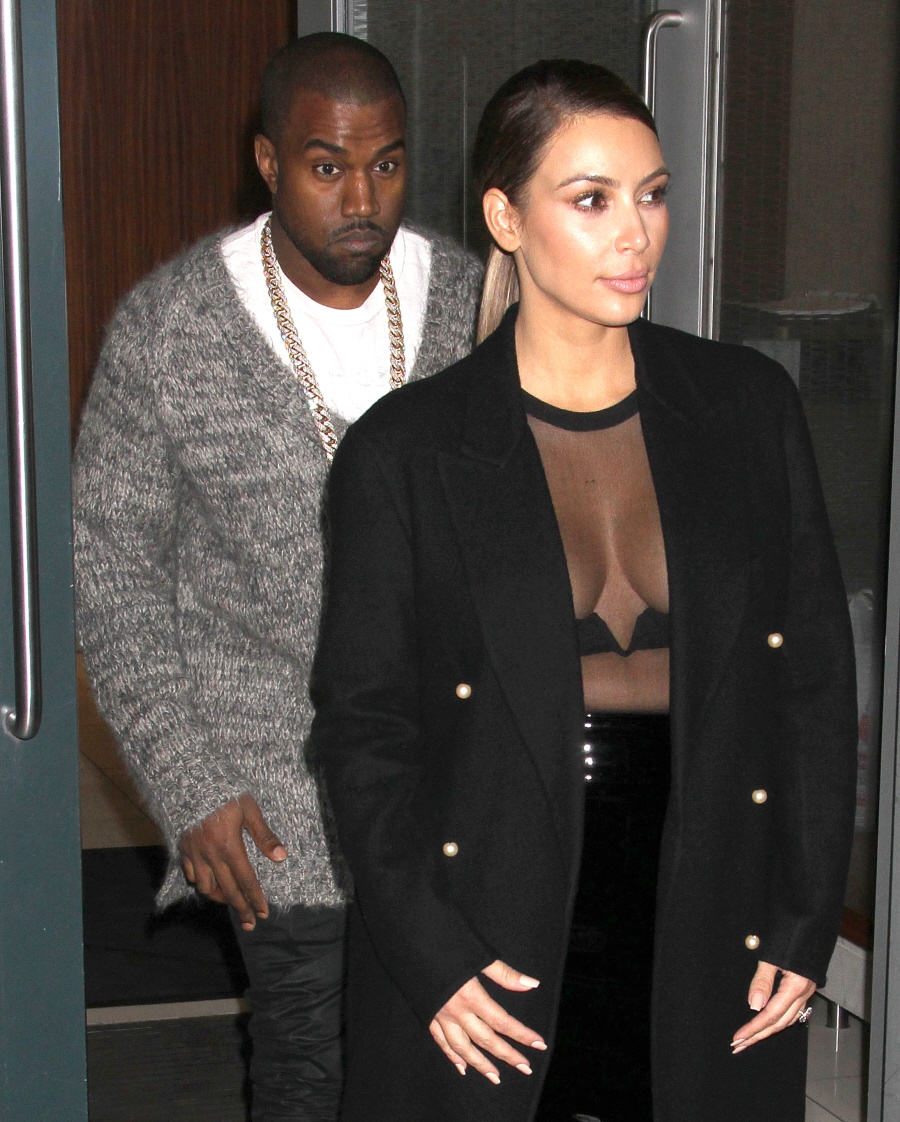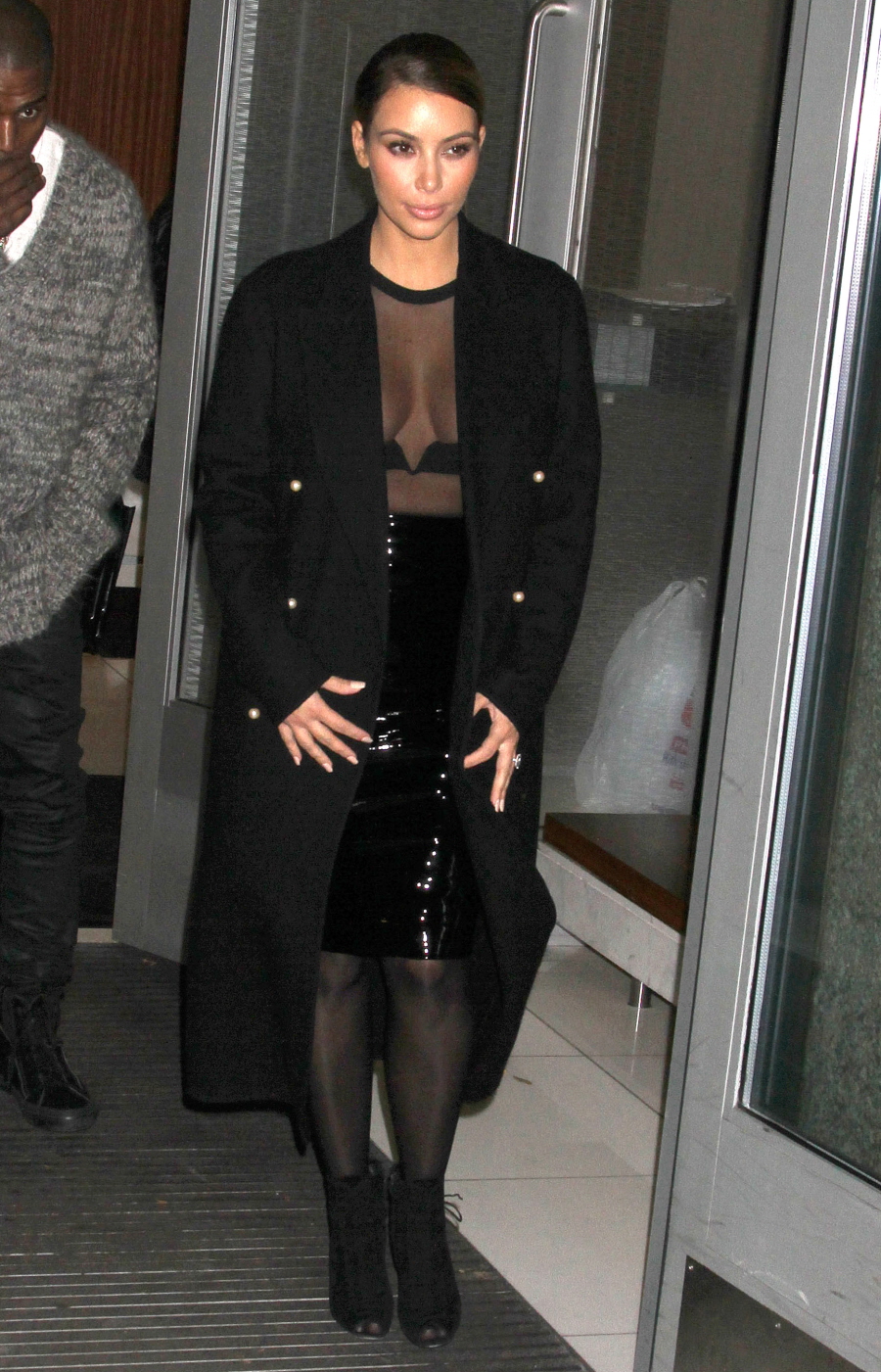 Photos courtesy of Fame/Flynet.