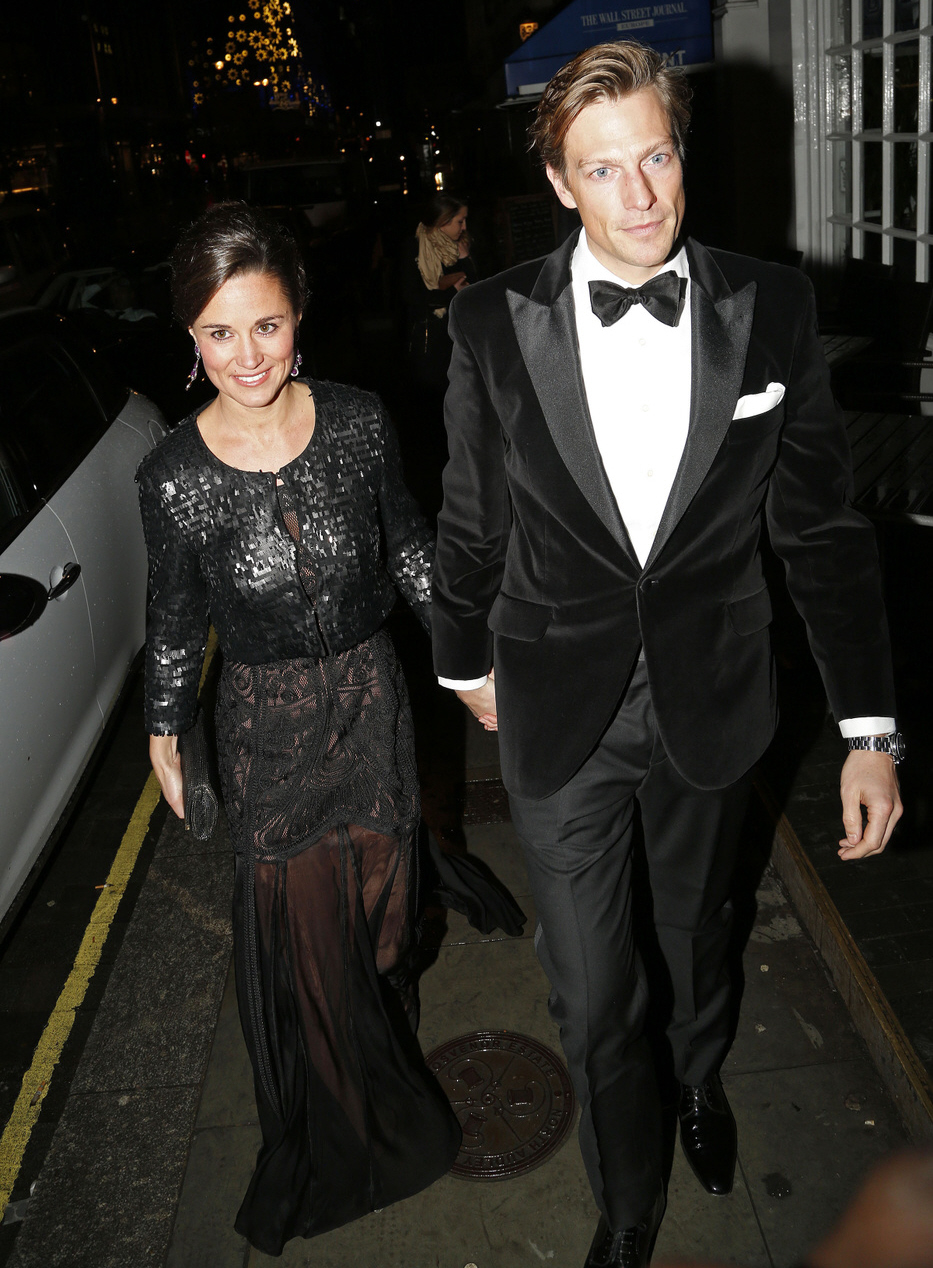 Here are some new photos of Pippa Middleton and her boyfriend, Nico Jackson, in London last night. They were attending the Sugarplum Ball. Still no engagement, by the way. The UK tabloids are desperate for ol' Pippa to get engaged so they can put a bow on her and send her away, I think. Or maybe they just want to see how orange she will be for her wedding day.
Anyway, I was going to bitch about Pippa dowdy styles, but this sequined First Lady-esque jacket is just that – a jacket, not part of the dress. You can see photos of Pippa without the jacket here, and while the dress is not very good at all, the look improves without Laura Bush's jacket. Pippa's dress is fully lined too, in case you were wondering if we were seeing the famous Middleton Beav. How is it possible that Pippa is capable of more modesty than her duchess sister? Also: why do the Middleton women hate lipstick? And why is Pippa's hair so "old"?
Have you heard the latest "diss" by Morrissey? Morrissey hates all things royal and all things Middleton. I guess it's mostly about the royals' hunting lifestyle, but I think he's just anti-monarchist in general. Anyway, Morrissey must have just seen those photos of Pippa with all of the dead birds in October, because Morrissey has written up a lengthy blog post about it. Here's the Pippa section:
On October 5, the Daily Mail newspaper gave us all an "amusing" report of thickwit Pippa Middleton laughing as she stood over 50 birds shot dead by her friends and herself after a "busy day's shooting". We are reminded by the Daily Mail that Middleton is a 'socialite', which tells us that she is privileged and can more-or-less kill whatever she likes – and, therefore she does.

The sick face of modern Britain, Pippa Middleton will kill deer, boar, birds – any animal struggling to live, or that gets in her socialite way. This is because her sister is, of course, Kate, who herself became 'royal' simply by answering the telephone at the right time, and this association allows Pippa's kill, kill, kill mentality to be smilingly endorsed by the British print media, to which only the mentally deficient could join in with the laughter.

The right to kill animals is endorsed by Prime Minister David Cameron who shoots stag whenever he feels a bit bored. In the Queen's Honors List, awards have been bestowed upon musicians Bryan Ferry and PJ Harvey – both of whom allegedly support fox-hunting. There is not one single instance when an animal protectionist has found themselves knighted or applauded by the Queen. That animals are an essential part of our planet (that they are, in fact, the planet) and must be protected, is a shatterbrained concept to the British 'royals'.

Historically, we all remember Prince William proudly killing the baby deer, Prince Harry bravely giving the thumbs-up as he pointlessly ended the life of a water-buffalo, the Queen loading her shotgun in readiness to shoot birds out of the sky. How terribly regal.

Although the natural idiocy of the British 'royals' is internationally acknowledged, it still doesn't make their behavior any less alarming.
I have no memory of William killing a baby deer or of Harry killing a water buffalo. Did Morrissey dream those up or did they actually happen? I'm actually kind of surprised that Morrissey hasn't heard about the truly disturbing incident where two guard dogs protecting William and Kate in Wales were put down just days after Will & Kate moved to London.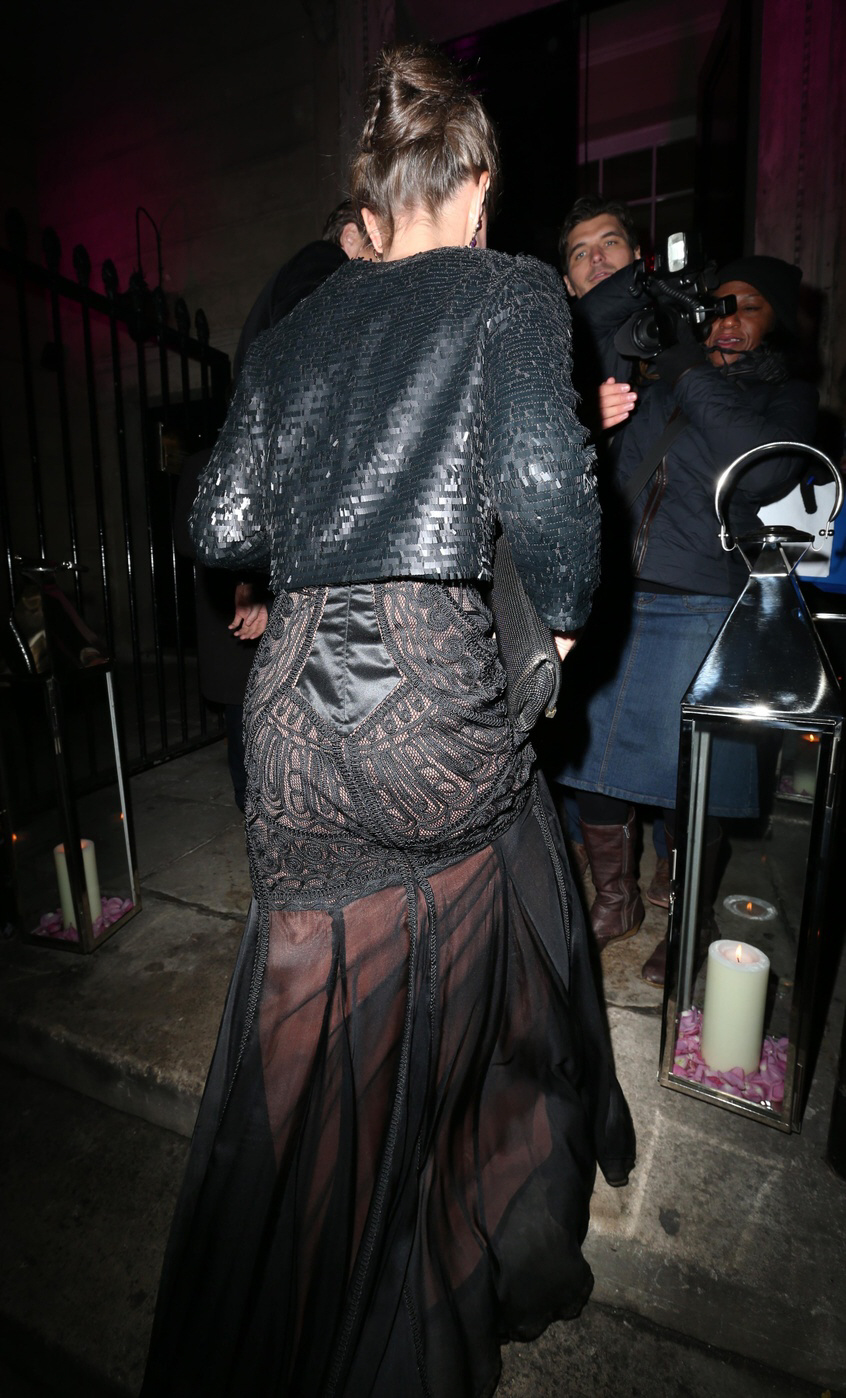 Photos courtesy of WENN, Pacific Coast News.