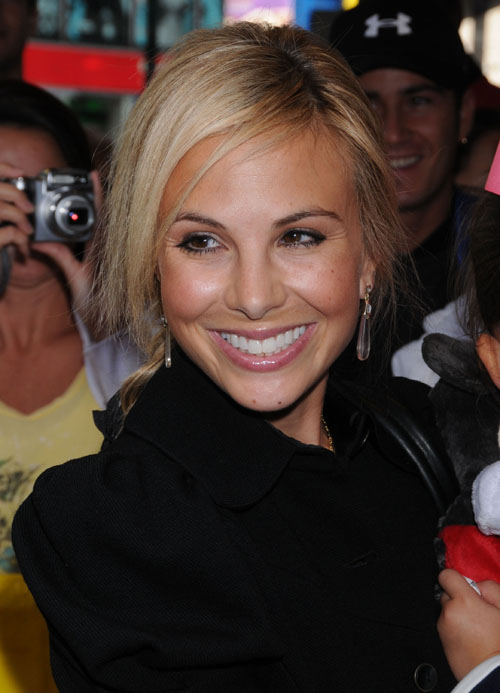 "The View" co-host Elisabeth Hasselbeck has revealed that she and husband Tim are expecting their third child. Elisabeth is due in August, she announced on Thursday's broadcast of "The View." So far, the TV host is feeling healthy except for a little bit of morning sickness and fatigue. Apparently, the nausea she was experiencing post-election and during the inauguration was not due to her outrage that her best buddies, John McCain and Palin, weren't elected – it was because she was knocked up. Go figure!
Hot topic: Elisabeth Hasselbeck are her husband Tim are expecting their third child.

On Thursday's The View, Hasselbeck, 31, announced the happy news and revealed that she is due in August.

"We were thoroughly happy with the surprise of it," she said. "I didn't even know for two months — I was walking around — I thought I had — I kept saying, 'Electionitis, electionitis.'

She said she felt sick while attending the inauguration earlier this month.

"I was tired, I was nauseous, I thought I was worn out from the whole procedure," she went on. "No. I was knocked up and didn't realize it."

Hasselbeck and her husband Tim have two children: Grace, 3, and Taylor, 1.
This could be good and bad news. On the down side, viewers are going to be subjected to every gory detail of the pregnancy from now until August. It's gong to be like Kathie Lee Gifford all over again. But then there's the good news: she will no doubt be taking a maternity leave, which means at least six weeks of guest hosts. Hooray! Unless, of course, the producers at "The View" want to find someone equally as obnoxious, like Ann Coulter, to replace her. But what do I care- I never watch this piece of crap show anyway. All the women, with the exception of Whoopi, make me want to stick sharp objects in my ears.
Anyway – congratulations to the family on their impending new addition.
Here's Hasselbeck, along with Glenn Close and "View" co-star Joy Behar, at a NY Times event in September 2008. Photo credit: WENN.