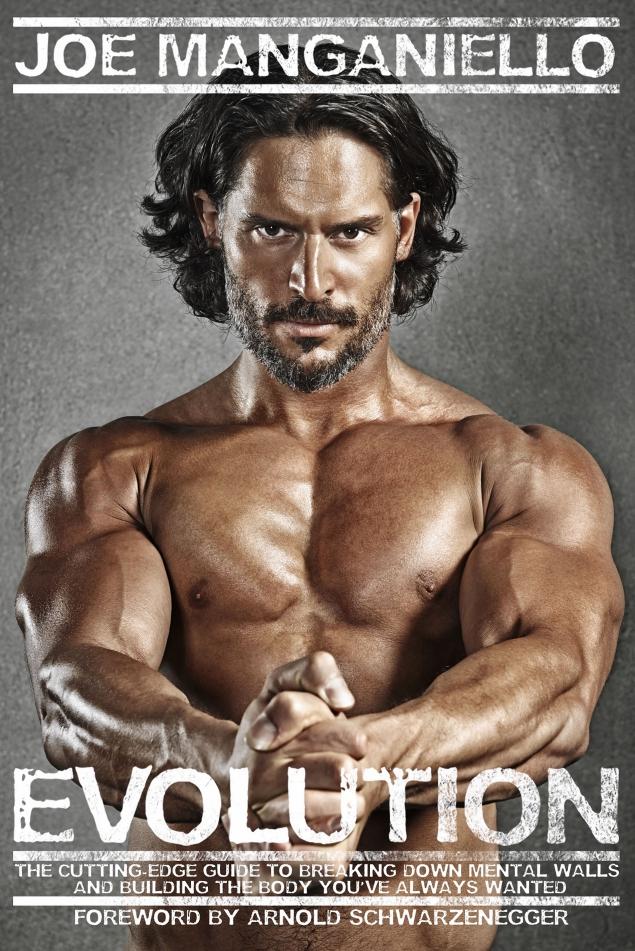 Let me preface this post by saying that Joe "Bring Back the Man" Manganiello has provided the single most theraputic laugh that I have experienced in months. I dig this guy. He's the best! Such an amazing take on Blue Steel. Mind you, I don't want to hit Joe at all. I do want to have a margarita with him, but he probably doesn't do alcohol. He's probably one of those "clean-living" types. Oh well, I'll have one for him. No worries.
This amazing image is actually the cover for Joe's new bodybuilding book, Evolution: The Cutting Edge Guide to Breaking Down Mental Walls and Building the Body You've Always Wanted. I guess there was a demand for this type of tome, which arrives with a forward from Arnold Schwarzenegger. The promo images are almost inspiring. Check out these HDR-type Photoshop filters — they make Joe look like a cast member from 300: Rocky Mountain High.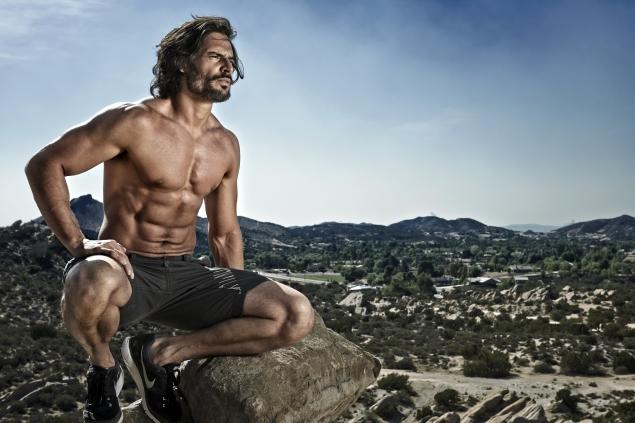 Here are some very deep thoughts on bodybuilding from Joe. Saddle up:
You are your own worst enemy when it comes to getting the perfect body.

Nobody knows this better than Joe Manganiello. He's ready to spill his tips on getting ripped.

Rule No. 1: It's all mind over matter.

"Most people think they're working out really hard, but when I see them at the gym, they're lazy!" says Manganiello, 36, whose book, Evolution, hits shelves Tuesday with a reading at the Union Square Barnes & Noble. "They're on the phone, they're mindlessly pedaling, and so they're just getting middle-of-the-road results."

The key to better performance is ignoring your brain's self-doubt.

"This book is designed to take away people's excuses," he says. "I was not blessed with the genes to put on muscle weight. I've never touched a steroid. I had to bust my ass."

So what makes this Joe Sixpack God's gift to fitness? A nod from Arnold Schwarzenegger helps. The former Governator says in his foreword to Manganiello's tome that he was awed by the actor's "huge arms and cannonball delts" while filming their upcoming flick, Sabotage.

Don't judge this book by its cover. Once you flip past the pics of Manganiello's bowling-ball biceps, the pages preach about pushing through mental blocks as much as doing pushups, though the book does feature workouts and a diet created by Ron Mathews, who jacked up Hugh Jackman and others.

"This is what I use to get camera-ready in those six weeks leading up to my first shirtless scene," he says. But before you go topless, start by working out two body parts per day for six days, and changing your diet to include small high-protein meals throughout the day. A year later, you're in the greatest shape you've ever been," says Manganiello, who's at peak sex appeal in his late 30s — and is dating model Bridget Peters to prove it. "The harder I train, the more I get back," he says.
[From NY Daily News]
The article goes on to list Joe's four principles for effective muscle building, but that's redundant to what I've already quoted. He's not the brightest guy in the world, but there's a market for his tips, and it doesn't involve guys starving themselves to achieve his body type.
I really don't want to be accused of double standards because Joe is pulling the perpetually silly "no excuses" card (like superfit mom Maria Kang), but I don't see Joe's advice as being anything other than good, old-fashioned lifting and clean-diet principles. No harm, no foul. Guys at my gym will gleefully eat this stuff up. Figuratively.
Here are some photos of Joe leaving the gym during the lost days of summer. He's wearing an "Evolution" shirt. Joe is a man with a plan …. even if the plan is hilarious. Oh, and I've included a photo of lil' Joe in the gallery! He was a cute kiddo.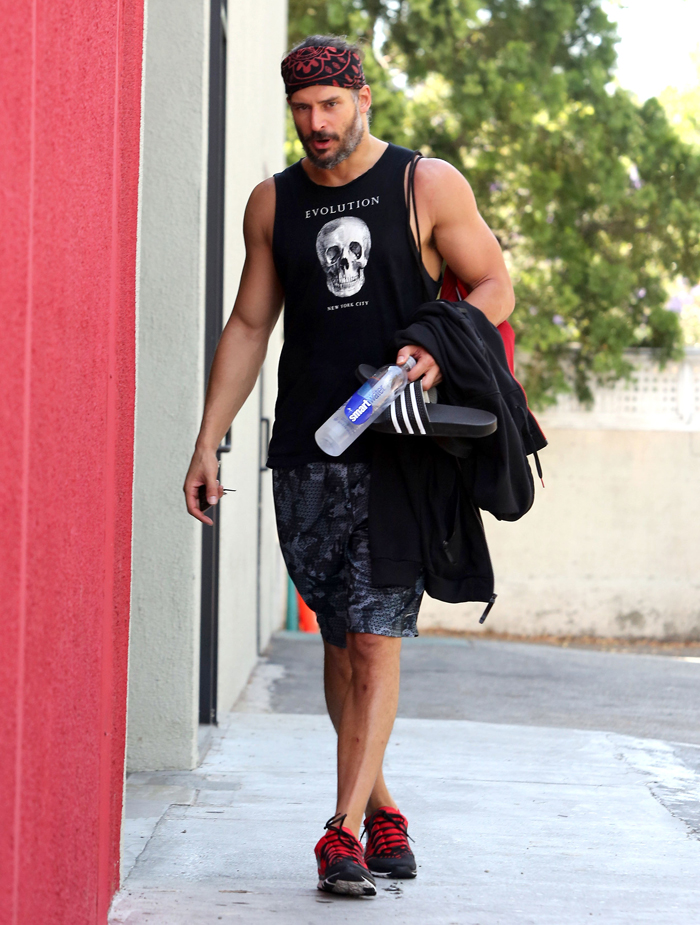 Photos courtesy of Fame/Flynet & Gallery Publishing