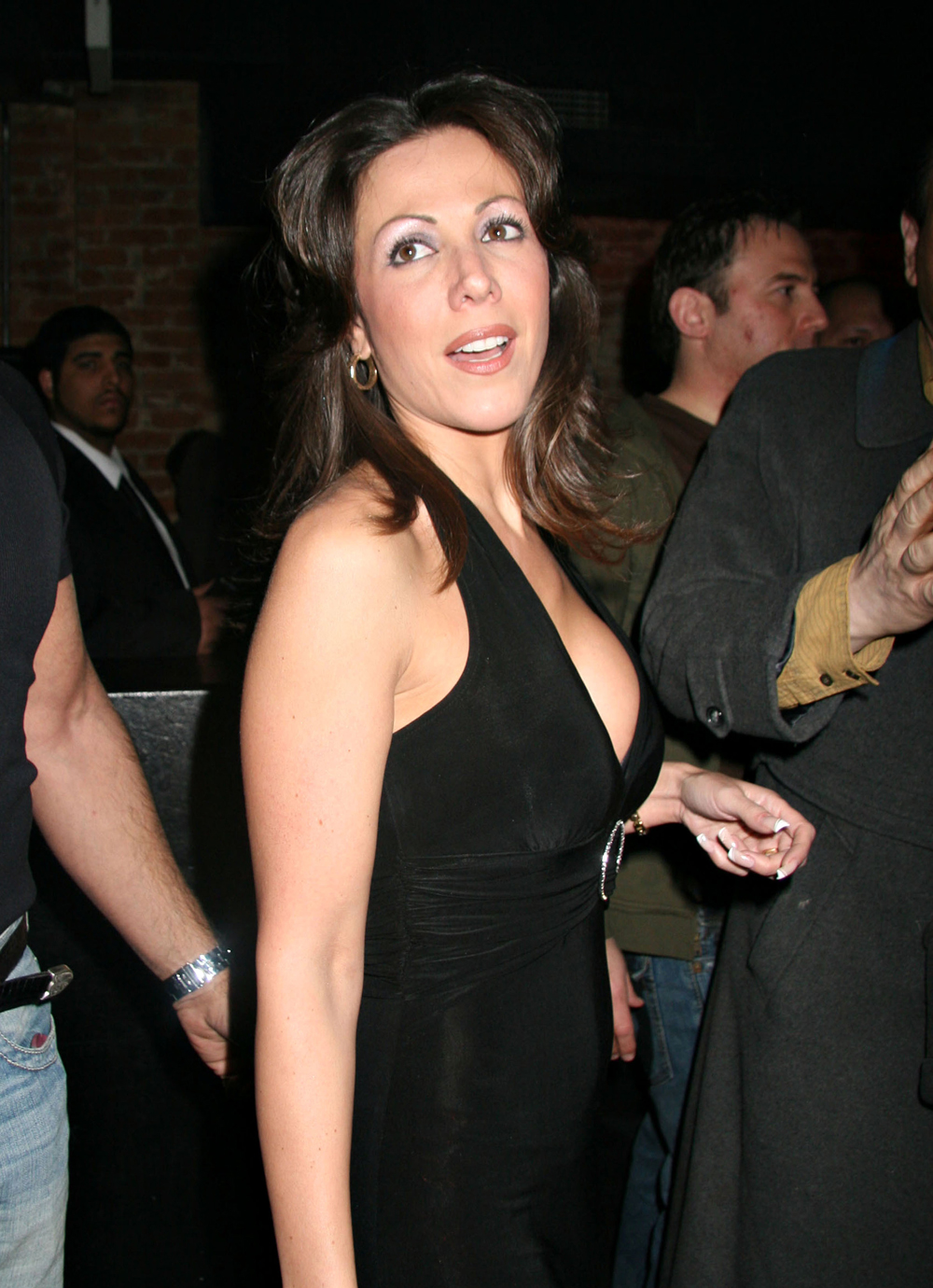 You know the old idiom, "Porn stars can't be good mommies?" Yeah, that's a saying. Or at least I'm making it one. It strikes me as relatively good conventional wisdom. Anyway, Amy Fisher has turned all that on its head. Or she's trying to. Amy says she can do professional porn – and strip at clubs – and still be a good mom. How? Well she conveniently divides up her business and family life, and says the porn is just her career, and has nothing to do with her ability to bundle her kid up in a onesie.
Sixteen years after she shot her lover Joey Buttafuoco's wife, Mary Jo, in the head with a .25-caliber semiautomatic pistol, the Long Island Lolita is making headlines again. Amy Fisher, now 34, recently launched a career as a Pay-Per-View porn star and an exotic dancer, performing at strip clubs along the East Coast. Amy, who is married to her agent, Lou Bellera, 56, and has three children, Brett, 8, Ava, 4, and a 3-month-old boy, spoke exclusively to In Touch about her controversial new career and how she's changed after spending seven years in prison for assaulting Mary Jo. "I've been through so much," Amy says. "It's time to have fun in my life."

Why did you decide to get into porn?

I'm doing it for me, to have a good time. As long as you don't mind taking your clothes off, it's great.

How do you reconcile doing porn with raising kids?

Whatever I do in my private life is my private life. When I come home at night, I have my family. The kids are my whole life — this is my business. I give 100 percent to my kids and husband.

You gave birth three months ago. How did you get back in shape?

I work out two to three hours a day. I do a half-hour of cardio and weights for the rest of the time. My body looks great — I look phenomenal.

Do you think the public will ever change their perception of you?

I'm the Long Island Lolita who has always been known for a sex scandal. I'm not a criminal. I did something stupid in high school. I'm an adult now and I grew up. I think people are sick of hearing about it. It's been [almost] 20 years – I've moved on.
[From Best Week Ever]
What a handy way to compartmentalize your life so you can do whatever the hell you want and never have to question it. Amy Fisher could rationalize smoking crack in front of her kids if she tried hard enough. For her sake, I hope her quote about how "people are sick of hearing about it," isn't true, since her notoriety is exactly what she's basing her porn career on. From photos, she does appear to be in good shape, though I would never have said her face looks phenomenal. She's certainly no better looking than most of the other women in porn. People aren't paying for her movies because she's the hottest woman out there; they're paying for them because she's Amy Fisher. End of story.
It's really not my place to say that a woman shouldn't be doing porn because she has kids. Ultimately that's her decision. But you can't help but worry about what's going to happen when her kids come home asking questions because little Timmy told them at recess that their mom gets naked and sucks things on camera. Pamela Anderson said she recently had to explain about her infamous sex tape to her sons. That's an experience I think most parents would like to avoid.
Here's Amy Fisher with husband/manager/sex tape co-star Louie Bellera at her sex tape release party celebrating it being the number 1 porn video in the nation on January 4th. Images thanks to Fame.