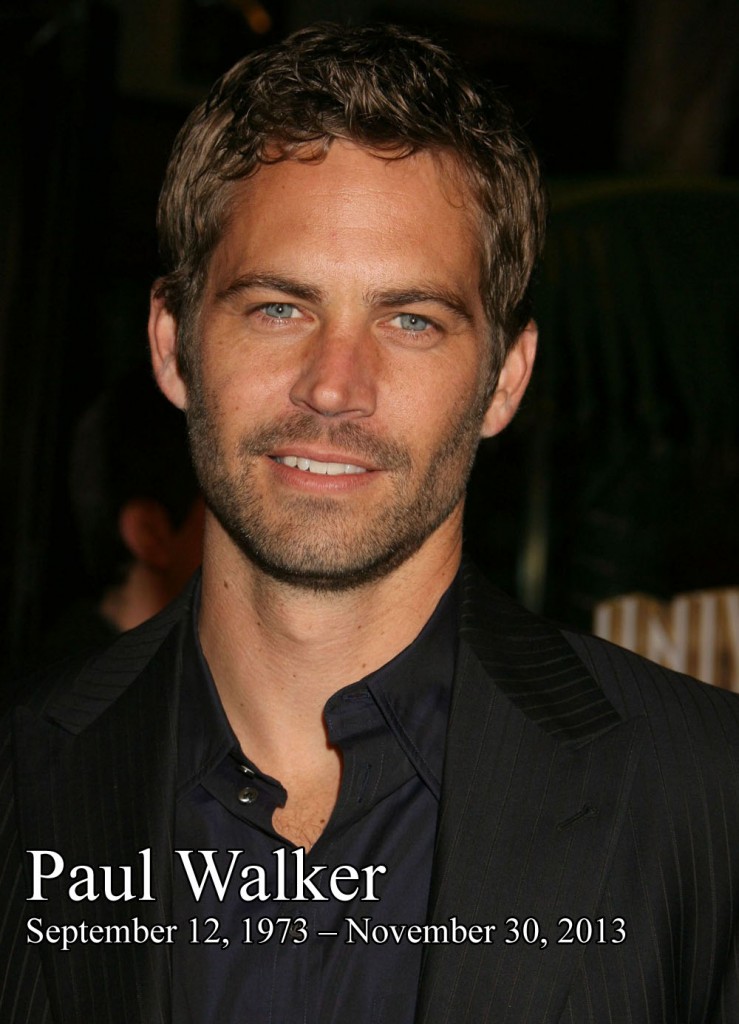 In our last story on Paul Walker's sad death, I mentioned that I don't agree with the release of so many details surrounding the accident, the aftermath, and his grieving loved ones. When friends and family want to speak to the press and share their grief that's one thing, but I don't want to see paparazzi photos of people who are still in shock. I also don't want to see crash photos for God's sake. So we won't be covering all of the breaking news, and this is just a follow up with some of the less awful news.
Filming on The Fast and The Furious 7 has been suspended in the wake of Walker's death. Yesterday Universal announced that production would be halted while they figured out the next step. It's thought that the lucrative franchise will continue without Walker. Their statement read:
Right now, all of us at Universal are dedicated to providing support to Paul's immediate family and our extended Fast & Furious family of cast, crew and filmmakers.

At this time we feel it is our responsibility to shut down production on Fast & Furious 7 for a period of time so we can assess all options available to move forward with the franchise. We are committed to keeping Fast & Furious fans informed, and we will provide further information to them when we have it. Until then, we know they join us in mourning the passing of our dear friend Paul Walker.
Apparently producers are unsure what to do with the footage they already have for F&F7, which is approximately half of the film. They're considering starting over with a new storyline. It's all the more sensitive because of the way Walker died, in a high speed car accident, and the plotline of the films. The Wrap explains why it may be easier to start fresh rather than try to make a new story with existing footage. "Universal is concerned about the sensitivity of losing an actor to a high-performance car crash in a movie that centers around street racing, and the notion of cobbling together a new storyline using the already-filmed elements may be more difficult than just starting over."
Universal also released a new tribute video to Walker. They were set to promote the DVD release of The Fast and The Furious 6, which comes out on December 10, before his tragic death. They've made this video which highlights his best scenes over the years, and have committed a portion of DVD profits to the charity Walker founded, Reach Out WorldWide. They're handling it very well, and the video is so touching. Here it is:

After Paul died, a lot of us heard about his extensive charity work for the first time. He founded Reach Out WorldWide in 2010 to help after natural disasters like the tornadoes in Oklahoma and Illinois, and the recent typhoon in the Philippines. Paul did this all somewhat quietly and behind the scenes. There's news that he also did random acts of kindness that he didn't seek credit for. US Weekly has a heartwarming story about how Paul secretly bought an Iraq war veteran, and his fiance, a $10,000 engagement ring. Apparently the couple was in the store and Paul overheard them talking about how they couldn't afford the ring. He told the clerk to put the ring on his tab and to keep his identity a secret, and then he quietly slipped out the door, never seeking thanks.