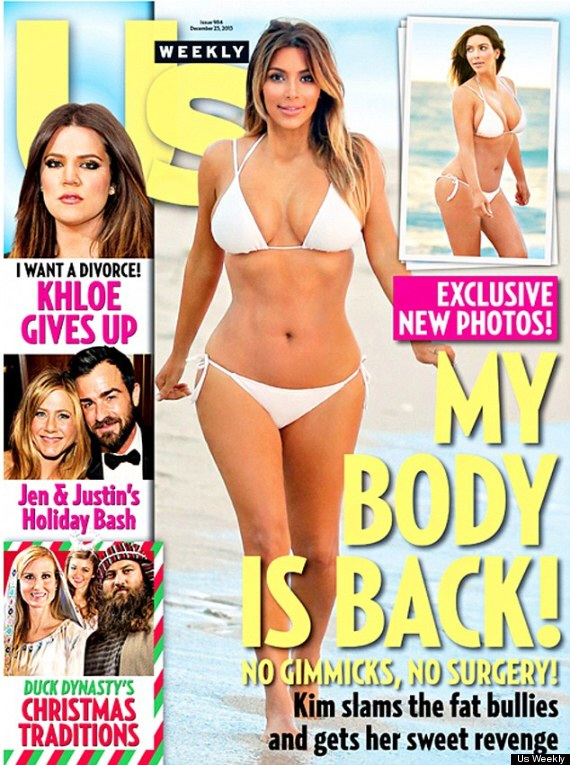 Here is the new cover of this week's Us Weekly. Kim Kardashian got her body back! And we're supposed to believe this because Us Weekly always gets the exclusives about Kim's body. Seriously. Remember that trip that the Kardashian-Jenner clan made to Greece? They brought along an Us Weekly photographer and they probably got editorial control over those "Kim's pregnancy body" photos. The gist of it is that Us Weekly is totally and completely in bed with the Kardashians, so just read this as an advertisement:
If Kim Kardashian's critics didn't get the message when she posted that sexy swimsuit selfie, which she called her "big middle finger to the world," this should do the trick. Six months after giving birth to daughter North West, the 33-year-old reality star is proudly showing off her post-baby body in a skimpy bikini — and Us Weekly has all the exclusive photos in its new issue.

Strutting confidently along the beach on Nov. 30, the blonde stunner flaunted her slimmed-down figure and famous curves in a revealing white triangle top and matching side-tie bottoms. It's a big milestone for the star, who endured fat-shaming and cyberbullying for the weight she gained while pregnant with little Nori earlier this year.

"Kim feels confident again," a source close to the first-time mom tells Us. "She worked really hard and is so motivated to stay fit."

Indeed, as revealed in the new issue of Us Weekly, Kanye West's fiancee has adhered to a strict diet since she got the all-clear from her doctor. And her dedication has clearly paid off.
Sure. Whatever. Kim still claims she's doing Atkins, which I sort of believe. I believe she's dieting, for sure, but I also think she's had some surgical help along the way, especially since her face has been looking sort of different too. A "source" close to Kim also told Us Weekly: "She wakes up and does more than 100 squats every single morning. Even now, when she can wear the things she did before her pregnancy, she still wants to tone her body." Us Weekly puts a number on it too – they say Kim has lost "50 pounds" since giving birth.
Meanwhile, remember that "controversy" about Kim's eBay auctions and how only 10% of the money (if that) was going to charity? Well, Kim wants to explain the situation:
I feel compelled to speak about something that is in my head and my heart. Over the years, I've had to grow a thick skin. Being in the public eye, there are times I feel like I get criticized for any and everything I do. I'm used to it now. I just choose not to feed into negativity or become consumed by it.

The problem comes in when I get attacked for giving and trying to help people. My dad always taught me the importance of giving back. I don't publicize everything I do to help charities and people all over the world. I do it because I want to. I do it because my dad taught me to. I do it because it's the right thing to do. So for people to attack me for giving 10% of my eBay auction sales to the people of the Philippines, that hurts.

I do eBay auctions monthly and change the charity or church from time to time. I give 10% of all my earnings to charities, not just these eBay auctions. This month it's for the people of the Philippines, last month was Life Change Community Church.

In regards to these eBay auctions, when the eBay numbers get broken down, the auction management agency that posts for me gets a percentage for all of their hard work, then eBay listing fees, end of auction fees, eBay Store fees, Paypal fees, etc., all add up to about half of the sale. Then I give 10% to a charity.

Truth is how the # is broken down, is neither here nor there. The people of the Philippines need all of our help, no matter how big or small.

Over the last 5+ years, I have listed thousands of items on eBay Giving Works for various causes. I will continue to do what is in my heart and am happy to know many others have enjoyed purchasing from me, as they too are giving with me.

Giving comes from the heart. We all need to be reminded of this as we celebrate the holiday season this year.
I believe her when she says that she consistently gives 10% to charity no matter what. I really think she does that. The problem was never that 10% of her profits go to charity – the issue was what she claimed going into an auction. If you say "the proceeds go to such-and-such charity," then that's what needs to happen. Don't put it in small print at the bottom "oh and only 5-10% of the proceeds actually go to charity."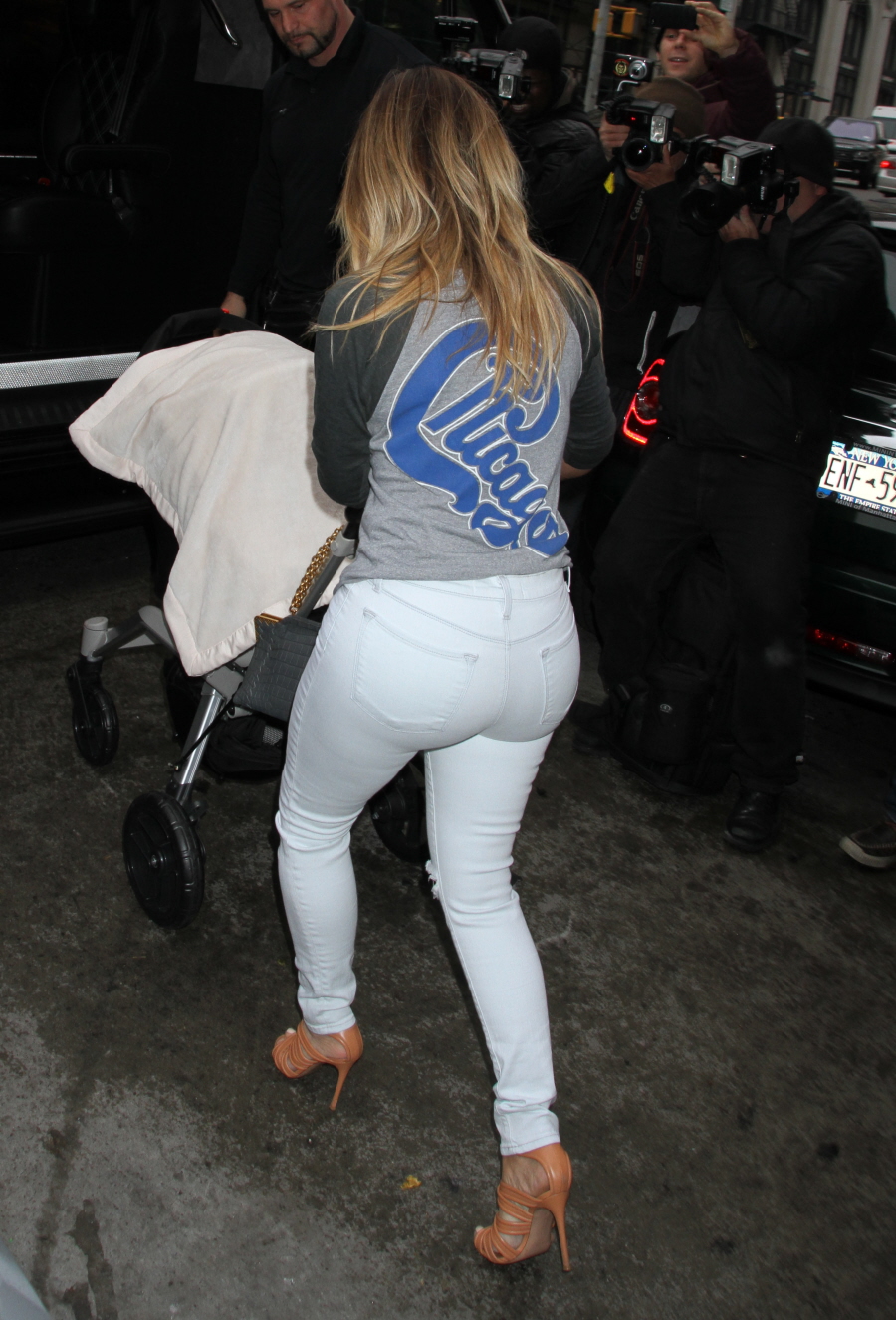 Photos courtesy of Fame/Flynet.