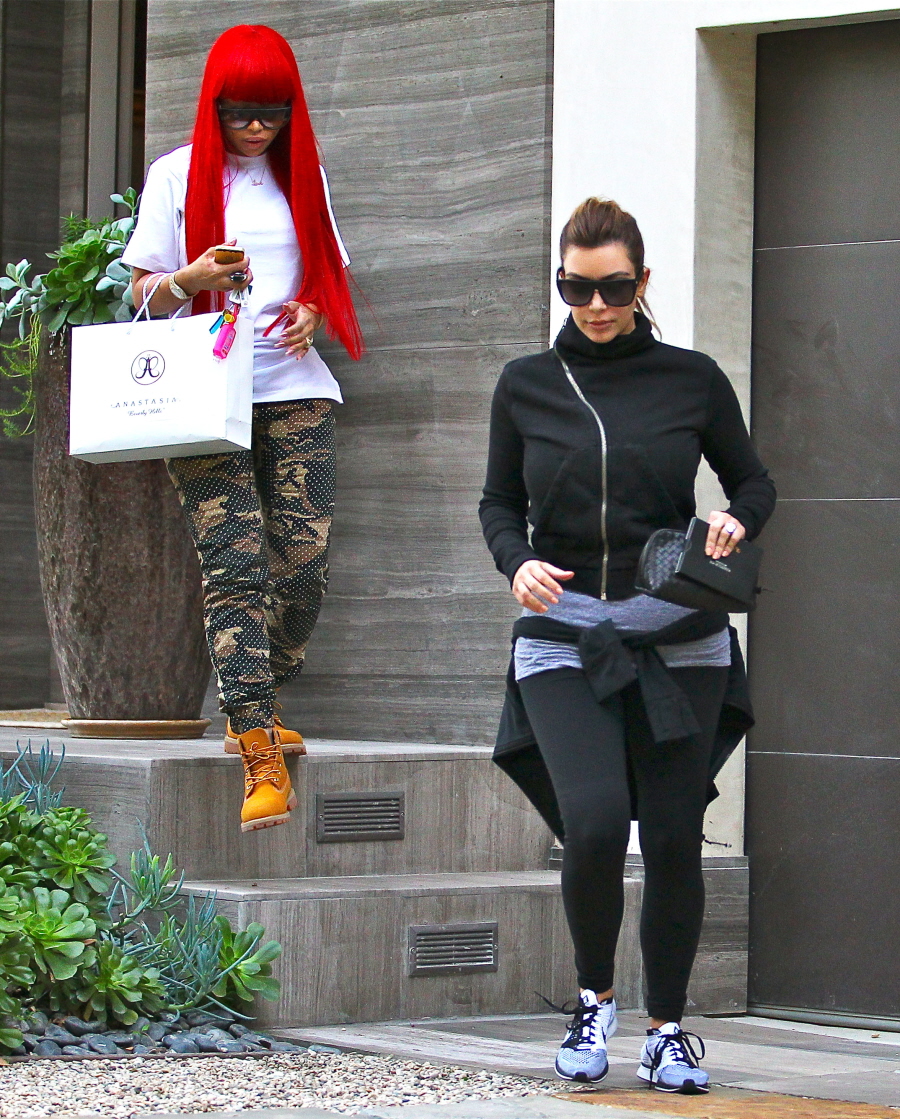 Here are some new photos of Kim Kardashian out with her new BFF Blac Chyna yesterday in Beverly Hills. According to Fame/Flynet, they were coming out of a private house where they had just gotten their eyebrows "done". I don't get it. What is to be "done"? I have eyebrow issues, but I deal with them my own way – by obsessively plucking them while I'm watching TV. I've waxed them a few times but I always worry about what could go wrong with eyebrow waxing. And I don't have light coloring or anything, so I don't have to worry about dyeing my brows or anything, and I don't see why Kim would need to worry about it either. So what is she getting done? Are her eyebrows professionally plucked or waxed?
Kim also participated in a Q&A session, and she discussed her future family planning:
Kim Kardashian has said she would like TWO more children with Kanye West. The superstar couple welcomed North into the world in June, and the reality TV star has admitted she sees herself with a bigger family in the future.

Kim was taking part in a Q&A session with fans on Mobio INsider, and she was asked where she would like to be in a decade. She responded: "In 10 years I see myself raising a family of 3 children possibly and just [loving] life my husband and [our] children."

It's a lovely sentiment showing Kim is quickly embracing the family she is creating with her rapper fiancé, whom she described as her "best friend".

She added: "I love the Kanye you guys probably dont see so often. he always makes me feel safe and protected. We are best friends. thats all a girl would need forever. (sic)"

Given those adorable thoughts and future plans, it's no surprise Kim is getting very excited to spend her first Christmas with both Kanye and North. It's her favourite time of the year , and her festive traditions are all centered around the importance of family, which can be seen in their annual card .

She said: "Christmas is my absolute fave time of year! its about family. I love the smell of everything Christmas. My moms Christmas Eve party is a tradition we have had since I was born. Then we do Christmas morning, opening presents with our whole family at 6am! Then we all cook breakfast together. (sic)"

After seeing the tree they'll be gathering around, we're definitely getting jealous of the Kardashian clan this year!
Ha, it's funny because she assumes she's still going to be with Kanye ten years from now. Or does she? Did she even name him? Maybe Baby #2 will be with Husband #4. And Baby #3 will be from Husband #6. You never know! And do you think Kanye really makes ANYONE feel "safe and protected"? I imagine living him would be like walking on eggshells for the rest of your life. You say the wrong thing one time and you're going to have to sit through a ten-hour rant about Steve Jobs, Walt Disney, Willy Wonka and how Kanye's just like a fireman.
PS… I hate to admit this, but I love Kim's fleece. I want one!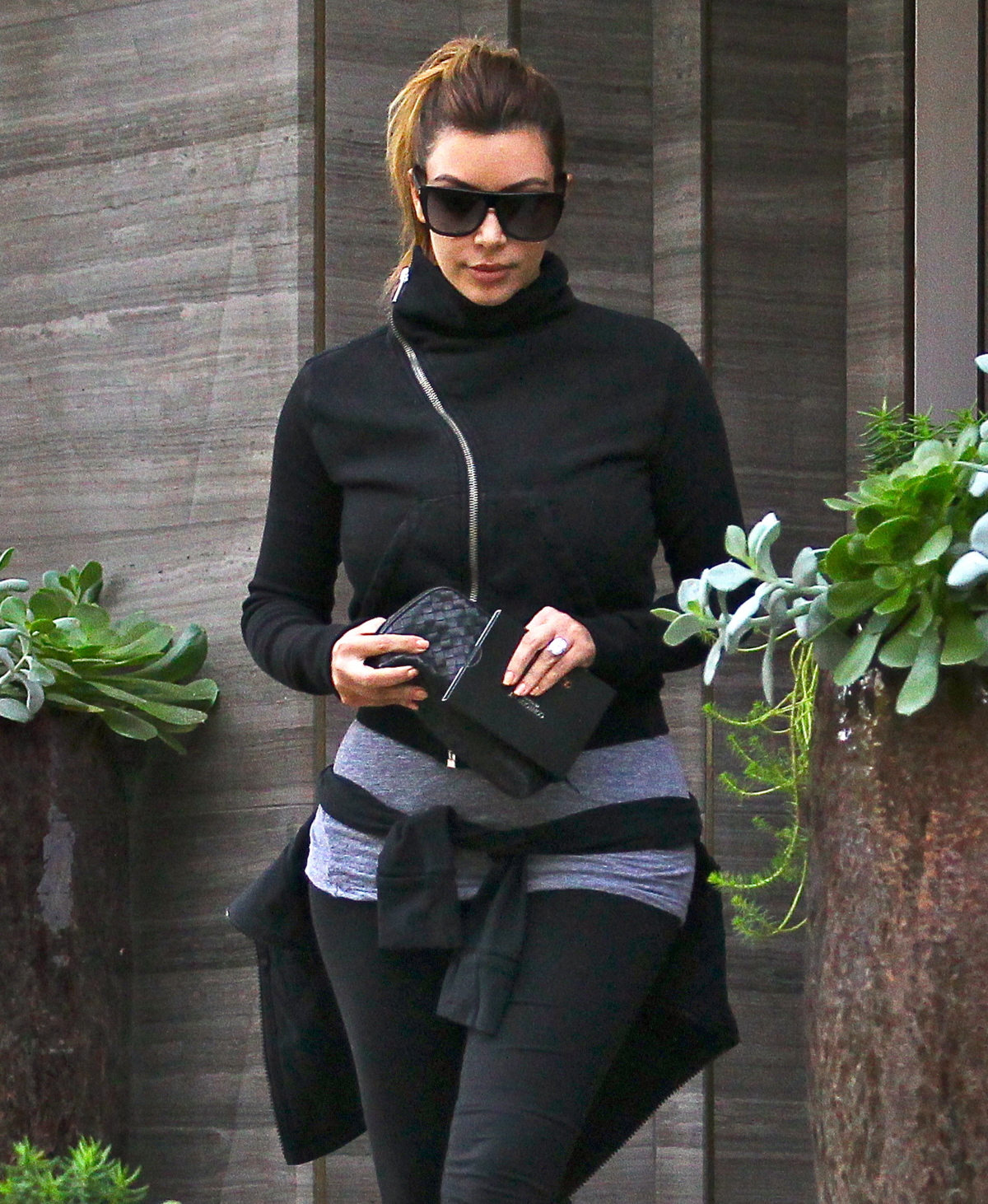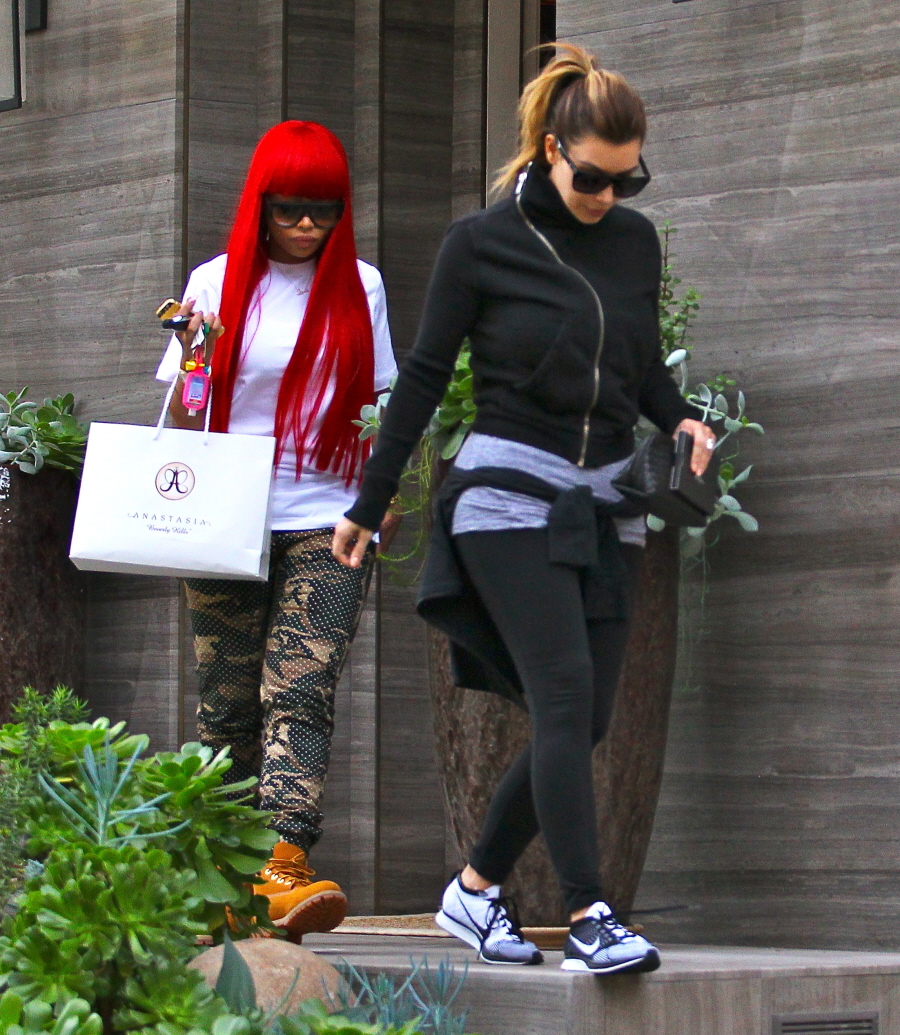 Photos courtesy of Fame/Flynet.