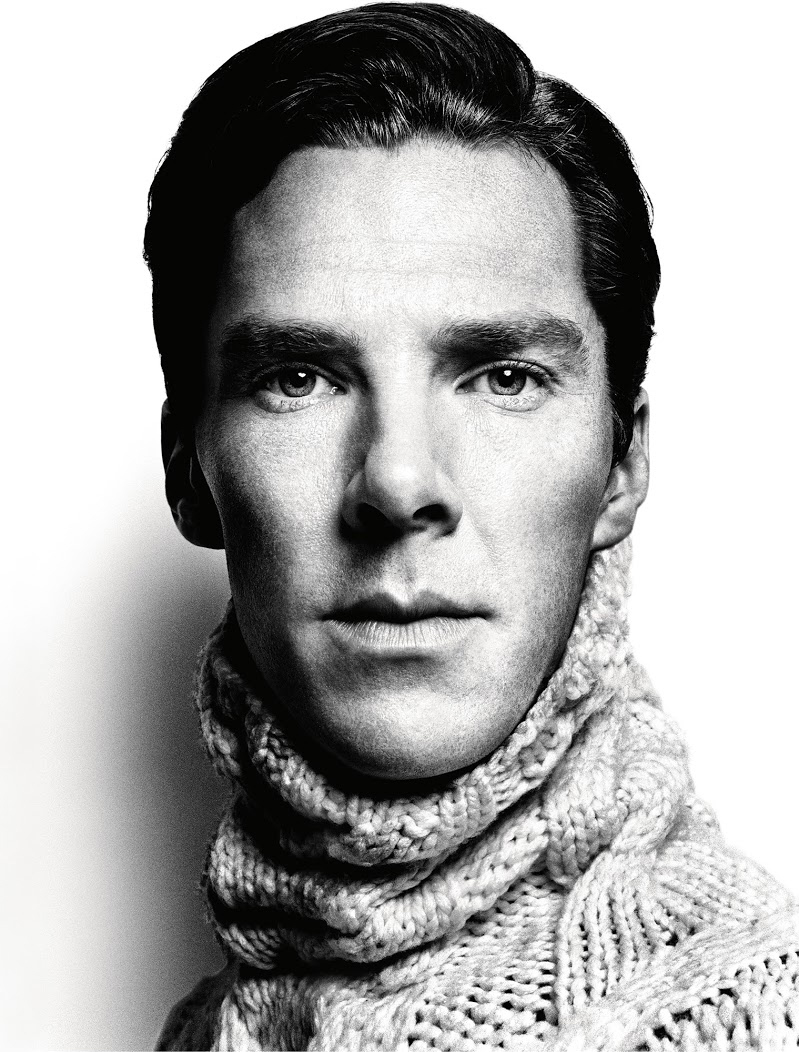 Oh, lord. I just got thoroughly Batched. I'm covered in Cumberbatch. What happened exactly? I chanced upon GQ UK's newly-released epic slideshow of excerpts from their Benedict Cumberbatch cover story. Even though I'm a ride-or-die Cumberbitch, I never did sit down and read the whole cover story last month, so I really enjoyed these excerpts. Except now I might have overdone it. I've overdosed on Benedict. Maybe. No… I can still write about him. Anyway, you can read the slideshow excerpts here, and here are some highlights (note: Benedict is a world-class talker on a normal day, but he was supremely chatty to GQ UK).
Making the cover of Time Mag: "I completely f***ing forget it was a cover, I just thought it was going to be a story inside. And I was honored by being one of the very few actors who get a profile inside of the magazine. When it came out literally thought it was a mock up that a fan had done: I thought, 'That's not my hand!' So when I found out it was a reality I was genuinely floored. Floored in the same way I just sat on the sofa with one of my boyhood heroes [Harrison Ford], and he said to me, 'I love what you do'. I just thought 'Wow!' I mean, two speechless moments, incredible moments."

Working with his hero, Gary Oldman: "I really treat every job as if it's the first time I've worked, otherwise I would be paralysed with fear. Like, otherwise, going onto a set with Gary Oldman, I couldn't do it. You have to normalize that by becoming a co-worker. I mean, I remember Tom [Hardy] being really, really intimidated by Gary when he first met him, and I think I probably was too – I think he was in a corridor, and he was quite silent. He's actually quite shy Gary. He just looked me up and down in silence, and I just didn't quite know what to say. Little did I know the man was harbouring huge fears about the shoes he was going to step into. And I just thought he was sizing me up! But he wasn't!"

Why he's not on Twitter: "I DO sleep, unlike James Franco, and I know lots of other people who are busier than me, and they're just better at being concise. And while that would be a good exercise, I would much rather put my energies into other things to be honest. And that's no disrespect for the people who are on Twitter, I've just said from the beginning that social media is not where I'm at, with my job, it just isn't. There's a certain amount of me that likes to respect the idea that my work is public but my life isn't. You're really asking for an awkward bleed if you're talking about who you've just seen, and where you've just met them. But who knows, maybe I'll decide it's a game I'd like to play? At the moment I'm just really enjoying the space I've got in the public, which is through my work, and this is an extraordinary year."

His thoughts on 12 Years a Slave: "I saw a screening before Toronto [film festival], because I knew I wasn't going to be able to make the screening at the festival, but also I wanted to see it away from an audience, and let the impact of the film play out on me. Because I'm only playing a small role in it, I knew I could do that at a first viewing, and when you're a lead or a role bigger than the one I've got in it, you just get in the way of being immersed in the film. But the way this evolves it wasn't too distracting. I watched it, and I couldn't look anywhere afterwards. When I was walking through Soho, everything was on mute, and I looked at every bit of Georgian or Victorian architecture, it just grabbed me, every brick looked complicit. The phone in my hand that I was trying to type some congratulations to Chiwetel [Ejiofor] and Steven [McQueen], I could only think that the elements in these chips, the logos everywhere, the stark multinational logos. [Slavery] still exists, it's worse than ever. There are different forms of slavery, there's debt slavery, where people are born into a situation that even though they work and earn money they'll never get out of debt; there's child labour, there's child soldiers, there's … just the f***ing thing goes on and on, you know. I mean, sex trafficking! All of that. And [in Soho] it was this gauche-rash-Friday-night-blargh-end-of-the-week-piss-up atmosphere, and I couldn't hear any of that, it was all on mute. It was f***ing extraordinary film. I really do think it's a modern classic. It's a masterpiece."

On Downton Abbey: "Well, not that I was ever offered [a role], but I mean, I think in certain circumstances I think I certainly would have done it. It hasn't hurt Dan Stevens. And Dan had done great work before that. Downton is a populist vehicle, which is great."

Wine: "That's something I do like to spend a bit of money on. I do like to go a bit above the good £15 bottle in a newsagent, there's nothing better. I don't like more than really a glass, but if I've got friends over I will spend more on a bottle, like £40 or £50 for something really special, possibly, more, but not like, hey, look at my really expensive bottle of wine. It's just such a pleasure but it's something I have to share with other people. I'm not a solitary drinker, I never have been, and if I do that with a good bottle of wine I end up throwing half of it away. And I've done that once, and I don't want to do it again. I'm not one of those people who thinks, oh, it's there, I'll just drink it! I just can't. I don't enjoy that sensation, I like being fit enough to read a book or do my work or see a film or just … and it's not to say I don't let loose, but not on my own."

Tom Hardy: "Tom is like an incredible factory, he's like a hungry puppy, he sort of sucks the oxygen into his flame, and sometimes it doesn't leave you much room to manoeuvre but we became such good friends on that shoot [for Stuart: A Life Backwards], because it suited the dynamic, because I was very much in thrall to the spectacle of this human being, that was the dynamic."

On women wanting to sleep with him: "You know. George [Clooney] was talking to me and he said, 'Oh God, all these stories coming up! You know, it's so much about projection.' And that's why I am happy about it, because to me it's not just about the way I look, it's about some appropriation of the work and what I carry with me."

On landing the role of Khan in Star Trek Into Darkness: "I remember with Khan I only found out about it three weeks before I was on set. I remember I was in a Cineworld in Cardiff, and Mark Gatiss [Sherlock co-creator] was like 'OH MY GOD!' I'm not a trekkie, I didn't know … and not for a second did he go, 'You're not the right ethnicity!'"
There's a ton more at GQ – he goes on at length about Julian Assange, about Sherlock and he goes on and on and on about whether he's attractive and how women project their Sherlock fantasies onto him. I think he's right about parts of it – that many women want to "fix" the brilliant, mercurial Sherlock and that gets projected onto Benedict. He also talks about whether he considers himself smart and how he feels like he just keeps learning more things every year. Talk about a "hungry puppy." Seriously! Maybe Benedict is more like Tom Hardy than we ever realized. And I do love that they're friends.
Also – I want to drink wine with him. He doesn't want to drink alone! I am always available for some wine-drinking (although I'd prefer a cocktail or a Scotch on the rocks).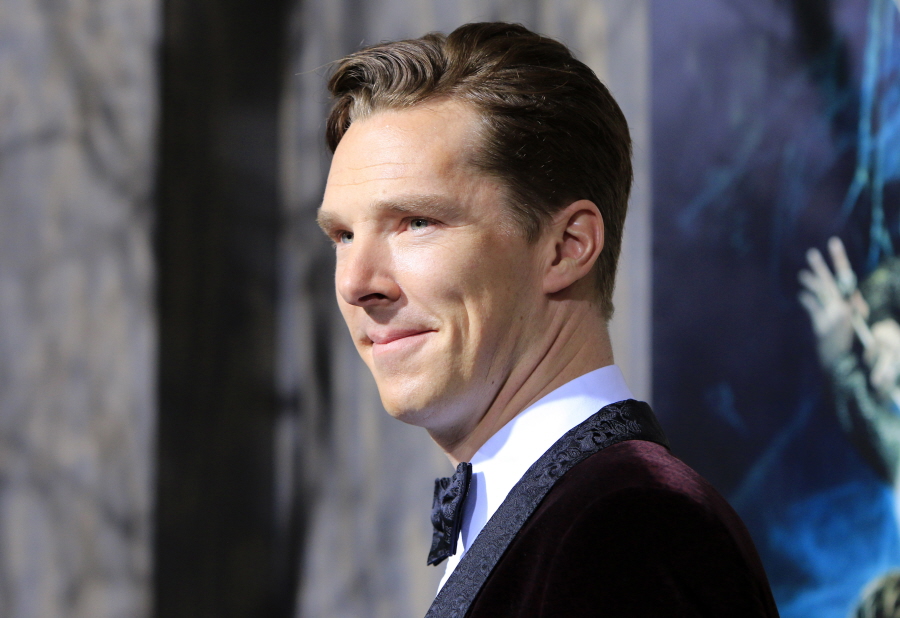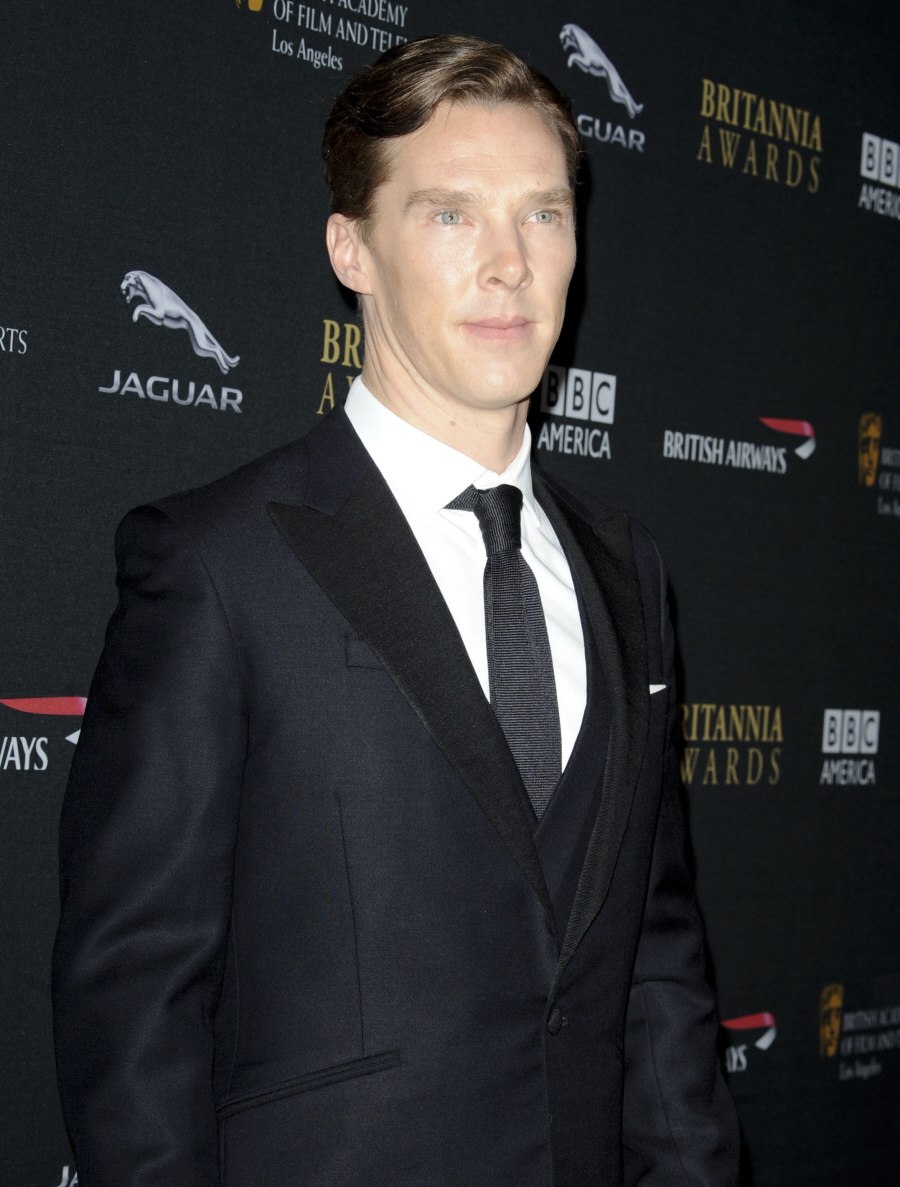 Photos courtesy of WENN, GQ UK.