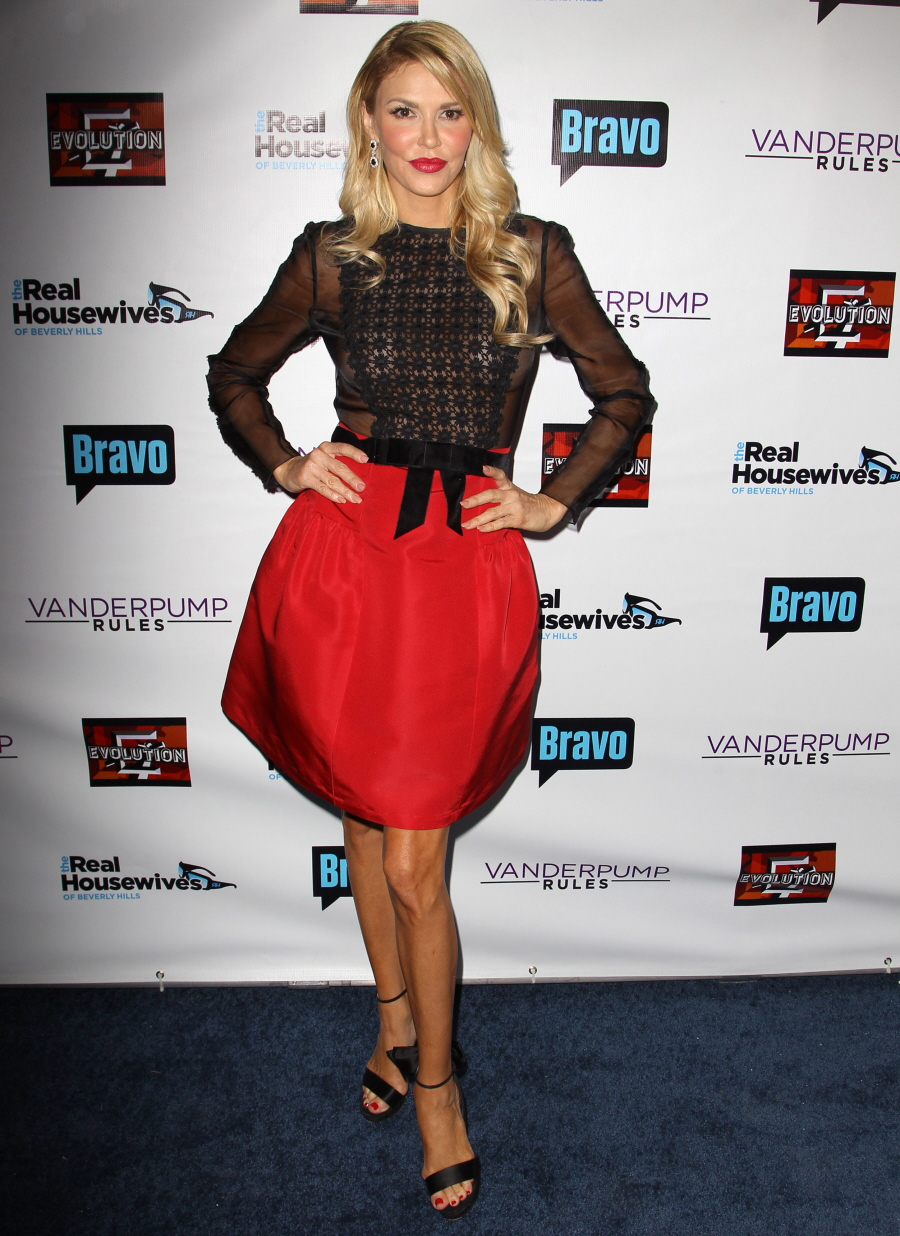 You know what I love? References to Who Framed Roger Rabbit? "I'm not bad, I'm just drawn this way." I love that line! Anyway, that's what I thought of when I read these quotes from Brandi Glanville. I keep forgetting that Brandi has a podcast now and that her people let her off the chain (even more than usual) to talk smack about everyone. Apparently, on the most recent podcast, Brandi basically said that she's a racist drunk because she has to be, for the good of the show, and that's why she gets paid. Brandi thinks no one would watch Real Housewives of Beverly Hills if it wasn't for her antics.
From racist remarks to same-sex make out sessions, controversial reality star Brandi Glanville claims she's the only reason The Real Housewives of Beverly Hills is still on the air! Although she has received plenty of backlash this season, mother-of-two Glanville has no regrets.

"They pay me the big bucks to be an a—hole," she said on her Podcast One show of her Bravo gig, adding that the point of these show is to stir up drama.

"Honestly, if Carlton Gebbia and I hadn't kissed, I hadn't said this stupid joke [against Joyce Giraud] and Lisa Vanderpump and I hadn't gotten into a fight, we wouldn't have a show. I'm just being honest. It's hard to be me!"

Speaking about her on-air persona, Glanville said she's at a disadvantage because Bravo doesn't show her "softer side" – being a single mother.

The 41-year-old model revealed that she'd love to have her two children, Jake and Mason Cibrian, on the show, but her ex-husband Eddie Cibrian won't allow it.

"It's beyond frustrating… I'd have them on the show," she said. "I was trying to explain to my ex-husband that I'd only have them in the background at my house with me and not with crazy b—ches that I don't trust that could say something that could harm them, but it's just a no go, unfortunately."

Despite all the drama, Glanville is taking it all with a grain of salt because the show pays the bills.

Said Brandi: "I've been blessed in the opportunities I've been given through the show. You have to take the good with the bad. It sucks, but at the end of the day, I'm shopping for a new home."
While I think she has a point about some things, more and more I'm glad that Eddie won't allow Mason and Jake on the show. But yeah, these Real Housewife shows are "written". They have "writers" who cast certain Housewives as "the villainess" or "the racist" or "the drunk" or "the prostitution whore." Right now, Brandi is being paid to play the racist drunk, and she's still cashing those checks so I don't see why she has anything more to say on the subject.
Photos courtesy of WENN.