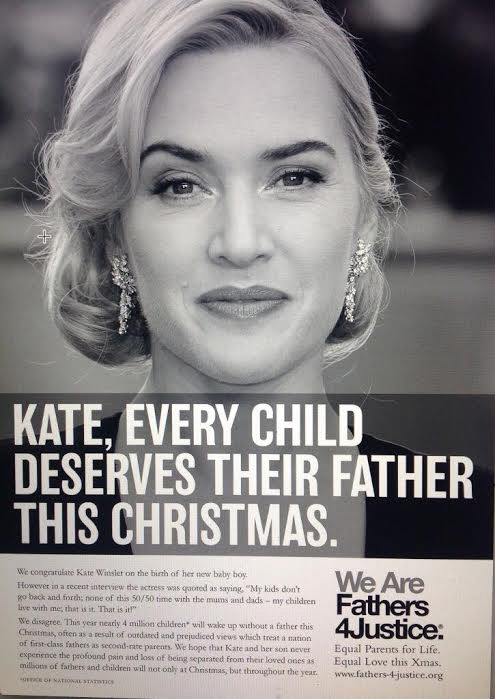 Kate Winslet and Sam Mendes split in March 2010 after a half-dozen years together and one son together, Joe Mendes. Shortly after their split, the UK tabloids began saying that the real reason for the split was Sam's affair with Rebecca Hall. Those stories were denied for a while, but Sam and Rebecca have been together since 2010, and they even go out as a couple together these days. This is just some minor backstory.
A few months ago, Kate appeared on the cover of Vogue. In her Vogue interview, Kate claimed that her children (Joe and daughter Mia, from Kate's first marriage) have "always been with me. They don't go from pillar to post; they're not flown here and there with nannies. That's never happened. My kids don't go back and forth; none of this 50/50 time with the mums and dads – my children live with me; that is it. That is it!" A lot of people (myself included) nit-picked what Kate said, interpreting it as "Kate's kids rarely spend time with their fathers." Which is how one fathers' custodial rights group (Fathers4Justice) interpreted the comments as well, and they targeted Kate in an ad campaign. Kate and her lawyers are now threatening the group with legal action, and Sam Mendes has issued a statement about the situation.
Hollywood director Sam Mendes has criticised a fathers' rights group after his ex-wife Kate Winslet was targeted in the organisation's Christmas campaign.

Members of Fathers4Justice, which campaigns for custodial rights for dads, have launched a new poster featuring the Oscar winner's face alongside the caption, "Kate, every child deserves a father this Christmas."

The campaign refers to Winslet's controversial quotes in which she claimed her two eldest children, who have different fathers, live with her full time.

She said, "My kids don't go back and forth; none of this 50/50 time with the mums and dads – my children live with me, that is it."

Mendes, who has a nine-year-old son, Joe, with the actress, has now spoken out to defend his ex-wife, telling Britain's Daily Mirror, "It is inappropriate for this organisation to involve my family and I when they know nothing of our personal circumstances. Whilst I fully support fathers' rights, I can happily state this has never been a concern for me or my son."

In response, a statement from the group reads, "We are running this advert as part of a campaign to highlight the sensitive issue of four million children waking up on Christmas Day without their father. It is clear from what Kate says that she does not support 'shared parenting'."

Winslet also has a 13-year-old daughter, Mia, from her marriage to Jim Threapleton and she gave birth to a son with her third husband Ned Rocknroll on 7 December (13).
I'm interpreting this several ways. One, Kate has been known to massage the truth of the situation to make herself look like a better person, or to make herself look like the best mother ever. It's perfectly possible her kids spend a lot of time with their dads and Kate was just lying or equivocating about the custodial arrangements. Two, it's possible that Joe Mendes doesn't spend that much time with his dad and Sam really doesn't give a crap because he's so busy with his girlfriend. Or it could be both, I guess.
Meanwhile, Fathers4Justice has issued their own statement following Winslet's legal threats:
"Kate Winslet brought her children/parenting arrangements into the public domain with her comments, not Fathers4Justice. We believe the content of the advert is accurate, balanced and reflective of the comments she made. We do though welcome Mr Mendes comments supporting fathers' rights and find it regrettable that instead of resolving this dispute as we had agreed, Kate Winslet has sought redress through legal action. I would like to re-iterate that Fathers4Justice has not made any comment in our advert about the personal arrangements of Ms Winslet and the fathers of her children."

"We do not know what they are and we have clearly stated that we don't and that those arrangements are not the basis for our advert. What we have referred to in the advert is a direct quote from Ms Winslet herself, a statement she put in the public domain through a lengthy self promotional interview in Octobers Vogue magazine. The final copy of which Ms Winslet would have no doubt seen prior to publication. Ms. Winslet's comments on shared parenting were then quoted worldwide by numerous newspapers, who also took issue with them. Of course if Ms Winslet is now saying, through her legal team who are threatening Fathers4Justice, that the Vogue article is inaccurate and that Vogue mis-quoted her, then that is something she needs to take up with them and not us."
Interesting. I'd say that Father4Justice has a legal leg to stand on, but I don't know much about the UK's libel laws.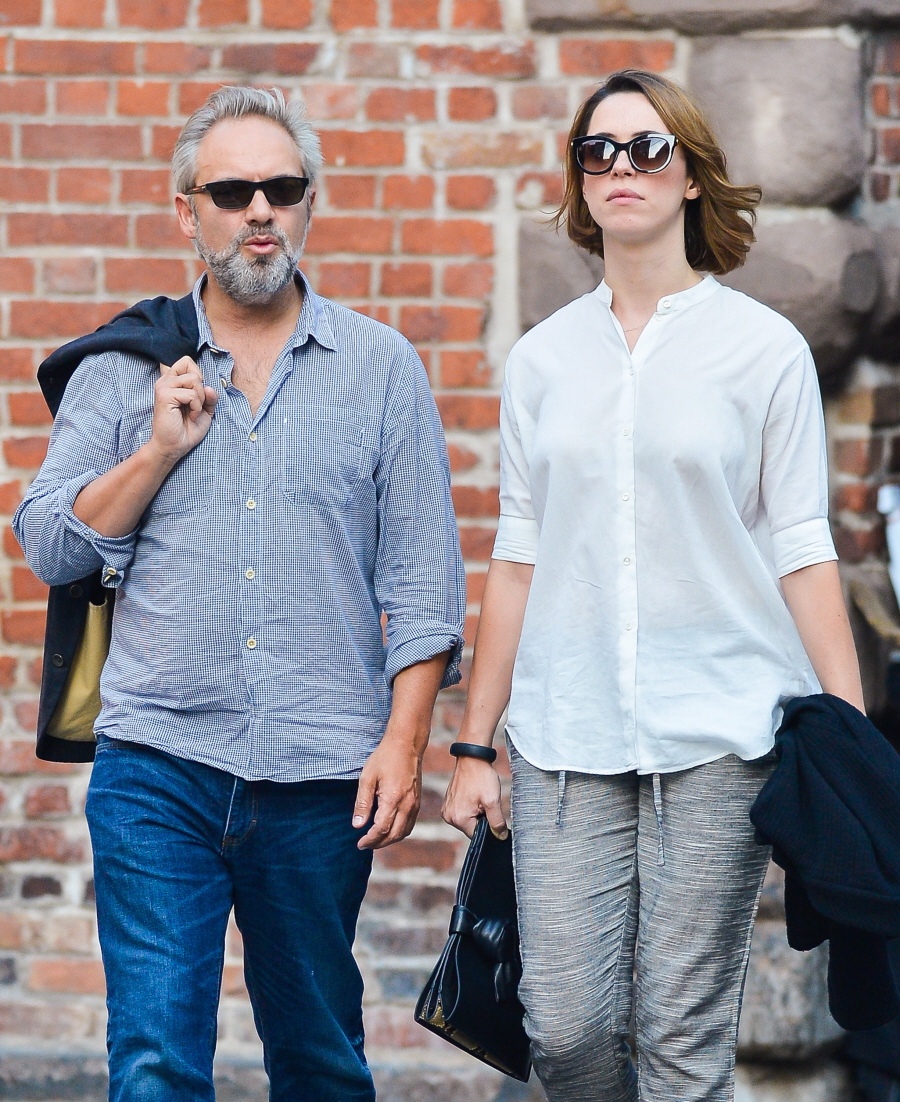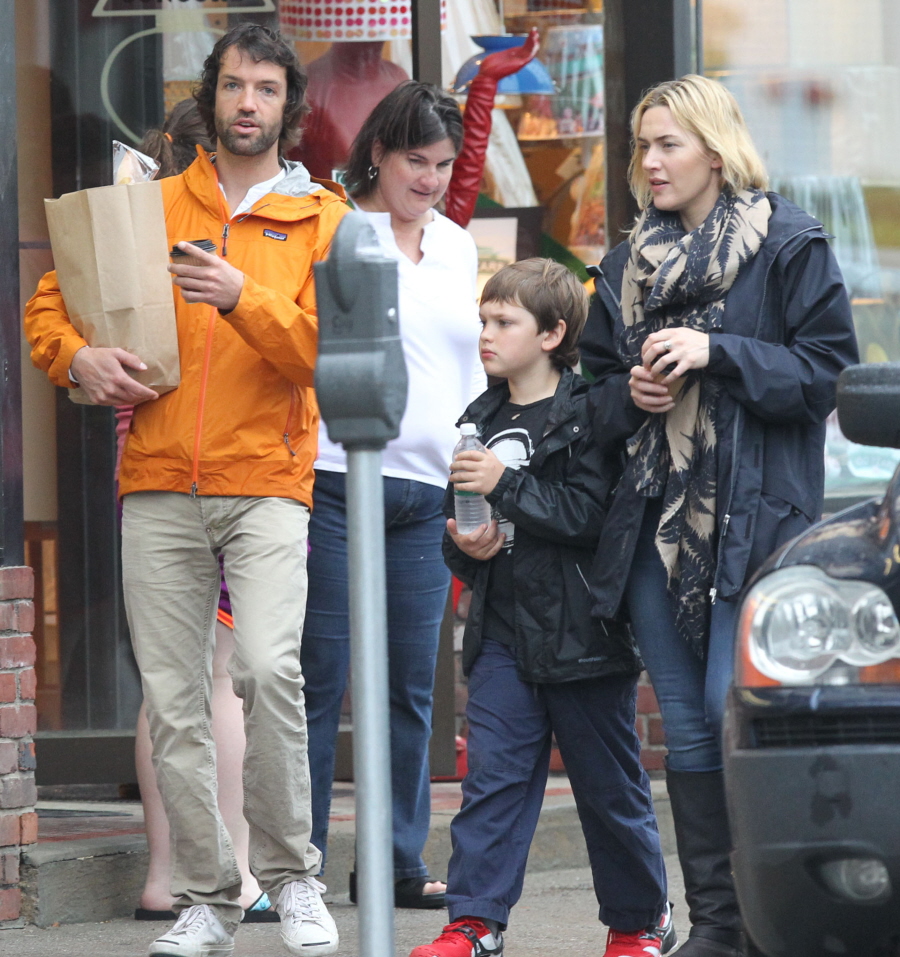 Photos courtesy of Fame/Flynet.