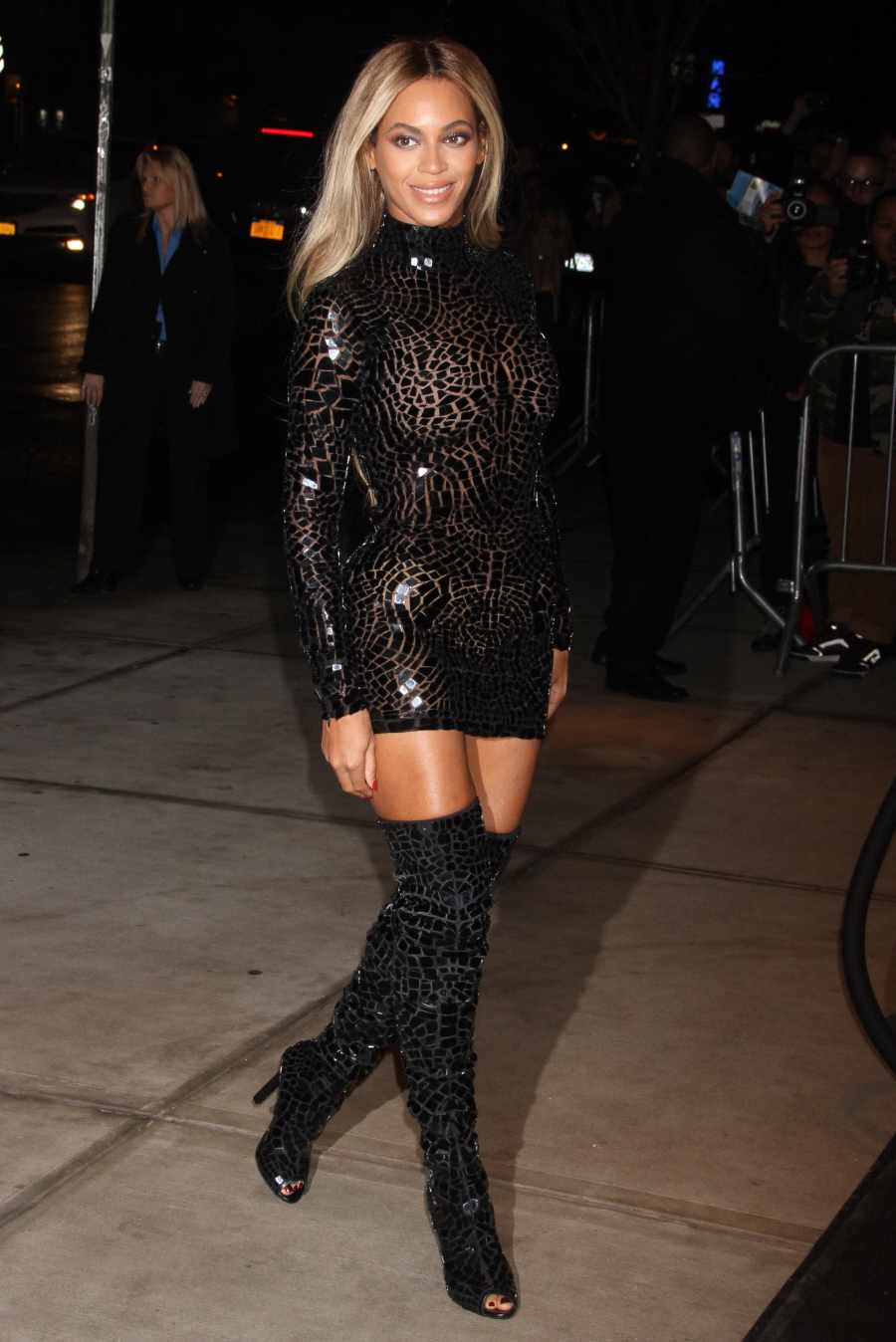 I couldn't put my finger on who Beyonce reminded me of in these photos from her weekend album launch party/event. Then it hit me… this is totally something Kim Kardashian would have attempted. Kim's version would have covered her thighs, I'm sure, but otherwise… this is totally Kardashian. I'm just going on faith that Beyonce is NOT revealing anything, cookie-wise. I can see that she seems to be wearing full-coverage underwear, and I'm not seeing nipples or anything, so let's just leave it at that. Something nice: I covet Beyonce's legs, especially her thighs.
I'm also including some photos of Beyonce's other activities from the past few days, taken from her Instagram. Apparently, Beyonce was in Tewksbury, Massachusetts on Friday and she went to a… Wal-Mart. Seriously?! Beyonce's getting better at promotional stunts, isn't she?
Going to Walmart has never been more exciting. Tewksbury, Mass., locals were in for a treat on Friday when they strolled their neighborhood spot, only to find none other than Beyoncé picking up her secretly dropped album from the store.

Just a couple hours before headlining The Mrs. Carter Tour at the TD Garden, Queen Bey headed to the suburb about 20 miles northwest of Boston, where she took over the store intercom.

Blue Ivy's mom made the following announcement for shoppers, caught on video (above) to the sound of cheers: "It's Beyoncé. I stopped by the store today because my record just arrived. I want to send everyone a little gift. For everyone in the store right now, the first $50 of your holiday gifts are on me. Merry, merry Christmas from Beyoncé."

Her contribution to the 750 customers made for a total of $37,500 in gift cards, according to a rep for the singer.

Clad in a blue dress and black leather jacket, Beyonce pushed a shopping cart around the store and interacted with shoppers and employees, and even did a little shopping. She had several items, including a doll and pink toys, in her cart, as fans trailed.

Beyonce also bonded with a little girl in the store, and chatted with the blonde toddler while holding her in her arms.

"It really was fun," said one employee. "I was just glad I was here."
That's really nice. No shade. I always think it's a nice stunt when a celebrity's like "I'm paying for this!" Also – the night before her whirlwind Wal-Mart excursion, Beyonce partied at… Dave & Buster's…? Seriously, what's going on? Did someone tell her that she needed to stop being so elitist and Goopy? According to Us Weekly, she played Dance Dance Revolution, took photos with normals and posted with a specialty cake made by the Cake Boss people.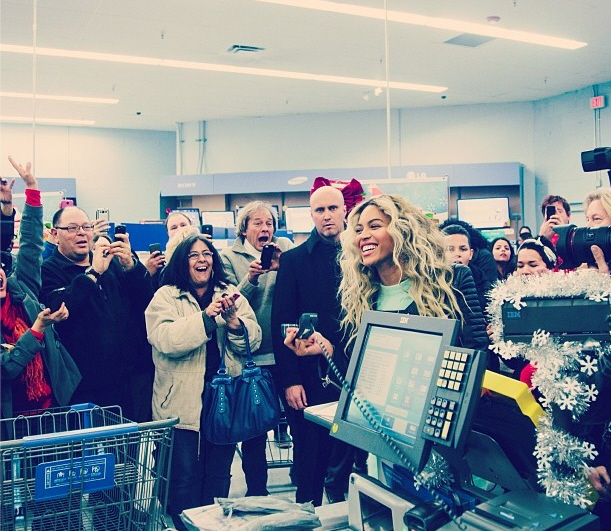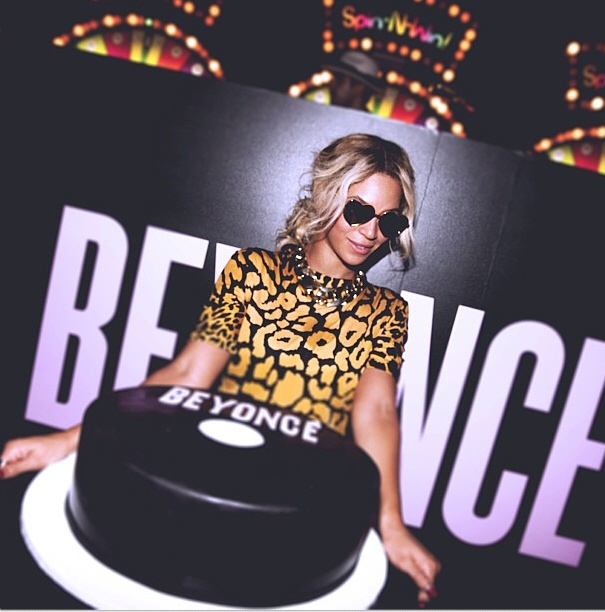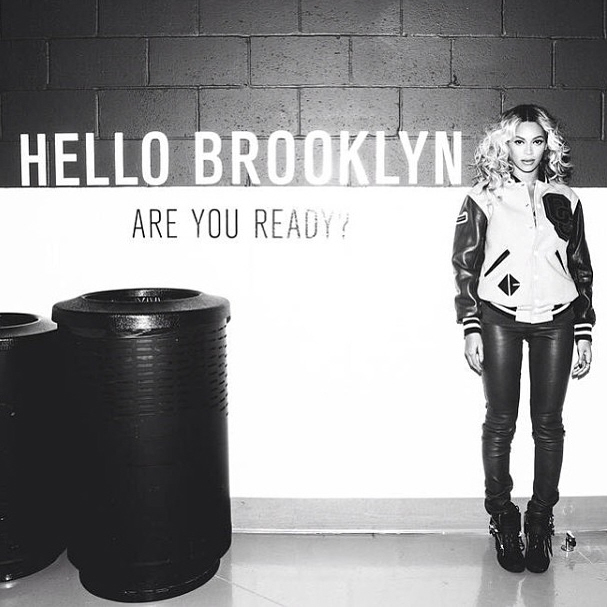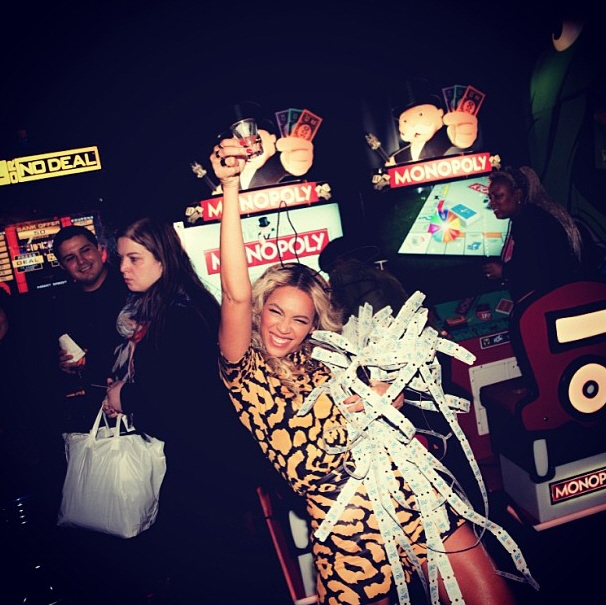 Photos courtesy of WENN, Fame/Flynet and Instagram.