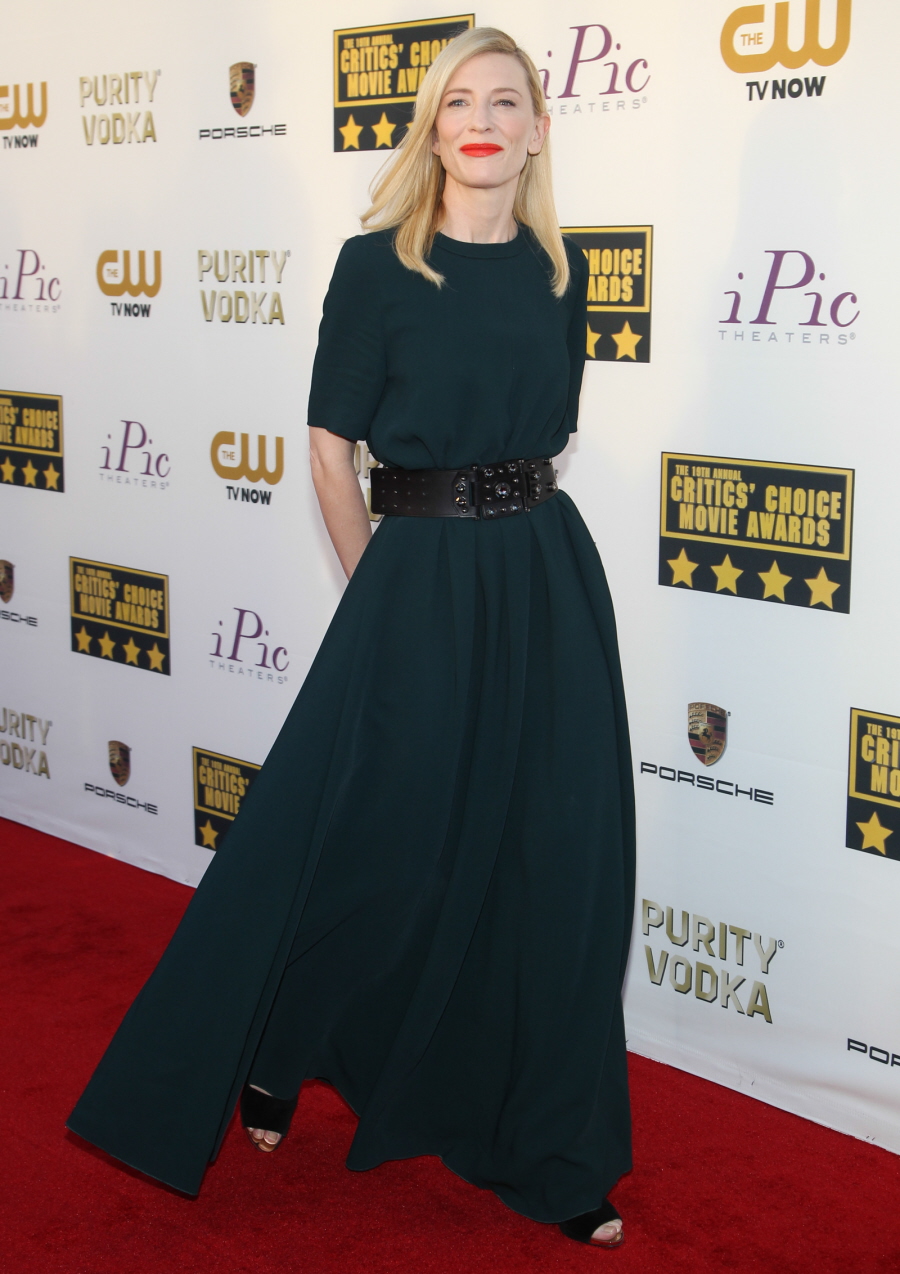 Queen Blanchett deigned to win the Best Actress Award at last night's Critics Choice. She looked magnificent, per usual, and she also managed to be utterly occasion-appropriate. The Critics Choice went from a super-casual event five years ago to a lower-tier "dress up" event where most of the ladies wore full-on gowns. It's a difficult event to get it "right" fashion-wise, and Queen Cate shows us how it's done. She wore a full-length gown by Lanvin, but she wore it casually, like it was a beach cover-up. It's basically a sack dress (Angelina Jolie is totes jelly) that Cate rescued with a fabulous belt. Cate styled it wonderfully too – simple hair kept down and a slash of orange-red lipstick, a shade that very few women could work.
I'd just like to say a word about Cate's speech and her awards victories thus far – Cate brought her youngest son Roman to the show and when she won, she gave him a big mom hug that he gleefully squirmed away from. When she accepted her speech, she cussed in front of him, saying something like "thank you to my sons who couldn't give a s—t what I do for a living." It was cute and I thought it was great that she brought one of her boys as her "date". Roman even got to mingle with big celebs like Sandra Bullock (Sandy seemed jazzed to meet him too). As the Oscar race firms up, I think Cate's chances are looking better and better, don't you? And bringing your adorable son to an awards show definitely helps! I love that Cate's campaigning this year.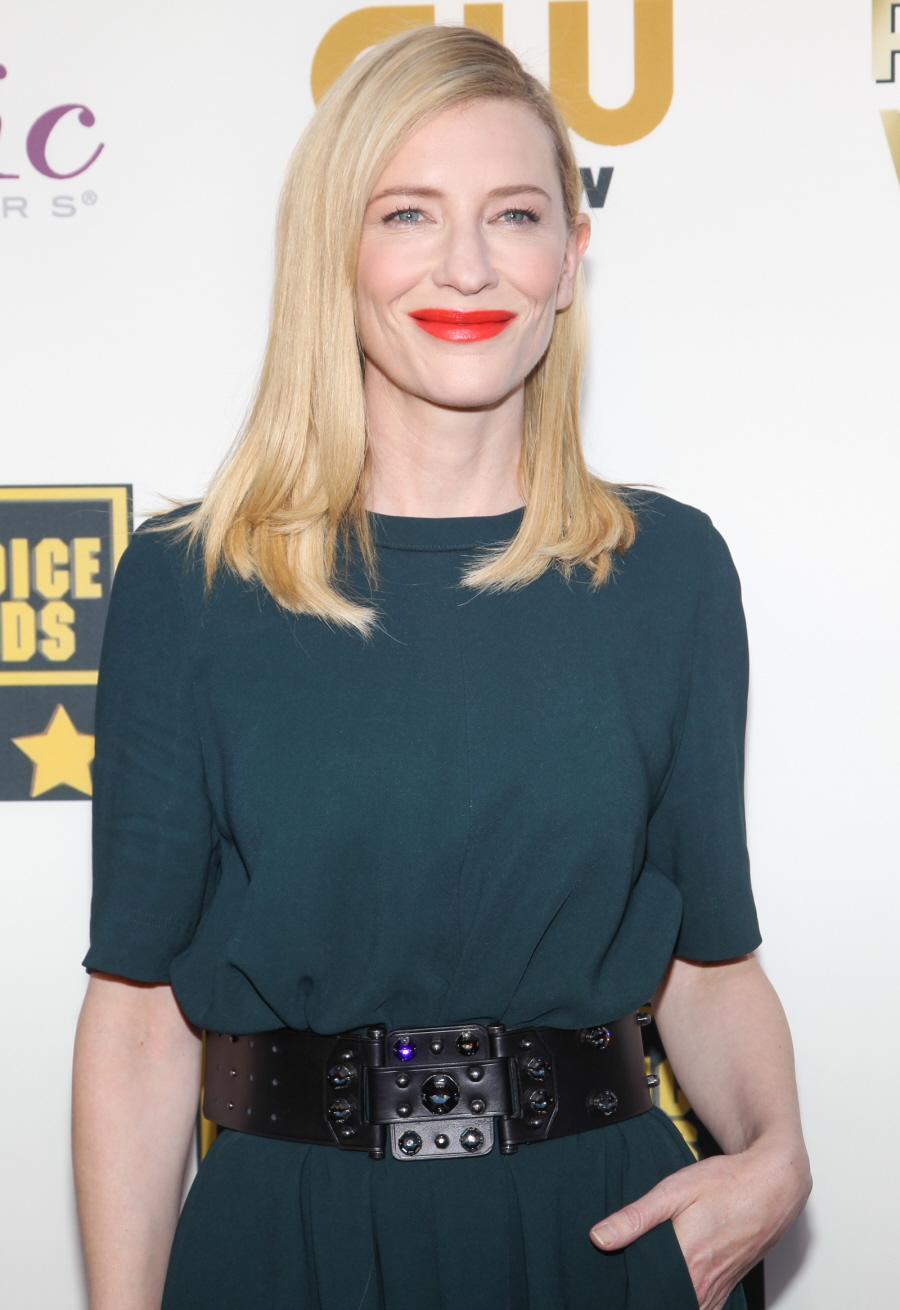 I think Cate's biggest competition will be Amy Adams, who is the only lady in the Best Actress category who doesn't already have at least one Oscar. Amy wore this hot-pink Roland Mouret gown to the Critics Choice and… I don't love it. But I don't hate it either. I think the instinct is right: choose a well-constructed, clean, flattering style in a bold color. That should work. But the execution on the dress is kind of blah. I like her hair down though. So pretty!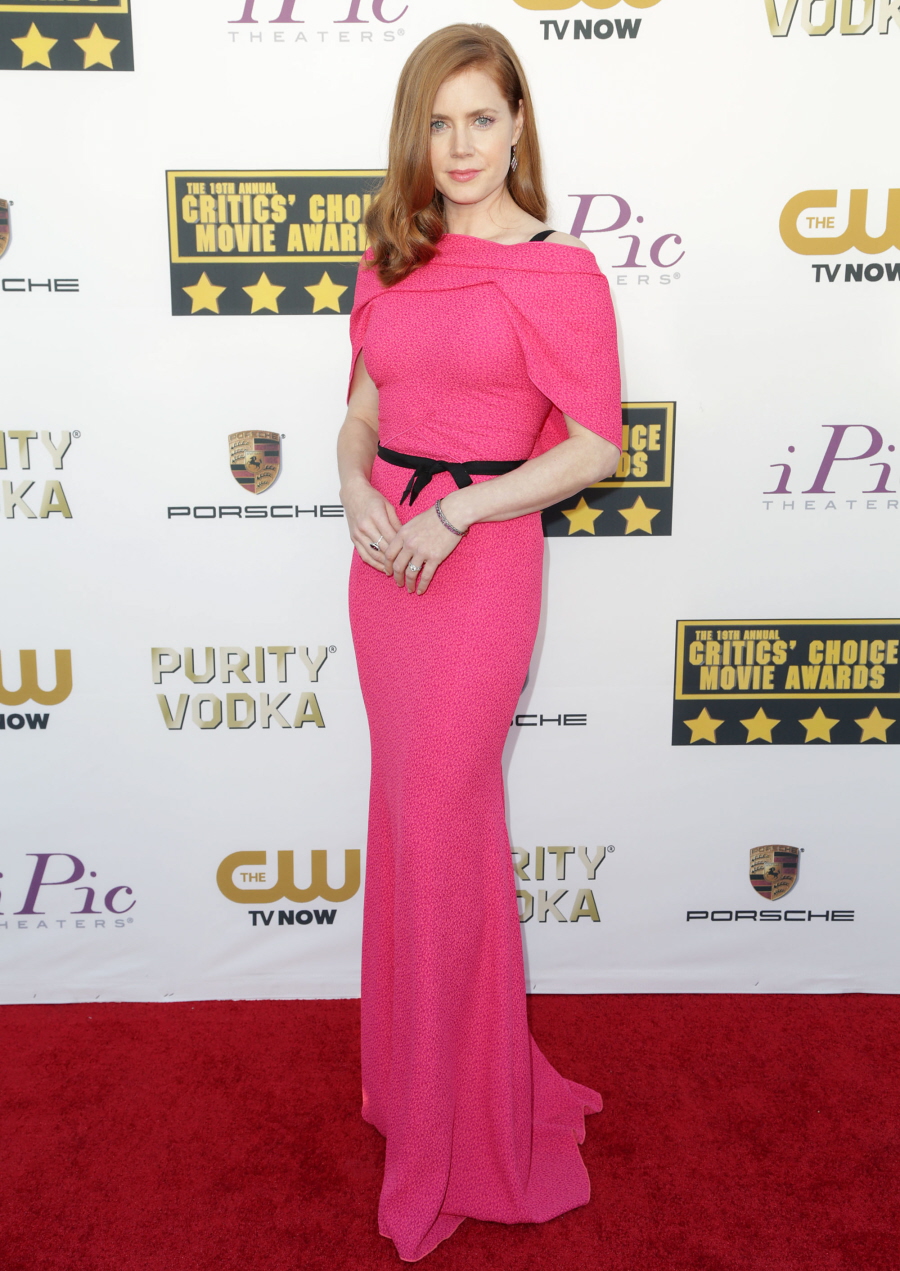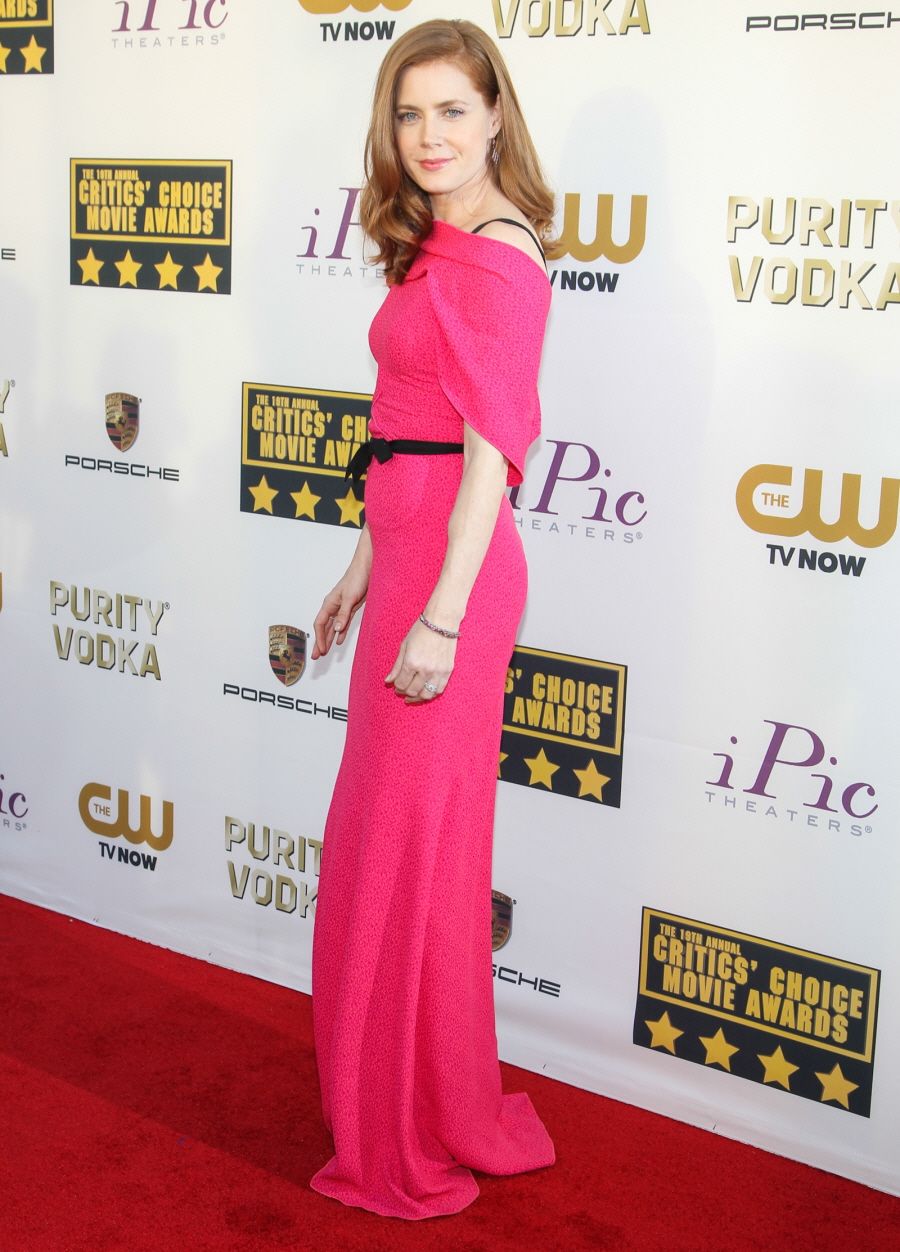 I felt sorry for both Oprah Winfrey and Emma Thompson last night. I give the credit for showing up and having fun even though both women got snubbed HARD with the Oscar nominations yesterday. Emma wore a Christmas-y Alexander McQueen ensemble and she brought her daughter Gaia Wise as her date. Oprah wore a great dress by Azzedine Alaia – the shade of green is matchy-matchy with Cate Blanchett, right? I really liked Oprah's whole look, and she was one of my picks for Best Dressed.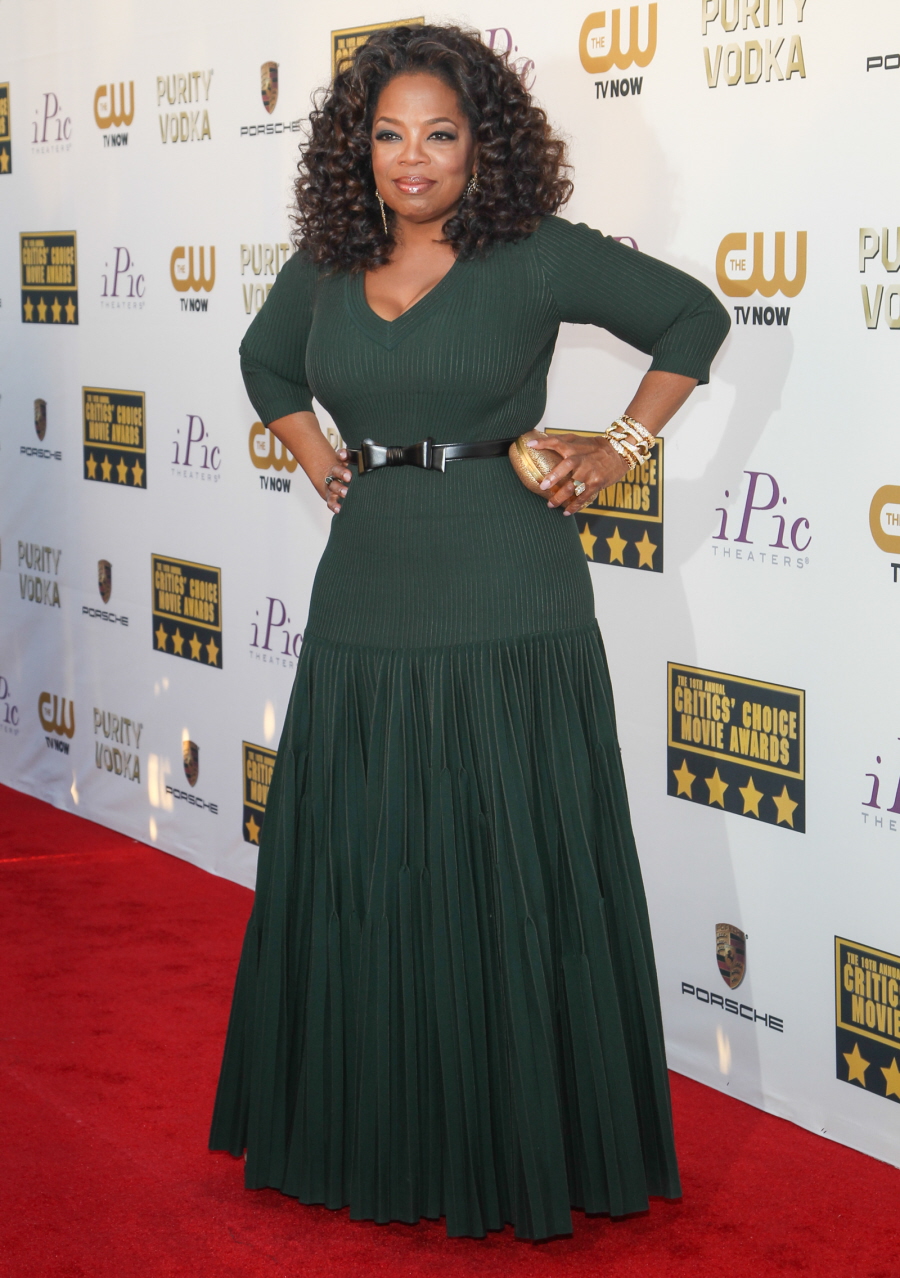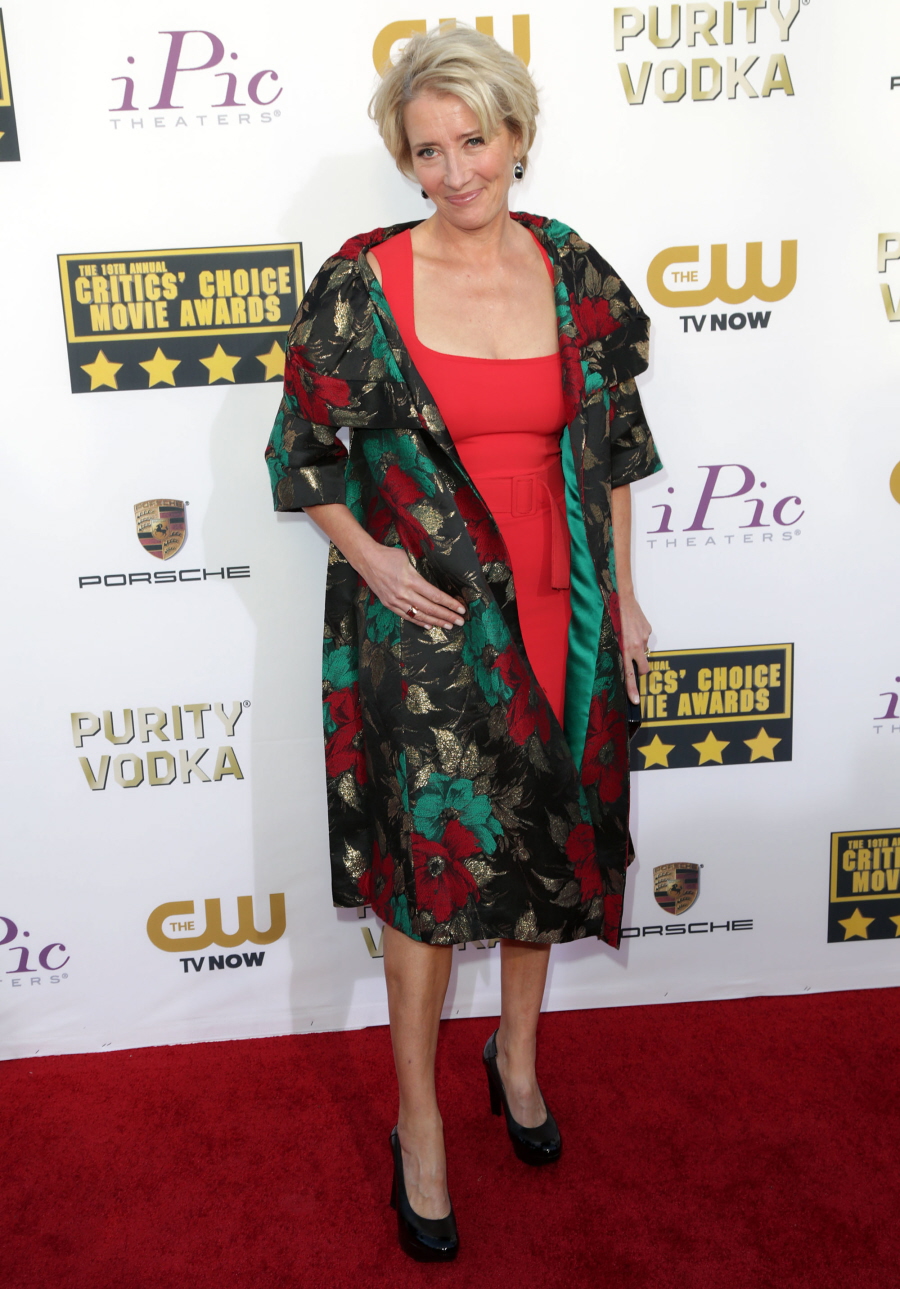 Photos courtesy of WENN.