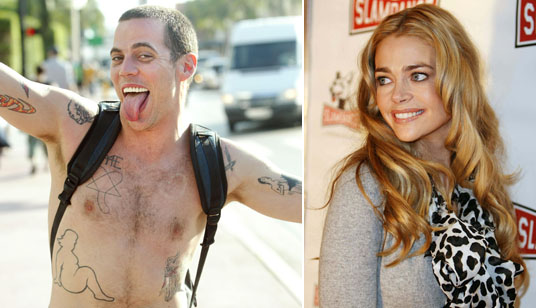 The reality TV self-promotion queen and the recovering addict will be joining the cast of Dancing with the Stars next season. The casting of Denise Richards is not surprising in the least, and the more I think about it, Steve-O might be an interesting choice. According to Life&Style, his work on Jackass will prepare him for an "aggressive" dance partner.
Life & Style has learned exclusively that Denise, 37, star of Denise Richards: It's Complicated, has already been prepping for her TV dancing debut. "She's super excited and has lost a few pounds to tone up and get in shape," an insider tells Life & Style. "She's ready and thinks she can go all the way!"

The London-born Steve-O (real name Stephen Glover), 34, became famous on the Jackass TV show (there were also two Jackass movies), which ran from 2000 to 2002. He specialized in stunts that involved gruesome forms of self-injury — experience that could be helpful for Steve-O if he's paired with an aggressive partner!
[from Life & Style]
Even though it makes complete sense that Denise Richards would want to go onto the show, I'm not sure she's the perfect candidate. She's just not very likeable. People watch her reality show It's Complicated because it's entertaining watching her whine through her self-absorbed life. Now that her kids aren't allowed to be featured on the show, each episode will be even more of a ego-stroking for her.
The last time we heard from Steve-O, he was blogging on the perils of drug use from a mental institution. Hopefully his inclusion on the "star" roster of Dancing with the Stars means that he's gotten to a more stable place. It will be really interesting to see Steve-O, who is more commonly filmed enticing scorpions to sting him or stapling himself, wearing sequins and doing the cha-cha in front of an audience. I don't see him as a celebrity for the target audience of the show, but maybe that's the beauty of it. He'll be seen in a more serious light, and the show will be able to expand its fan base. Unlike many guests on the show who are washed-up celebrities (ahem, Denise Richards), I think that Steve-O won't take himself too seriously, and for that reason he'll be fun to watch.
Denise Richards is shown on 1/18/09 at the premiere of Finding Bliss at the Sundance Festival, where she clearly soaked up the swag. Steve-O is shown in a photoshoot from 2007. Credit: WENN