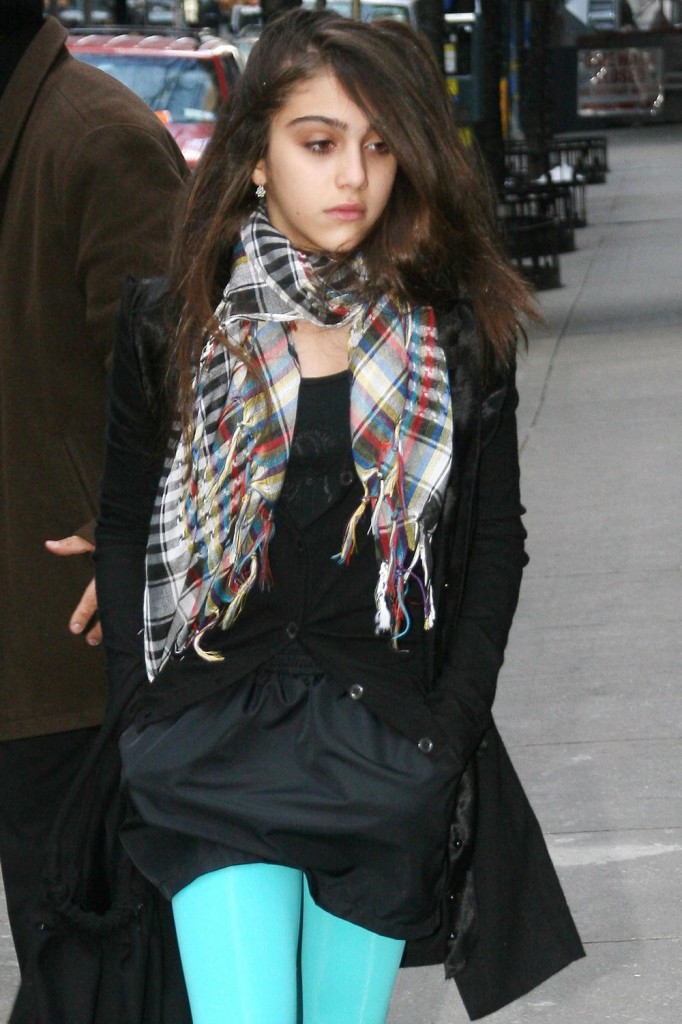 OK! Magazine has the most interesting story up on their website. It's called "Madonna Jealous of Daughter Lourdes?" and it's kind of blowing my mind. I had always assumed that Madonna, though self-absorbed and devoted to her 4-hour patented gristle workouts, was a half-decent mother. At least, a mother who would cede the spotlight in a natural, maternal way as her children grew up.
Madonna in a mini-van is not what I expected, let me be clear. But would Madonna feel some pride, some wistful "I made that" joy at seeing her daughter blossoming into a young woman? According to OK!'s "sources", not so much. OK! claims that Madonna feels like she's now "in competition" with daughter Lourdes for men and attention.
Not only does Madonna have to worry about young pop stars crowding her spotlight, she also has to contend with competition from an unlikely source: her 12-year-old daughter, Lourdes Leon!

"I think Madonna can't stand that Lourdes is growing into a beautiful teen," a source tells OK! of the 50-year-old singer. "She seems envious of her youth and looks. She knows Lourdes is going to be gorgeous and will get the attention of the opposite sex. Knowing Madonna's taste for younger guys, it's a matter of course that they'll be dating men the same age. It's disturbing."

Not surprisingly, the superstar is desperately trying to keep her daughter in a permanent state of girlhood. Last year, the beauty team on Madonna's Sticky & Sweet Tour had strict orders not to touch Lourdes's bushy eyebrows.

"That was a battle Madonna eventually gave in to," the source says. "Lourdes recently had them shaped."

Cracks in the once cozy mother-daughter relationship first started to show at a Gucci gala benefiting UNICEF and Malawi last Feb. "Madonna refused to let Lourdes have a hairdresser. She probably didn't want her daughter to look better than her," the source tells OK!.
From OK! Magazine
The only thing I've ever criticized little Lourdes on was the eyebrows – I feel strongly that with those kind of bushy-eyebrow genes, it's never too young to start plucking, trust me. It seems so weird that the image-conscious Madonna wouldn't want Lourdes looking her best, especially for a charity photo-op. But it makes sense when seen through the prism of Madonna's still-fame-hungry ways. And those are the genes she passed on to Lourdes. Give it a few years, and the Lourdes-Madonna Battle Royale will be something to see.
Lourdes is shown outside the Kabbalah Centre on 1/31/09 and 1/30/09. She's also shown with her mom on 7/25/08. Credit: WENN