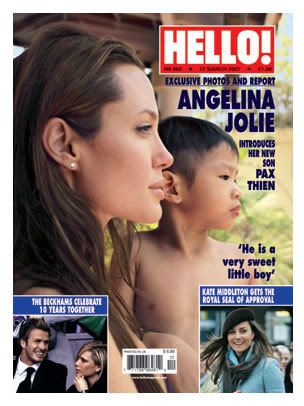 Britain's questionable News of The World tabloid claimed to have contacted Pax's grandparents about a week ago. There was some speculation as to whether their daughter, Pax's mom, would try to get him back ntow that he's been adopted by rich and famous Angelina Jolie. Although Pax's mom abandoned him at the hospital when he was born, they said their daughter is a heroin addict and it is likely she will try to take advantage of the situation to get money.
I wasn't really buying it. Although News of The World had a picture of an older Vietnamese couple it was unclear how they found them considering that Pax's parents were unknown and that authorities had not been able to contact them.
Now News of the World claims to have spoken to Pax's mother, who they say told them that she would love to see her long-abadoned son again, but that she gave up rights to him a long time ago and won't try to get him back.
Our reporters traced frail mum Dung to a deprived Ho Chi Minh City slum and she told them she is convinced her son is now going to a good home.

And even though Dung did not sign adoption papers, she has vowed NOT to pursue Angelina or movie star boyfriend Brad Pitt for money or for the return of her boy.

Last week we revealed how drug-addled Dung abandoned her son when she fled hospital just two days after giving birth to him.

His grandparents later signed adoption papers to hand the boy over to Angelina's care.

They told us of their fears that daughter Dung may hound the Hollywood couple for cash or even demand her son back.

But speaking to NotW reporters in a dingy Ho Chi Minh City cafe, Dung broke down and confessed she would not have been able to bring up her son.

Admitting she had not even recognised his picture in the newspapers, she said she would love to see her son again and tell him she is sorry she had to give him away.

Despite her guilt over abandoning her newborn, Dung says she is happy for him now and is convinced he will be better off living with the movie star couple.

She added sadly that she dreamt that he would one day visit and call her Mother, but that that is impossible.

Dung also revealed how her baby's father, who she would not name, dumped her when she fell pregnant.

According to Dung's pals, She then fled the family home after falling out with her father and earned a living as a hostess and bar girl in a seedy bar.

Dung now lives to support her heroin addiction which, she says, she is desperate to give up.
I think they're just trying to cover their asses after making up that story that they somehow found Pax's grandparents. If they wanted to make it believable, all they had to do was explain how they found them or claim some kind of Vietnamese insider information. As it is, I doubt any of this is true.
Plus, at the time I reported this the header image on the article said "Angelina Jolie Trying to Adopt Baby No. 4″ Pax is baby No. 4. It's possible it's an older header that was mistakenly placed there, as it was named jolie_header.jpg. The article referred to a photo of the woman, which must have been in the print version and not online.
On the off chance this is true, I hope this woman finds some solace in the fact that her son is going to a good home. It's really doubtful that some random British paper would have been able to find her in all of Ho Chi Minh city so soon after he was adopted by Angelina Jolie.
We haven't seen Angelina, Pax or Brad out in some time. It's likely they are staying at home to work on getting to know each other.