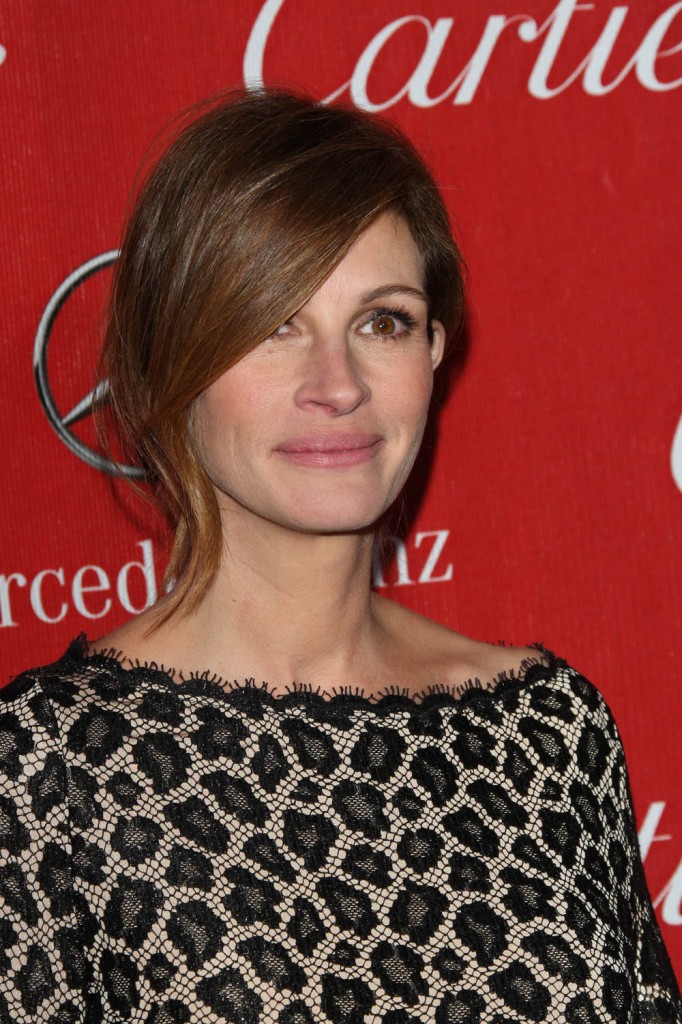 Yesterday we covered the news that Julia Roberts' half sister on her mother's side, 37 year-old Nancy Motes, was found deceased on Sunday in a bathtub, in an apartment of someone whose dog she was watching. There were prescription and non-prescription drugs at the scene and it was being treated as an overdose. It looked like it could have been accidental. So many people have tragically died from prescription drug overdoses and fatal drug interactions. Only now it looks intentional. The coroner has confirmed that a suicide note was found and that it's being treated as a suicide.
The NY Daily News has a source who claims that Motes' suicide note was five pages long and included "three pages of rantings that her sister drove her to do this." Please note that these details are from an alleged source, they're not official. Here's more:
Julia Roberts' late half-sister left a suicide note citing her tortured relationship with the Oscar winner, a source close to the investigation told the Daily News Tuesday.

"It was definitely a suicide. She left a five-page suicide letter. The EMT found it," the source told The News.

"There were three pages of rantings that her sister drove her to do this. There was one page to her mom, telling her how much she loved her, and one page apologizing to (her fiancé John Dilbeck)," the source said.

Dilbeck found the body of Nancy Motes, 37, about 2 p.m. Sunday in a bathtub filled with water at a Los Angeles home, the source said.

Motes had been pet-sitting for a client who rented the home. She may have been dead for about 12 hours before her body was found, the source said.

"It looks like a pill overdose," the source said.

Motes, a Georgia native, was the daughter of Roberts' mother, Betty Lou, and stepfather, Michael Motes.

She had a falling out with Roberts, 46, after giving a tell-all interview last summer and accusing the "Pretty Woman" actress of blocking her access to their sick mother, the source said.

In the days leading up to Motes' death, she sounded emotionally unstable in posts on her Twitter account.

"So my 'sister' said that with all her friends & fans she doesn't need any more love. Just so you all know 'America's Sweetheart' is a B—-!!'" she tweeted on Jan. 20, referring to Roberts' star turn in the 2001 rom-com "America's Sweethearts."
Again, these are not confirmed details, and the NY Daily News reports that the coroner said that he didn't believe the note was five pages. We do know that Nancy tweeted a bunch of stuff recently about how she was having issues with Julia, and we also know that Nancy went on the record in the recent past to say that she had a troubled relationship with her famous half sister.
This is a tough story to cover, and I'm just going to say what I said yesterday: whatever was in that note, this is not on Julia. This woman was struggling with her own demons and this was her own choice. People go through all sorts of horrible things in life and don't make the final decision to end their life. Nancy had problems, she thought Julia was one of them, but we don't know the whole story. This is just sad. Radar is reporting that Nancy was a prescription drug addict. Their source claims that Julia repeatedly tried to convince Nancy to go to rehab, but that "Nancy refused the offers and that is when she would often publicly lash out at Julia."
Julia has canceled several appearances scheduled for this week. I am dreading to see what the tabloids are going to do with this. It's late-breaking so it may not make this week's editions.
Since this news came out, someone has gone through Nancy's Instagram and Twitter and deleted most everything.