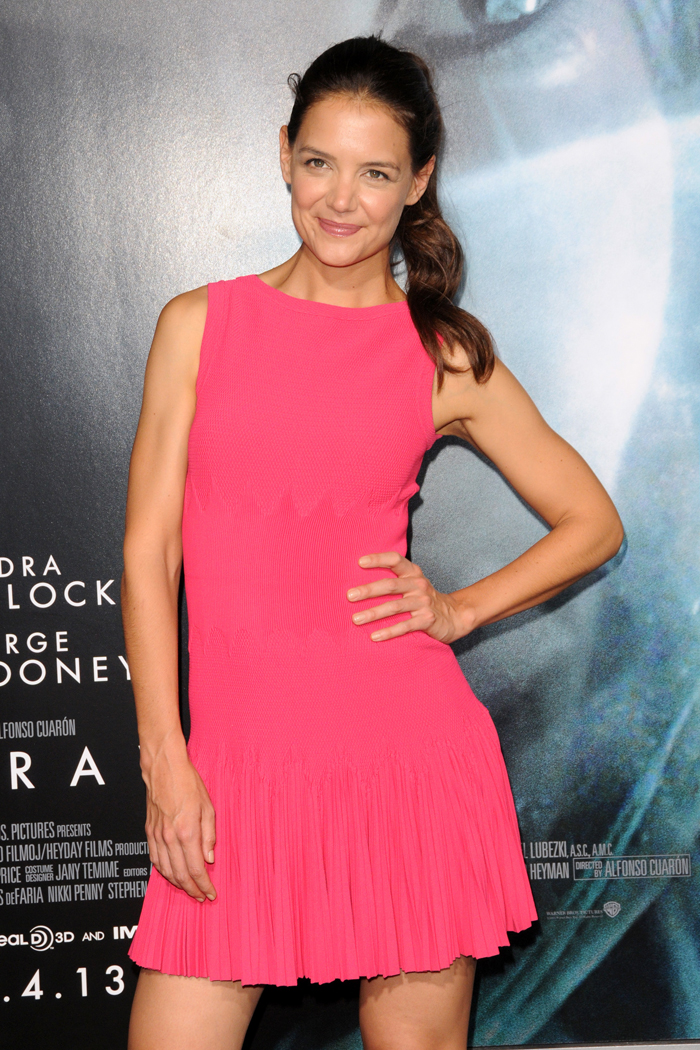 Good news is seldom as interesting as controversial gossip, so I don't expect many comments on this story. It is still worth discussing how happy Katie Holmes is compared to a few years ago. Remember those sad photos of a bedraggled Katie wandering aimlessly in Manhattan? Her outward appearance — messy clothes, no makeup, and noticeably grey hair — told everyone exactly how she felt inside. Katie was never allowed to go anywhere without her Scientology minders and bodyguards. She couldn't even enjoy living in one of the most amazing cities in the world. These days, life is a whole lot different for Katie and Suri. Katie is absolutely thrilled to live her life in freedom and can't stop gushing. She's also talking up her partnership with Kohl's to fund research for breast cancer:
Katie Holmes is in love — with the Big Apple!

"I love the community in New York. I love New Yorkers. I ran into someone on the street the other day that I went to high school with," Holmes says. "I love the moments of spontaneity every day."

Since splitting from husband Tom Cruise in July of 2012, Holmes, 35, and daughter Suri, 7, have called Manhattan home.

"New York has been very good to both of us," she says. "I love the theater, the galleries in my neighborhood. Stuff [like] that is so much of what makes me love this city. I love the Knicks. I love talking to my neighbors in the elevator. I like feeling a part of something big."

One project that's definitely big for Holmes? Her commitment to the fight against breast cancer. The actress is teaming up with Kohl's department stores to encourage women to start a conversation about breast health in an effort to confront what she calls the "pink elephant in the room."

"I've known a lot of people who have been diagnosed and women tend to take care of everyone else before our own needs," Holmes says. "Becoming a parent made me much more aware of my own health. I want to be there for my child for a long time."

Beginning Feb. 18 through March 8, Kohl's will donate $1 to Komen, a breast cancer organization, for every pink Kohl's Cash coupon redeemed. That adds up to a minimum of $100,000 up to $1 million.

The department store is also selling pink elephant necklaces from the LC Lauren Conrad collection, beginning Feb. 19, with 100 percent of the proceeds going toward the fight against breast cancer through Kohl's Cares, the company's philanthropic platform.

"Hopefully it will cause women to have the conversation and really support each other through prevention," Holmes says of her efforts. "It affects one in eight women and anything I can do to help I'm on board with."
[From People]
The words "I want to be there for my child for a long time" mean a lot to any parent. I do suspect that Katie also wants to make sure she's around to keep Suri from ever living with Tom. Beyond that, it's great that she's so happy. New York City is an amazing place and a dream home for many people. Katie's fortunate to have escaped the Lift Monster so she can live her dream life with Suri. It's good to know that they are both happy and that her struggle for freedom was worth it. Happy gossip endings do happen!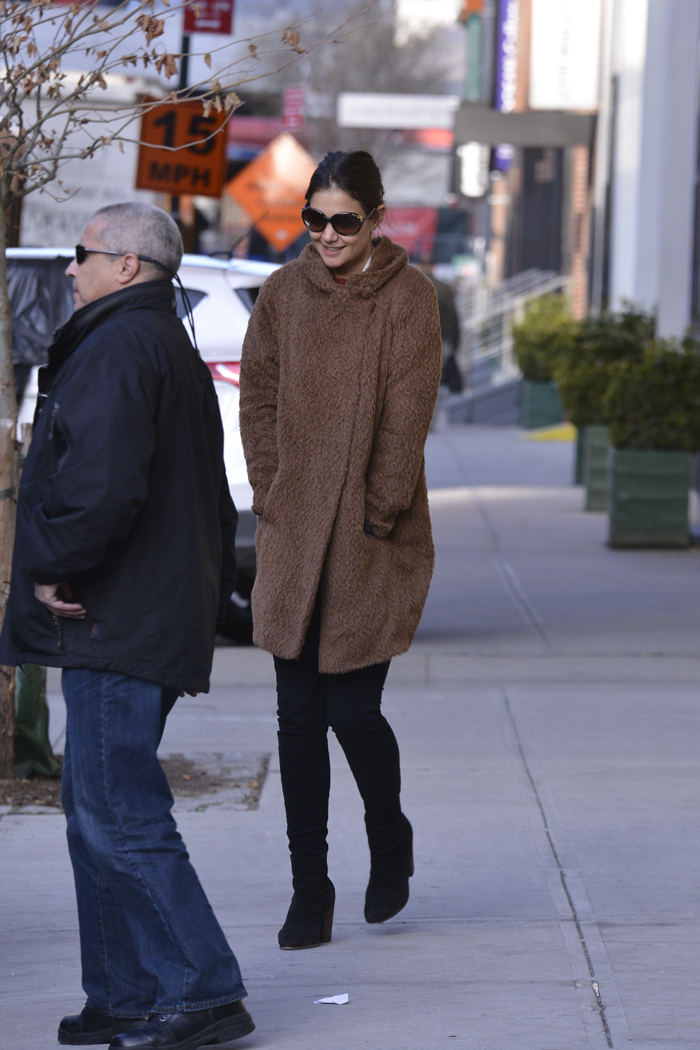 Photos courtesy of Fame/Flynet & WENN