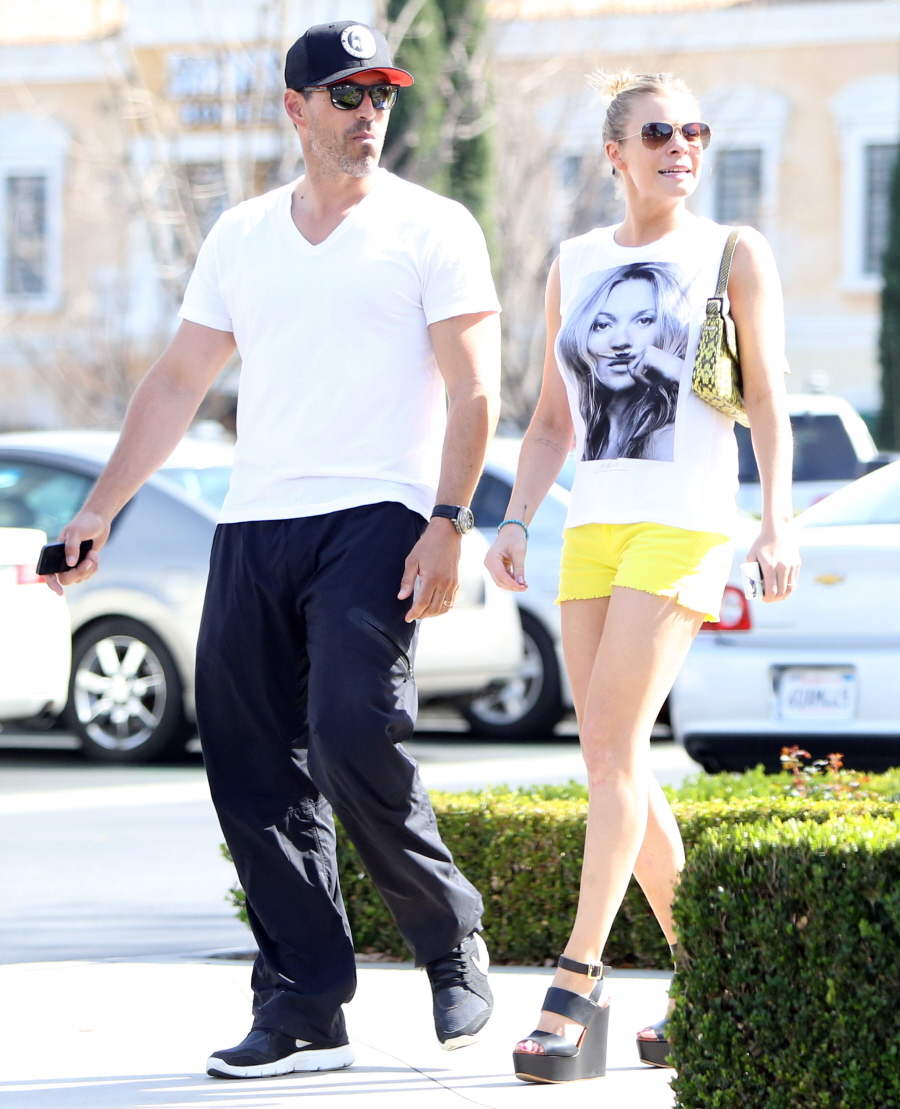 Is LeAnn Rimes still pretending to have an injured ankle? Because look at those shoes. These are photos of LeAnn and Eddie Cibrian out for lunch on Thursday in Calabasas. After lunch, LeAnn went solo to a doctor's appointment in Beverly Hills, where I hope her doctor told her to burn those shoes.
Anyway, we have more details about this neverending child support drama between Brandi Glanville and Eddie. Here's the thing: I think Brandi just chose the wrong wording AND the wrong format to discuss this issue. She should not have gone on Twitter and tweeted that Eddie wants her to pay child support to him, because that's technically not true and because it's stupid to discuss this stuff on Twitter. As we discussed yesterday, there are some legal issues involved with the child support and alimony payments Eddie makes to Brandi, but it's more complicated than just "Eddie wants Brandi to give him money." First of all, Eddie is apparently done with paying Brandi's alimony. So that's one thing. The second part is that Eddie apparently overpaid with child support or spousal support?
Eddie Cibrian is coming back for round two. The actor has responded for the second time to ex-wife Brandi Glanville's allegations that he has asked her to pay child support for their two sons.

"Brandi's first tweet stated Eddie was asking her for child support which is now been proven as a complete lie," a statement Us Weekly has obtained reads. "Eddie has been and is continuing TO pay child support to Brandi. This is an unrelated issue and regards the QDRO – Qualified Domestic Relations Order. It only pertains to the division of Eddie's retirement plan. This was discussed, agreed upon and in place four years ago in 2010 and is now being divided up."

"This is yet another endless attempt to manipulate the truth which always seems to happen when Brandi has something to promote," the statement continued. "By now, after all these years of this happening repeatedly, everyone including every media outlet should know not to believe anything Brandi says."

As previously reported, Glanville, 41, claimed via Twitter on Feb. 18 that Cibrian, 40, had allegedly asked her to pay for child support for their two sons Mason, 10, and Jake, 6. (The exes divorced in 2010, and Cibrian is now married to singer LeAnn Rimes.) In a first statement after the allegations, Cibrian noted that "the notion is preposterous."

The Real Housewives of Beverly Hills star, however, has already begun to concentrate on other aspects of her life. "Everytime I have a book come out someone pulls shady sh-t to make it not about my book, I'm going to now focus on my NY times best seller," she tweeted on Feb. 20. "No more EX talk I know I started it but I really want 2enjoy the success of my new book Drinking &Dating!Thnk UAlLL 4 makin it a best seller."
Brandi was practically dancing with glee that she finally got Eddie and LeAnn to engage with her during her book promotion, so Brandi took to Twitter to publish some documentation about all of the legal and financial issues she and Eddie are still dealing with. Brandi claims that she's already paid Eddie back for some of the expenses "during the end of our marriage" and blah blah. Then she just started tweeting about her book, which is what this whole thing is about (for her). She just needed to revive this war again for her book.
Brandi did appear on Ross Matthews' new show and she clarified the money issue a little bit, basically saying that Eddie was partly right and partly wrong. She said in part: "He wants me to pay him back alimony, but it's actually combined child support and alimony. The thing is when my first book came out, he pulled something similar and just sent me a lawyer's letter like a couple days before and it was a New York Times Best Seller. This time it's a New York Times Best Seller [again]. So I'm hoping if there's a book three he'll want some more of my money…You know I went out and hired a big fancy lawyer for this one because before I would just like roll over and sign whatever because I was so sick of fighting. I want to move forward now."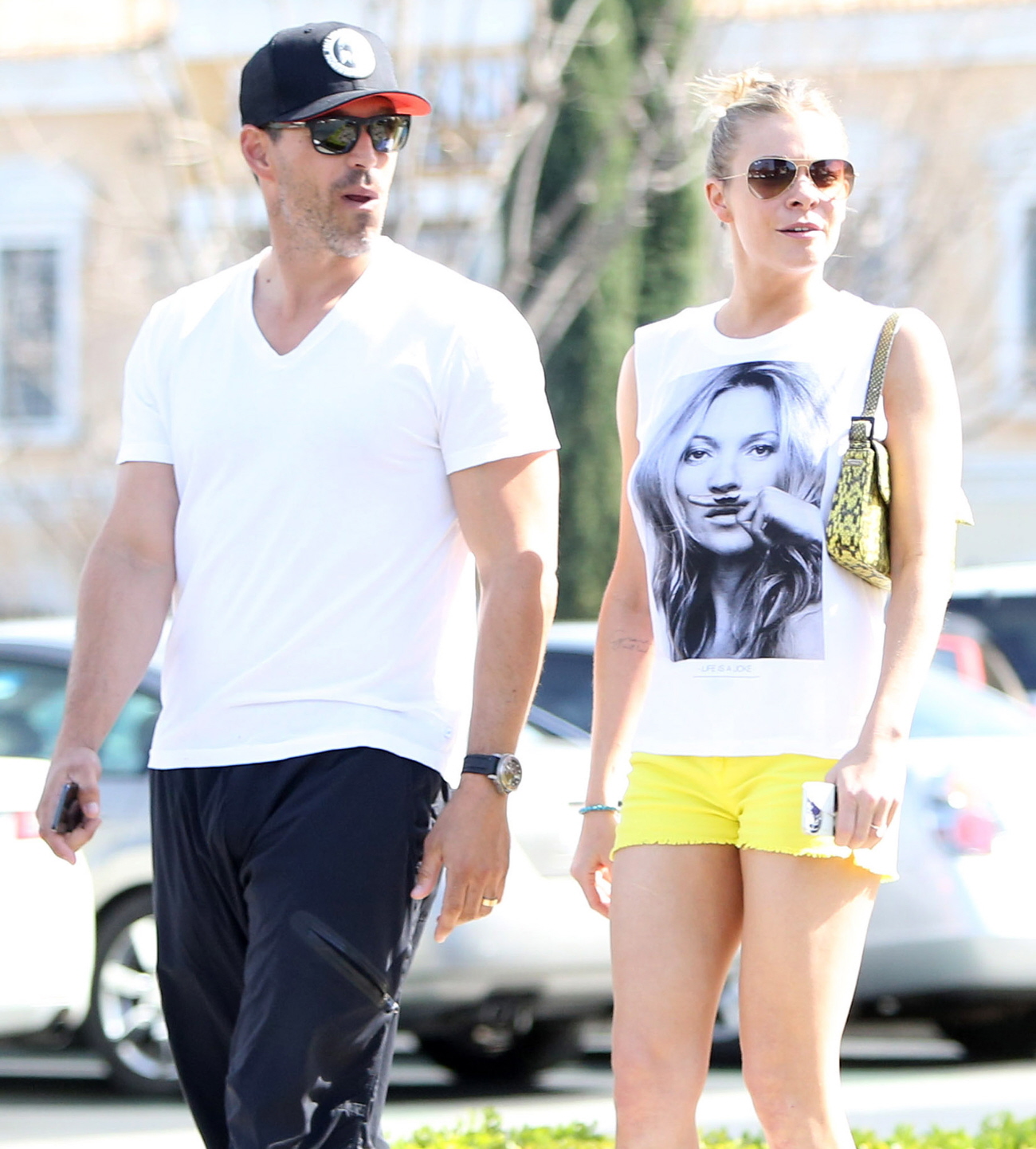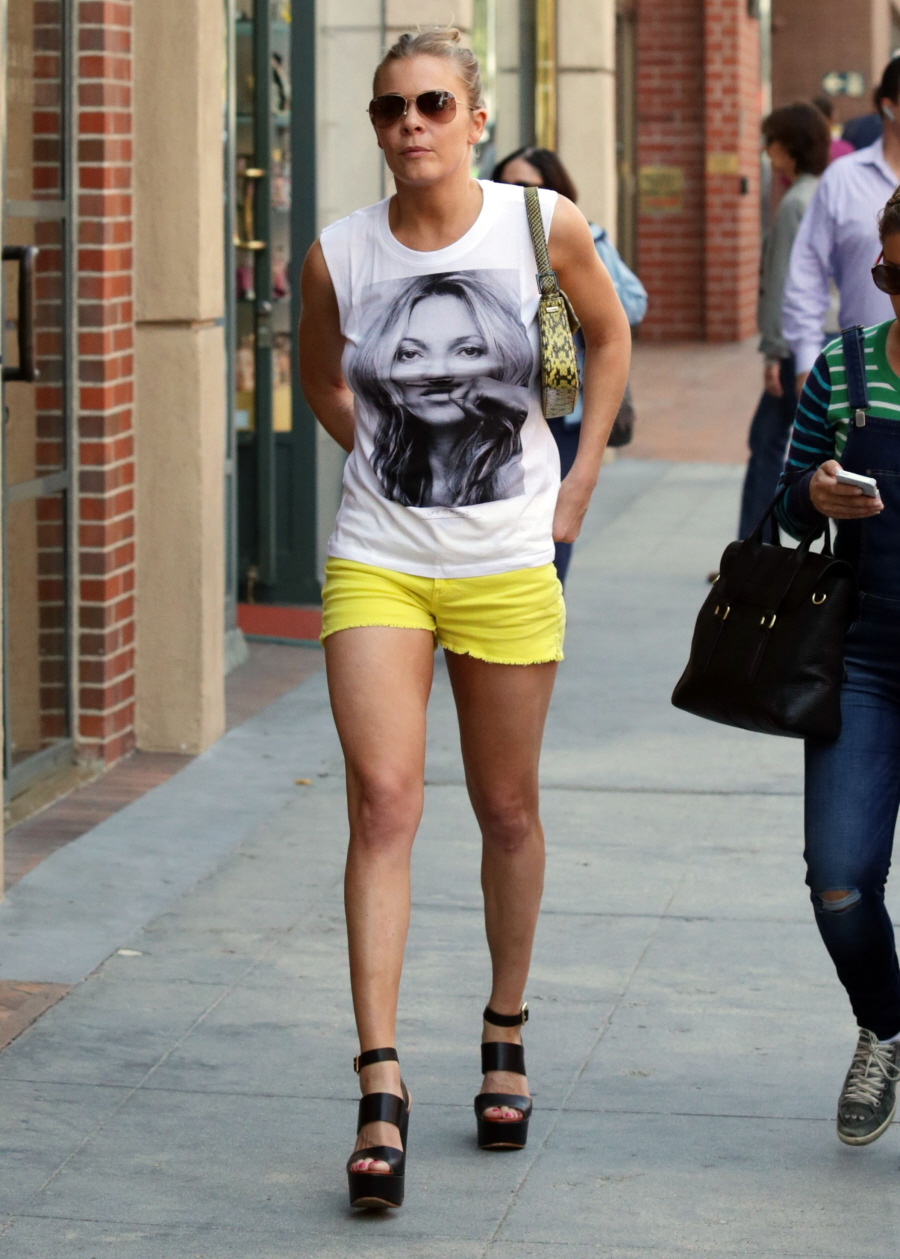 Photos courtesy of Fame/Flynet.