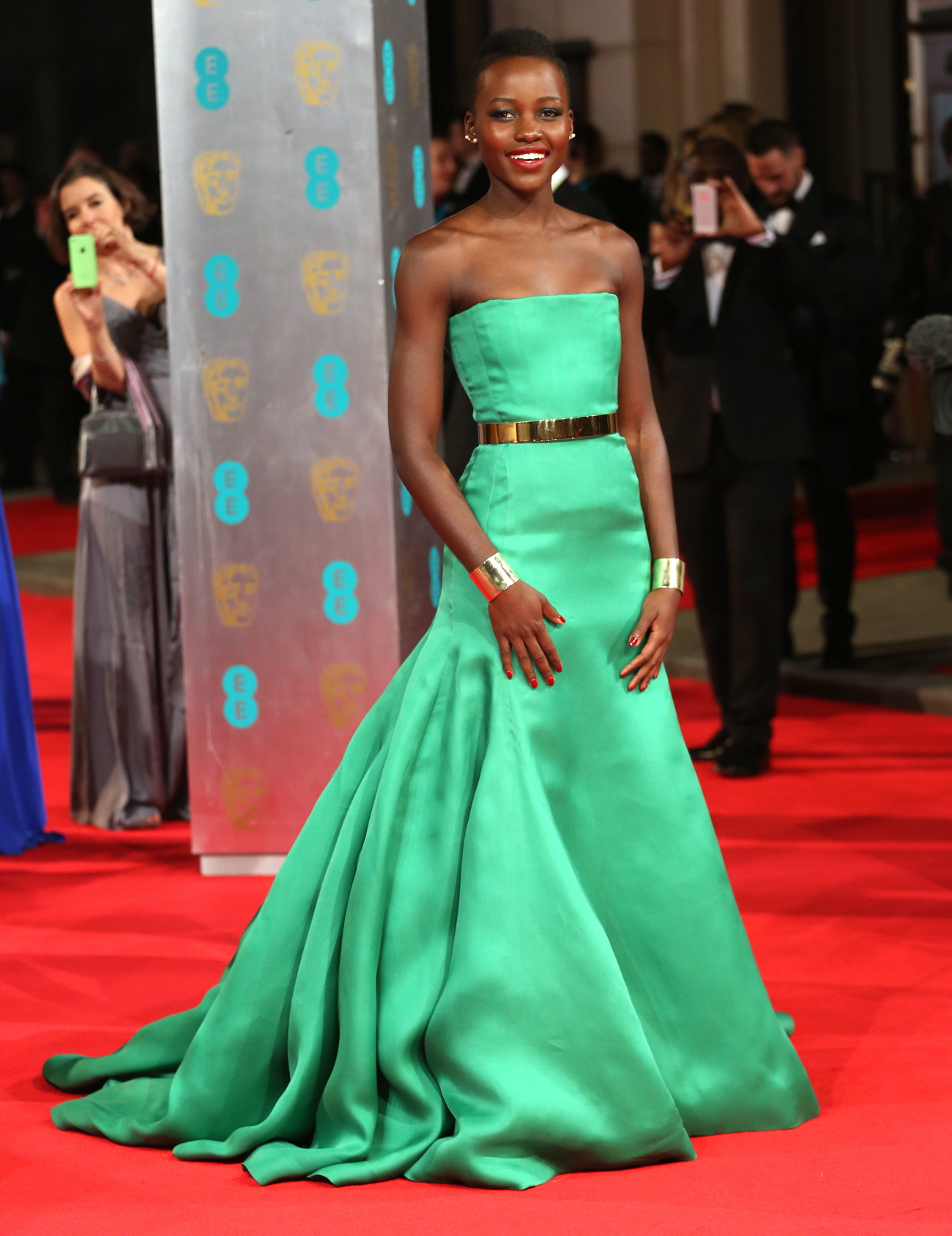 I think Lupita Nyong'o is on most people's "Can't Wait to See What She Wears to the Oscars" list. Lupita is certainly on my list, along with Angelina Jolie, Cate Blanchett (!!) and hopefully Anne Hathaway. Annie will be there, won't she? Please please please. I miss Hathaway's Oscar Beav and Oscar Nips, I really do. Anyway, Lupita is aware of the interest in her Oscar style, but she's playing it coy. She was on Good Morning America yesterday and when she was asked who she would be wearing, she only said "mum's the word." It won't be Dior – Jennifer Lawrence will be in Dior, and she might be the only one Dior is dressing for the Oscars. I doubt Lupita will wear Armani – everyone's saying that Blanchett will do Armani. Will Lupita go with a well-known fashion house (Valentino, McQueen, Ralph Lauren, Calvin Klein) or some lesser-known designer (who she will put on the map)? We still don't know. But Lupita talked about her style with The Daily Beast, and she's dropping a few hints:
With all due respect to Jennifer Lawrence, her primary competition in the Best Supporting Actress Oscar race, Lupita Nyong'o has been crowned the de facto red carpet winner this awards season for her sharp fashion sense. For her efforts, she's been spotted sitting front row at New York Fashion Week, graced the cover of New York Magazine's Spring Fashion issue, and has fashion houses like Alexander McQueen and Stella McCartney "begging" her to wear their designer gowns on Oscar night.

"Until all this, I hadn't been a student of the fashion industry as a formal industry," Nyong'o told The Daily Beast. "I wasn't the girl who bought the fashion magazines, I'd always just worn what appeals to me. I know that even if I don't buy the magazines and stuff, with fashion and style, you pick up influences all the time—if your eyes are open, you're being influenced by fashion and style, whether you like it or not."

The 30-year-old actress first sought fashion inspiration from her mother, Dorothy, who serves as managing director of the Africa Cancer Foundation and also runs her own communications firm. She describes her mom as "a very colorful dresser" blessed with an "unflinching" approach towards clothes—an attitude that Nyong'o has adopted herself. Once she became enmeshed in the acting world, she turned to some timeless Hollywood icons for sartorial guidance.

"I've admired from afar people like Elizabeth Taylor, Iman, and Cate Blanchett," says Nyong'o. "When I knew I was going to be doing the press tour for 12 Years A Slave, I got to work and started researching what was happening in the formal world of fashion to try and articulate to myself what my style would be in it all. It's been a great education—a great discovery—to find clothing artists who are doing things that I feel express something about myself. And there are so many."

As far as Nyong'o's own style is concerned, she's been known—like her mother—for juxtaposing colorful dresses with her dark skin, resulting in a striking and elegant contrast.

"I love color and gravitate towards solid block colors," says Nyong'o. "I like clean lines and a classic look, but I also like to have a sense of humor and wear things that put a smile on my face." She pauses, and laughs. "I like to wear things, I don't like things to wear me. I don't like fuss!"
I think Lupita looks best in solids – the rare times when she's worn a pattern, I haven't really cared for the look. I tend to believe that with Lupita's face and her petite frame, she really doesn't NEED anything but clean, minimalist styles. You don't want her slight figure to be overwhelmed with fabric or a bold pattern, and you don't want to take away from her face either. In a perfect word, Lupita would wear… Gucci, Ralph Lauren or Calvin Klein to the Oscars. Those three houses do clean, minimalist styles very well.
PS… I'm including some of Lupita's DuJour editorial, just because we haven't posted those photos before. I'm also including some of Lupita's red carpet looks from the past two months.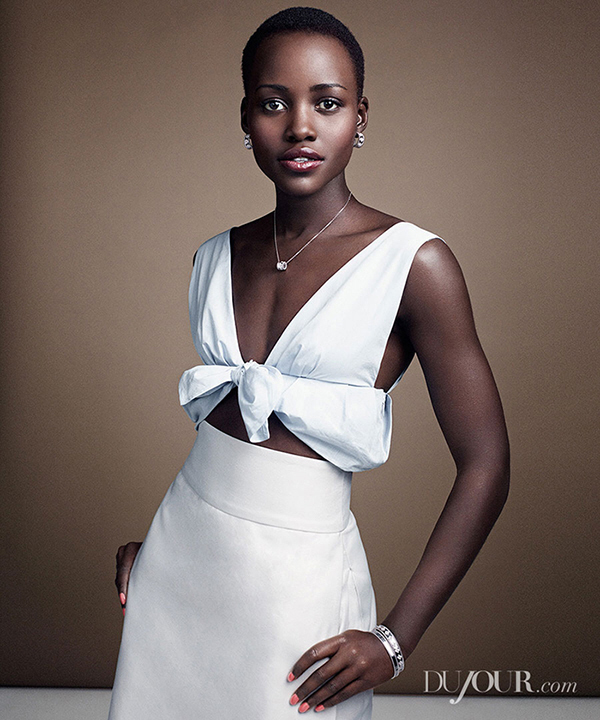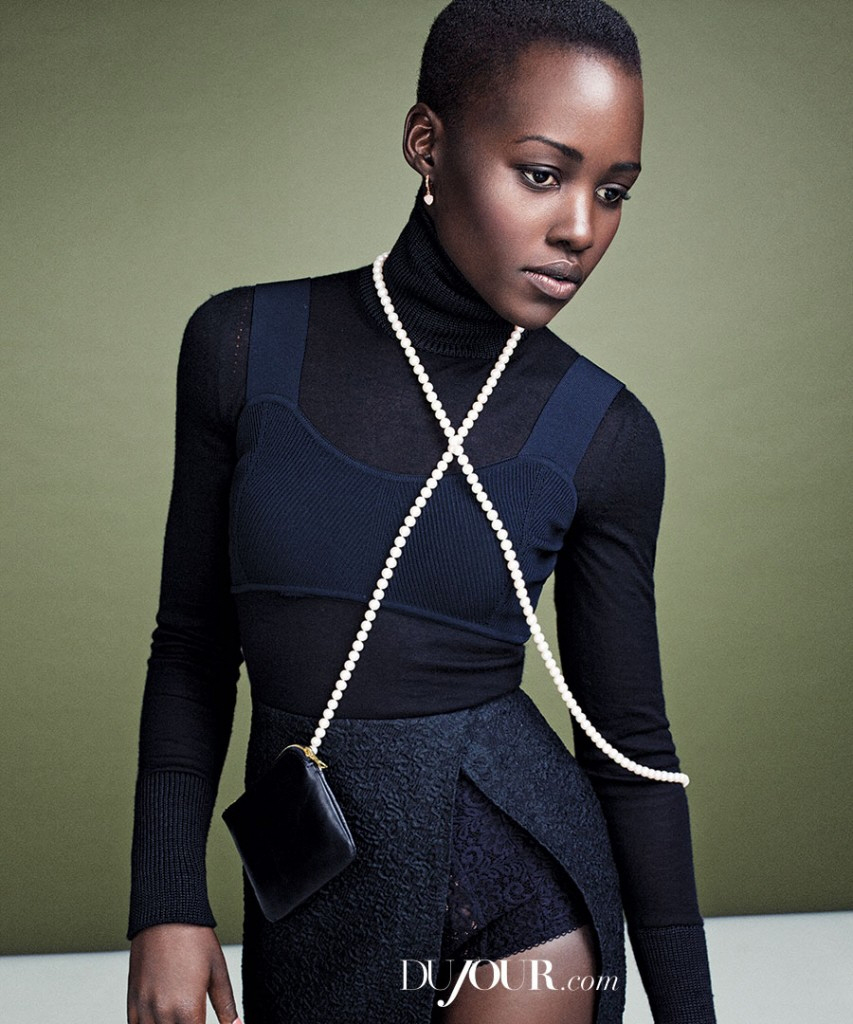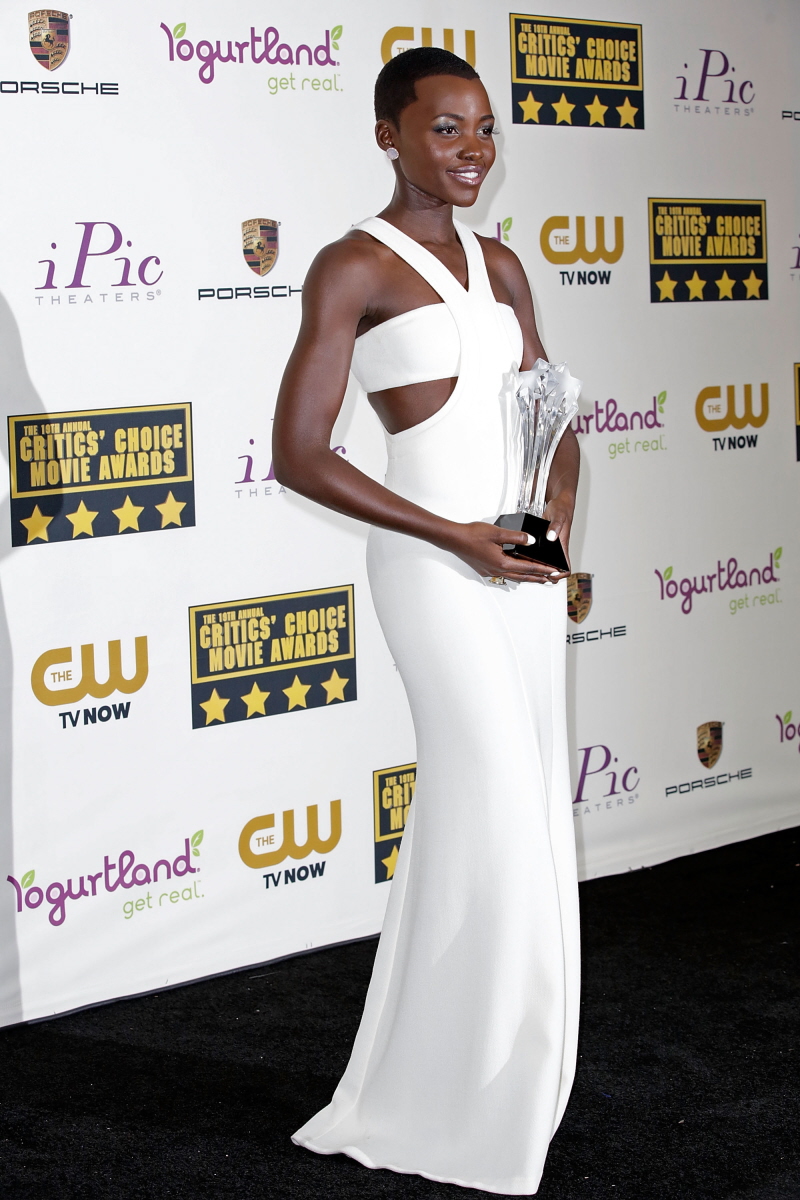 Photos courtesy of WENN.