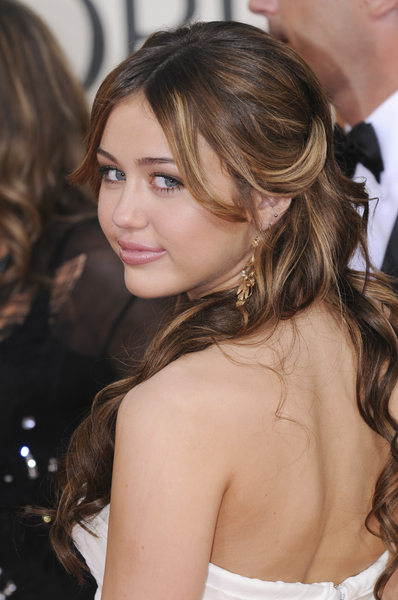 Miley Cyrus has been experiencing a week of drama – photos came out of the teenager with friends, many of whom were making "slant eyes". The OCA (Organization of Chinese Americans) issued a statement, basically calling Miley an anti-Asian bigot. Miley then half-heartedly apologized, basically saying that she didn't mean anything by making "goofy faces", then compared herself to Britney Spears. Her statement made it worse, something many commenters predicted. Now the OCA has fired back at Miley once again.
Miley Cyrus' half-hearted "apology" regarding a picture of the tween star and her friends making slanty-eyed faces isn't convincing anyone, especially the Organization of Chinese Americans.

"The picture is offensive and now this statement is inadequate," George Wu, Executive Director of the OCA, an Asian-American equality group tells Celebuzz.

Yesterday Miley issued a statement on her website, saying she was sorry that some people misinterpreted her goofy faces, not that she was actually apologetic for making the face in the first place.

"I've also been told there are some people upset about some pictures taken of me with friends making goofy faces!" she wrote. "Well, I'm sorry if those people looked at those pics and took them wrong and out of context!"

That's not enough, says Wu: "It's not a real apology. We're not backing down without a fuller apology."

Your move, Miley.
From OK! Magazine
For God's sake, Miley. Just say you're sorry. It really wasn't some huge deal until Miley made it worse with her non-apology. Here, I'll even write it out for Miley, once again: "I'm sorry. I didn't mean to offend anyone, but I realize it was taken that way by some people. I apologize. Love, Miley." What's the big frigging deal? Issue that simple three line apology and it's over.
Miley Cyrus is shown at the Golden Globes with her parents on 1/11/09. Credit: PRPhotos.
Update by Celebitchy: Here's a great video by by Adriel Luis of iLL-Literacy about this controversy. [via Angry Asian Man]