Angelina and Brad's non-binding Namibian wedding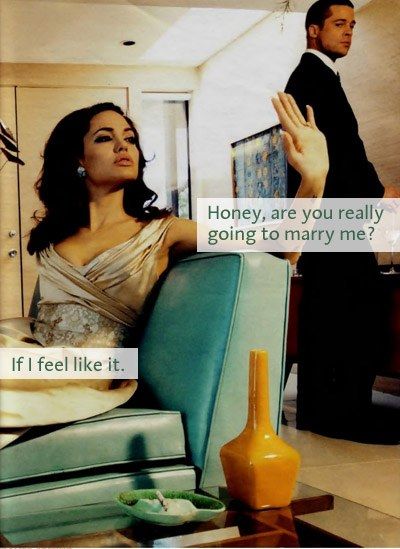 Life and Style Weekly is reporting that Angelina Jolie and Brad Pitt were "married" in a wedding ceremony following Namibian custom. The ceremony may have sentimental value, but it is not recognized by US law and is not legally binding.
"She promised she'd marry him before the baby came, so she did," an insider close to Angelina tells the weekly. "Now no matter what happens, Brad can always say he was married to Angie."
The report from the magazine cites an insider "close to Angie" that claims Brad and Angie took part in a traditional Himba wedding ceremony.
What the heck's a Himba, you ask?
L&S reports its an ancient tribe of Namibian nomads, whose weddings are often performed by tribal chieftains or without a leader at all. The bride wears an ekori, a headdress made of leather or goatskin, and jewelry made of iron and shells. Later, the groom's family anoints her with butterfat from a cow.
Yuck! Snark alert – L&S says to watch out: Himba men practice polygamy.
Cue the rep: Brad's rep denies they got married.
And the report admits from a legal standpoint, the wedding — like any religious ceremony – wouldn't make them husband and wife: "They'll marry again later in the U.S.," says the insider.
It sounds like someone made this up, like most of the non-stories about the Jolie-Pitts. They're also supposed to be starting their own housewear line using local Namibian crafts.
Meanwhile Angelina is supposedly causing Brad to fear for their unborn baby's health by running off and picking fruits and berries with the women in the village. I sincerely doubt they're hanging out with the locals except for pre-approved photo opportunities.
If they did get "married" in Namibia, why aren't there stories about it in an African newspaper? It just doesn't seem like they could keep it a secret to only be leaked by one source, even with the crackdown on the paparrazi.
Until the baby comes, there's probably not much real news about the Jolie-Pitts and someone is making this crap up.
Update: Pictures of Angelina and Maddox in Swakopmond, Namibia [via]
Written by Celebitchy

Posted in Angelina Jolie, Brad Pitt, Brangelina, Weddings

- Zach Galifianakis is awesome [Buzzfeed]
- Prince at the Billboard Music Awards [D-Listed]
- Bieber's Billboard look [Go Fug Yourself]
- Married to Medicine recap [Reality Tea]
- Celebrity first marriages [Pajiba]
- The last Mad Men baffled a lot of people [Lainey]
- Karolina Kurkova's crazy hot dress [Moe Jackson]
- Jennifer Garner on set [Popsugar]
- Kitten vs. Lizard [CDAN]
- Doetzen Kroes' great butt [Celebslam]
- Shameless star Jeremy Allen White [OMG Blog]
- RIP Ray Manzarek [Bossip]
2 Responses to "Angelina and Brad's non-binding Namibian wedding"