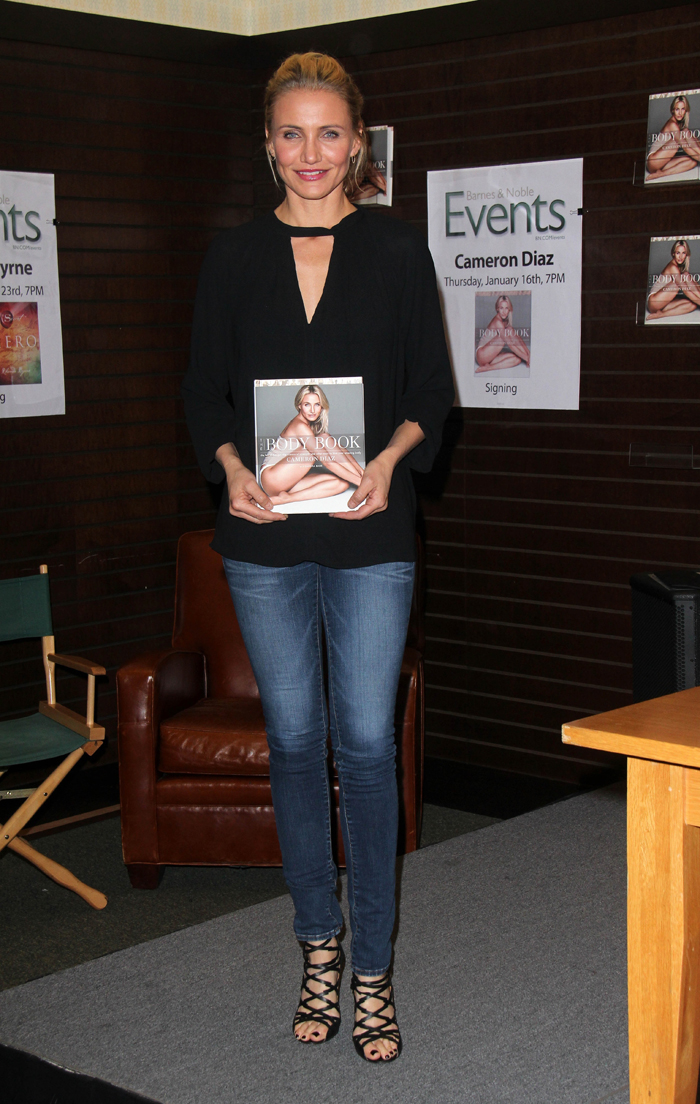 I still haven't read Cameron Diaz's The Body Book, but it feels like I know the whole edition inside and out. Cameron knows how to promote her goods, and she has done so with enthusiasm. The last time we caught up with Cam, she was discussing how society is guilty of chauvinism and misogyny toward single women. Most of you agreed with her and were heartily amused with Cameron's discussion of her downtown grooming habits as well.
Now things have gotten a little bit gross. Cameron stopped by to visit E!'s Chelsea Lately to promote the book. Instead of allowing Cameron to conduct a frank conversation, Chelsea invited Cam to perform an examination. Ugh. Let's get to some excerpts about ciggies, diet coke, and more about grooming habits:
Why did Cam write her book? "I'm a science nerd. I like to know why things work the way they do. I thought that the body was probably the most important thing to understand how it works since we all have one, and we don't really know that much about it."

She compliments Chelsea's bod: I know that you care about it and that you take care of it, and that makes me happy."

Cam smoked until age 30: "One cigarette every once in awhile is not going to kill you."

Diet Coke is bad, m'kay: "Nothing's for free. My mama taught me that real early."

The misunderstood woman flower: "We think the vagina is on the outside. I say grab a mirror and play along. Get in there. Learn about it. You're supposed to treat it like the beautiful flower that is, the delicate flower that it is. And you're supposed to nurture it in all the ways that it needs nurturing. Watering it. Fertilizing it. It needs nourishment. It's hungry."

More on pubes: "Because it's a science book, and since we used to be covered in hair, and now we're not except for a few places, I figure there's a purpose for that hair. So I put some of the purposes for it and I also suggest that no mater how you enjoy grooming it throughout your life–whether it's shave it all off, wax it all off, putt a bulls eye, birthday cake, I don't care–just, girls, think about not taking it all off forever. Permanency means forever. It doesn't come back. You might change your mind in a few years."
[From Chelsea Lately on E!]
Cameron already advised women against permanent hair removal "down there." I agree with her. It's a pain in the [redacted] to groom that stuff, but seriously, she's got a point. Do you want to be 80 years old and have nothing to camouflage the effects of gravity? I don't think so. Leave some options for the future. Referring to one's vag as a flower is a bit silly and hippie-ish, but I think Cameron is joking. Maybe?
Here's a video clip of Cam's appearance. Feel free to ignore the host.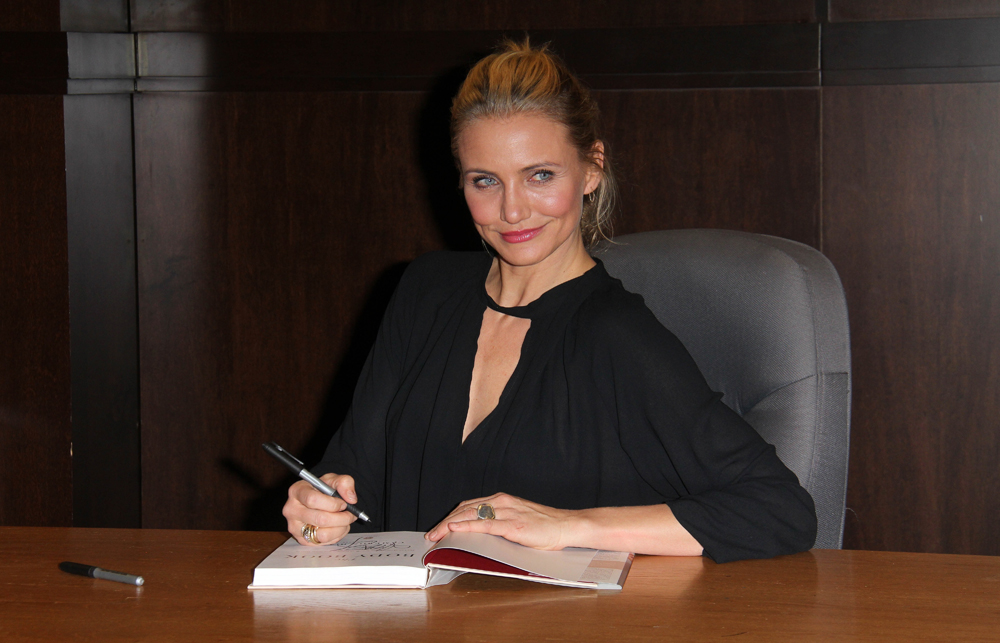 Photos courtesy of WENN