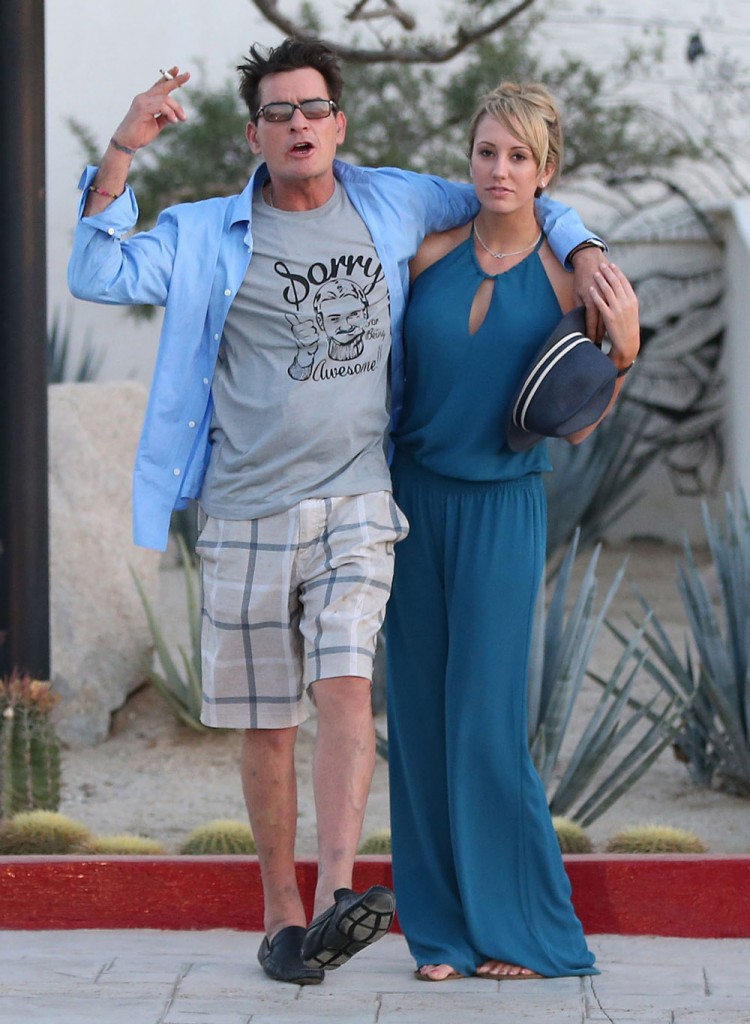 I saw Wolf of Wall Street last week. I have to say the movie was a lot of fun. Some critics have complained that it's disgusting, that it uses sex and drugs for shock value and that it glorifies excess. Maybe it does, but it was highly entertaining from start to finish. I would watch it again, and I want to read the book. In WOWS the lead characters pop quaaludes like candy, and there's a memorable scene where DiCaprio's character tries to function after taking handfuls of the stuff.
That's what came to mind when I read this story about Charlie Sheen. It's like he's trying to live his life as a character on screen, one who lacks even a tenuous grasp on reality. Sheen was in Mexico over the holidays with his then-new girlfriend, 24 year-old adult film star, Brett Rossi. (He proposed to Rossi on another trip over Valentine's day.) While on vacation Charlie ordered a tattoo artist to come to his hotel suite. A friend of the tattooist witnessed Charlie downing a ton of valium, drinking vodka, punching a wall, and burning his shorts. Charlie also offered the men there $10,000 to kiss him. Just because he could. The source sold the story and some photos to Radar:
Shortly after his arrival in town, Sheen's camp summoned a local tattoo artist and his friends to his suite at the five-star Hotel El Ganzo — and what they found there stunned them.

"As soon as we get to the place, his bodyguard opens the door and invites us in," one of Sheen's guests tells Radar.

"Charlie is seen standing at the table… on the table are bottles of vodka, cigarettes strewn everywhere, a handful of Vicodins… He takes a few and chases it with vodka."

"What's up f**gots?' he says as he notices us enter the room," the source dished. "We all meet Charlie and after he tells us about the tattoo he wants. We sit down to get started."

According to the source, Sheen opted to have a New York Yankees symbol on his right arm covered up by "the theme from the movie Jaws."

"Halfway through this tattoo, he takes some more Vicodin," the source claimed. "[Then] without warning, Charlie punches a hole in the wall in front of him. He would later sign his name above the hole."

Before long, the source said, it became clear that Sheen, 48, was "really f*cked up. He strips down to his boxers and proceeds to set his shorts on fire!"

"His bodyguard warns against this," the source said, "but Sheen moves on to his next target."

Despite the fact that Sheen's then-girlfriend Rossi had tagged along on the trip, the source said he was still looking for some loving from the MEN present, "asking one of us to kiss him!"

When the male refused, "Charlie said, 'I'll give you one thousand dollars,'" the source claimed. "Friend says, 'Hell no.' Charlie says, 'I'll give you ten thousand dollars.'"

"Though possibly the dumbest move of his life," the source joked, "my friend says hell no once again!"
Then Charlie begged the tattoo guy and his crew to stay and tattoo his wrist with a copy of a loom bracelet his daughters had given him. He even wanted a second bracelet tattoo on the other wrist, but the bodyguard talked him out of it. (That was a dumb move. Those loom bracelets are just about out of fashion.)
None of this is particularly shocking considering who we're talking about. Do you think Charlie is going to get his life made into a movie at some point? I do. I'm 50/50 on whether he'll be around to see it.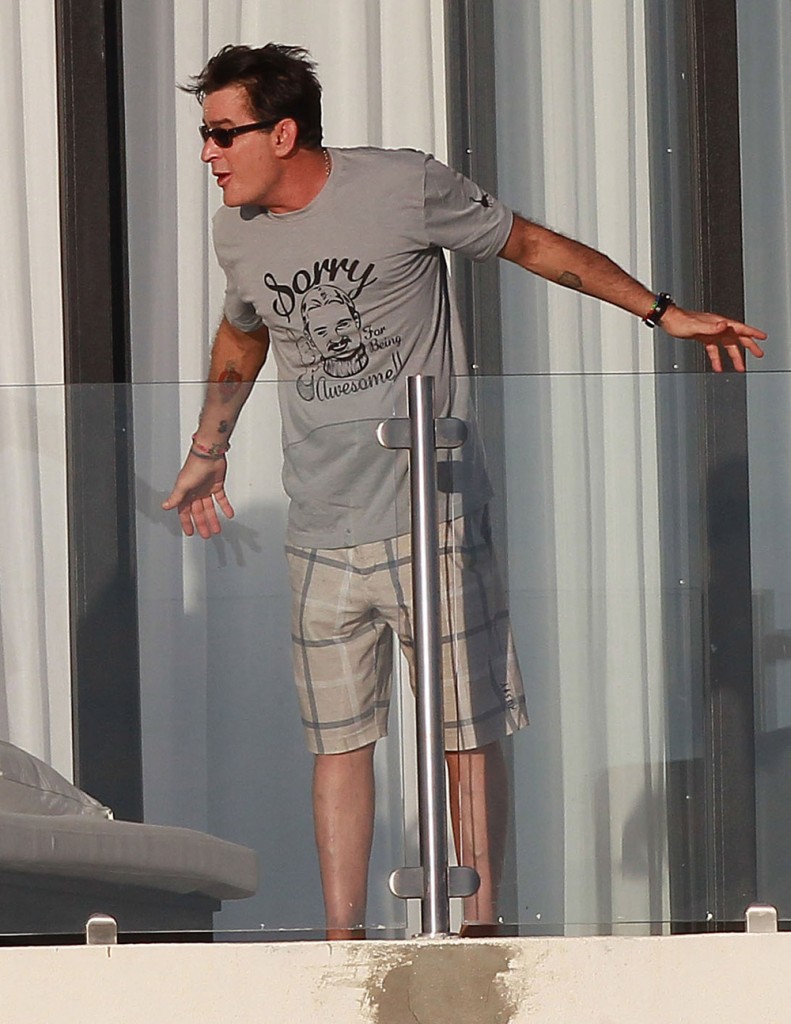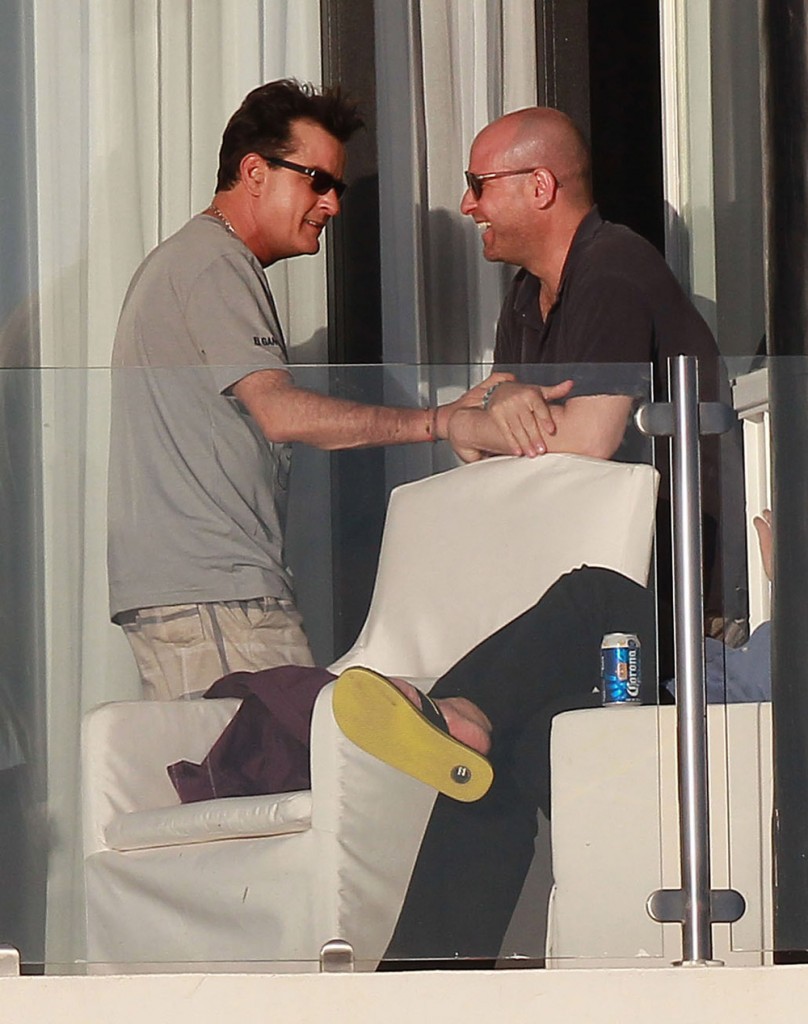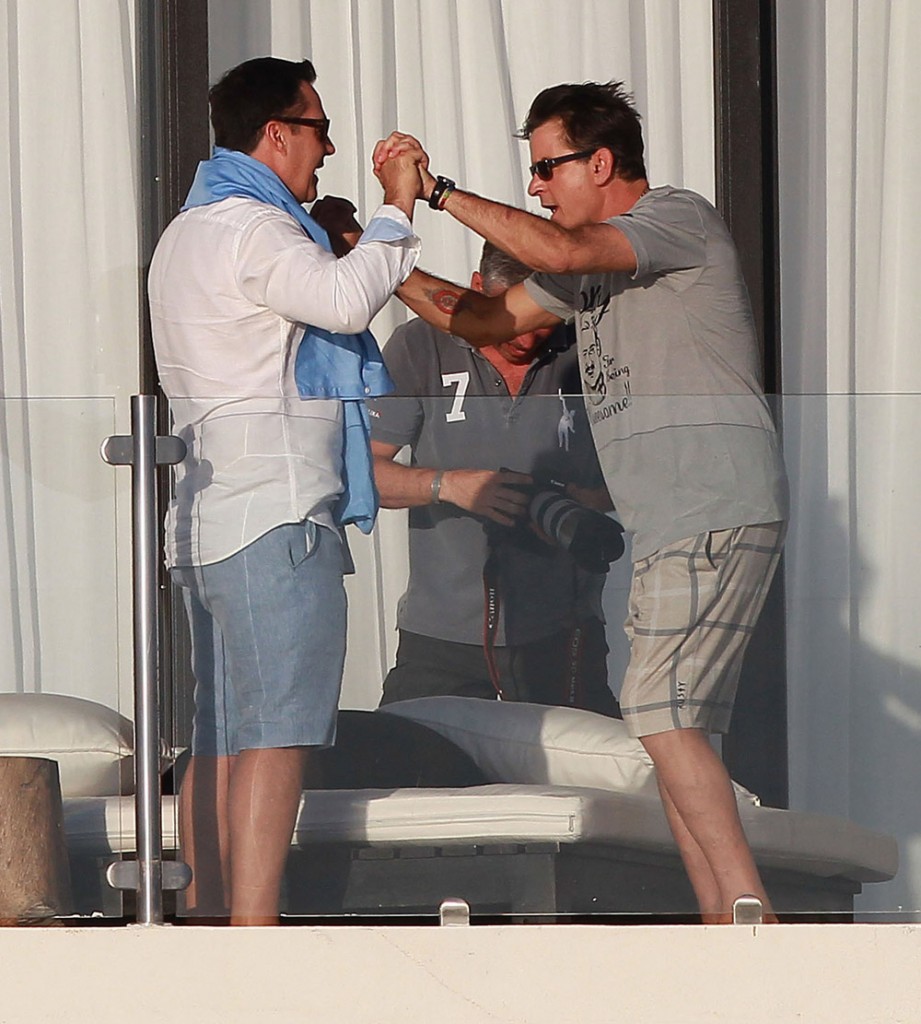 Photo credit: FameFlynet