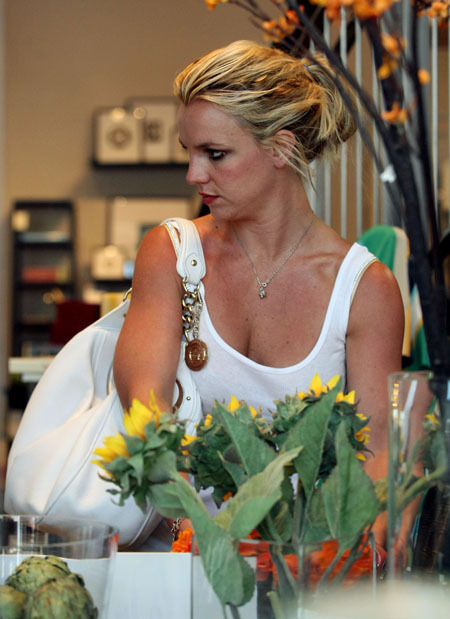 According to the National Enquirer, some of Britney Spears' journals and videos were stolen. They claim Brit is in a frenzy over them, because they were done during her major breakdown, and reveal all sorts of unsavory things about the singer. They also say she doesn't want the information out there because one day she wants to explain to her sons what happened herself – not have them read her journals out of context. And it does sound like some really crazy stuff – though it explains some of her behavior.
The issue claims Britney is in a "panic" over stolen journals and video interviews "done during some of the darkest days of her life," said an insider. "She wants so desperately to tell her side for her boys, so there is a written record for them when they are grown and can understand better."

Tidbits:

Britney hears voices in her head – and answers them!
"Britney writes she has heard voices talking to her for years. She still hears them, and they tell her to run away and hide."

The real reason Britney shaved her head:
"…She was out of her head at the time and was suffering from delusions. She believed that someone had planted an electronic bug in her hair and couldn't think of a way to get rid of i except to have her head shaved!"

Justin Timberlake's heartbreak over her pregnancy – and the guilt from her abortion:
"Justin was crushed when Britney told him she had an abortion. She said Justin was really hurt.

Britney never intended to divorce Kevin:
"She just wanted to show Kevin who was boss. She still loves Kevin, and she wants her boys to know that.

What really happened the night Britney took her child hostage:
"She was threatening: 'I'll kill the kids!' Out of her mind and wired on the drug methamphetamine, Britney refused to let her visiting sons Sean and Jayden return to Kevin."

The singer bares her soul:
"Britney wants to have closure and start fresh. Britney's gift to the boys is her truth."
[From Breatheheavy.com via Gossip Rocks]
That all sounds crazy, but the National Enquirer is actually a reliable source now. And Britney was very unstable at the time, so none of this is all that far-fetched, everything considered. I'm curious how she could spin this for her sons in a way that she'd feel good about. The best Britney could do is try to minimize some of the worst stuff.
While I get that she wants them to be able to "understand better," when they're older, I can't help but wonder how much she understands herself, even now. Obviously a lot of her behavior was influenced by Sam Lutfi drugging her (which he admitted to Brit's mom Lynne). But before all that happened, Britney made the poor choice of bringing Sam into her life. Maybe it's a project she wants to tackle once she's had more time, and hopefully some therapy or something to help her gain some insight into that time in her life.
Update: Thanks to commenter HEB, who pointed out that in the Enquirer's actual article, they say the baby that Britney allegedly aborted was not Justin's.
Here's Britney shopping on August 28th. Images thanks to Fame.