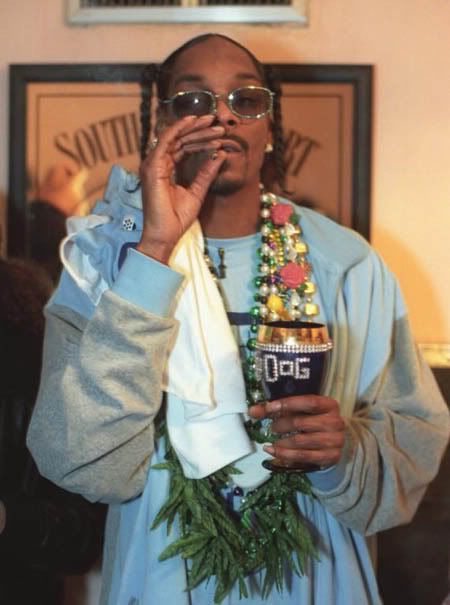 Snoop Dogg could get up to four years in state prison if he's found guilty for felony drug and marijuana possession charges in California. Snoop was pulled over in two separate incidents late last year and was found with an automatic weapon and pot in his car each time. Snoop is a convicted felon after a 1990 cocaine trafficking charge and is not legally allowed to have a gun for life.
Snoop Dogg was charged today with two felony counts related to arrests last year on gun possession and marijuana charges, the District Attorney's office of Pasadena announced.

According to the criminal complaint, Snoop is accused of selling or transporting marijuana on October 26, 2006. Snoop also faces the charge of possession of a firearm by a felon on November 28, 2006. Cops say the aforementioned weapon is a semi-automatic handgun…

Snoop was arrested on October 27 outside the Bob Hope Airport in Burbank after police found a gun and marijuana in his car. He was then arrested on November 28 outside the NBC Studios after an appearance on "The Tonight Show with Jay Leno." Police say they found the rapper in possession of cocaine, a firearm and a large amount of marijuana. He was also cited for allegedly having a false compartment in his vehicle.
Snoop recently cancelled the British leg of his European tour after UK authorities denied him a work permit, most likely for starting a fight outside the British Airways' first class lounge at Heathrow when he and his friends were denied entry. He was also arrested for driving high while in Sweden on tour.
Along with the 1990 cocaine charge, Snoop has a prior conviction of gun possession in 1993. In 1996 he was found not guilty of a murder charge after a gang member was felled by shots that are said to have come from a car he was in at the time.
I kind of see him going to jail for this one. If only Paris Hilton and Nicole Richie would get a month or so for endangering public safety by driving wasted, then true celebrity justice would be served. It seems like a DUI charge should be treated more seriously than just having drugs. Still Snoop had an illegal semi-automatic on him and he may have had enough marijuana in his car to get his entire entourage high for a month.
Snoop is shown in an inset picture of his October arrest in Burbank, CA, image found at Bossip. Header image from Strout Photography.