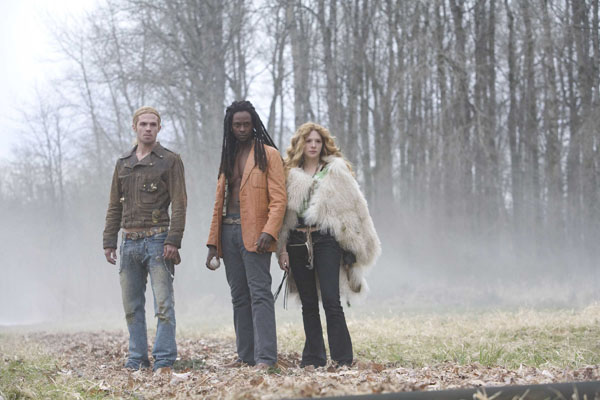 Open casting for the new Twilight movie, New Moon, took place in Vancouver on Sunday, where hundreds of people stood in line in the cold hoping for a part in the film. Casting was announced a few weeks ago on Craigslist, where a post asked for actors who were "first nations/aboriginal actors and actresses between the ages of 15 and 25 available to film between March and May." Some of the people interviewed in line had flown in from as far as Florida. Some of the hopefuls were there because they were fans of the Twilight series, and others were dragged along by their friends. But as 12:30 pm, the auditions were cut short, and no more people were allowed to see the casting directors. Needless to say, people were not happy about this.
Tears and arguments broke out Sunday as hundreds of first nations teenagers from all over North America were turned away from a casting call for New Moon, the sequel to last year's vampiric blockbuster Twilight.

Some of the young people, who had flown in from as far away as Florida, began lining up as early as 5 a.m. at Second Avenue Studios in Vancouver's Main Street area.

So when casting assistants told the crowd at 12:30 p.m. that no more people would be allowed in the building, the hundreds left outside were heartbroken.

Some even turned on those who had barely made it through, hurling accusations of cutting in line.

Rosanna Razor, 22, was one of the disappointed fans who didn't get a chance to meet the casting director.

"It sucks," she said. "I was here since 9 a.m. I came up from Seattle."

The crowd flooded to the open casting call as a result of ads posted on Craigslist a few weeks ago for "any first nations/aboriginal actors and actresses between the ages of 15 and 25" available to film between March and May.

New Moon, based on the second book in the Twilight series, follows the main character Bella and her time spent with friend and Quileute Jacob Black on the La Push reservation in northern Washington.
[from Times Colonist]
"It's definitely a good turnout." What did they expect? They schedule an open casting call after the Twilight/Hot Topic debacle and think that only a few people will show up? They don't say in the article why they had to cut the auditions short – they only lasted a few hours, which isn't very long. Then again, I was not doing mob control. There may have been security concerns at play. Vancouver is definitely the Hollywood of Canada, but that doesn't mean that they're equipped for hundreds of people descending on one sidewalk for an entire day. But for those who are Twilight fans and were able to show up at the auditions – whether they got in or not – this must have been a fun experience, even if it ended in disappointment.
For those of you who are curious: some of the people waiting in line figured out that the dialogue given in the audition scripts was between Bella and Embry at the bottom of page 327 in New Moon.
Header image is a still from Twilight. Photo below is from the Vancouver Sun.