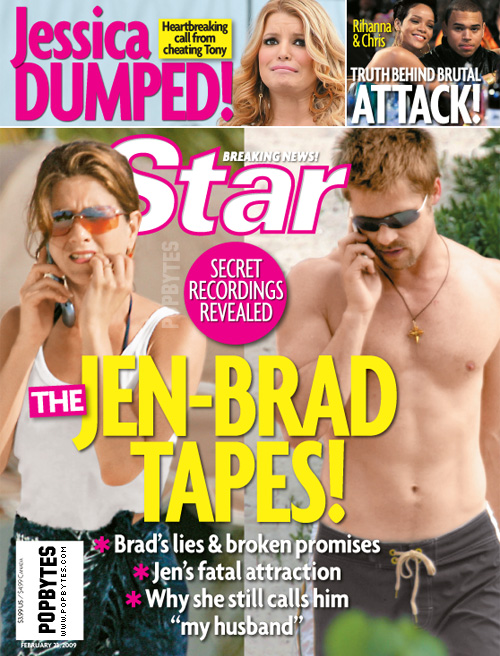 As Celebitchy covered last week, Jennifer Aniston gave a recent interview to Marie Claire saying that she still keeps tapes and mementos of old boyfriends and her ex-husband, Brad Pitt. Her exact quote was, "I still have the cassette tapes of messages from my first boyfriend, my second boyfriend, my husband… it's like saving love letters." Many commenters pointed out that she didn't refer to her "boyfriends" as exes, so what was the big deal with calling Brad her husband? Meh on all of that, because why was she even talking about Brad in the first place? Let it go, Aniston.
Now Star has the story and they're making it really, really tabloid, of course. They even have a couple of sources who call Jen's actions "creepy" and "lonely". Yikes. I'm not buying into Jen's pity party, but I do think Star over-plays their hand. I don't buy that Jen sits around listening to old tapes of Brad, or for that matter, tapes of her ex-boyfriend Tate Donovan. Not while there are beaches in Mexico and a pitcher of Mojitios to drink!
Tapes? Who knew there tapes?

In the Feb. 23 issue of Star — on sale today! — we report that following Jennifer Aniston's stunning admission that she keeps a collection of recorded messages from ex-hubby Brad Pitt, insiders tell us that it goes far behind saving mementos — the actress obsessively listens to the tapes regularly in an attempt to relive the joy of their early romance.

"She's spent many lonely nights going through old keepsakes," an insider tells Star.

Among her favorite messages is one from when she and Brad first started dating, says a source. Jen still gets butterflies when she hears Brad whispering passionately, "I love you, Ms. Aniston." And, "I can't wait to get my hands on you, Golden." That was his pet name for her, the pal explains, and she called him "Baby." Another came after a spicy evening, Brad left this morning-after message: "You're the perfect lover!"

As their relationship went south — and Brad started spending time with Angeline Jolie on the set of Mr. and Mrs. Smith — the tone of his messages to his wife soon changed dramatically, says a source. We have all the details on those tapes, too.

We also reveal that the messages Jen is saving are just part of the stash of Brad memorabilia she's keeping years after they split. "It's all a bit creepy," a friend tells Star.
From Star Magazine
Haha, "you're the perfect lover!" What husband leaves his wife a message like that? Maybe Jen's revelation that she still keeps messages from Brad was a little "creepy", but she's always seemed like a sort of backwards-looking woman. It was a relatively harmless admission that Star is blowing way out of proportion. And yes, I can't believe I'm defending Aniston. Maybe that's my birthday gift to her… I will stick up for her for one day only.