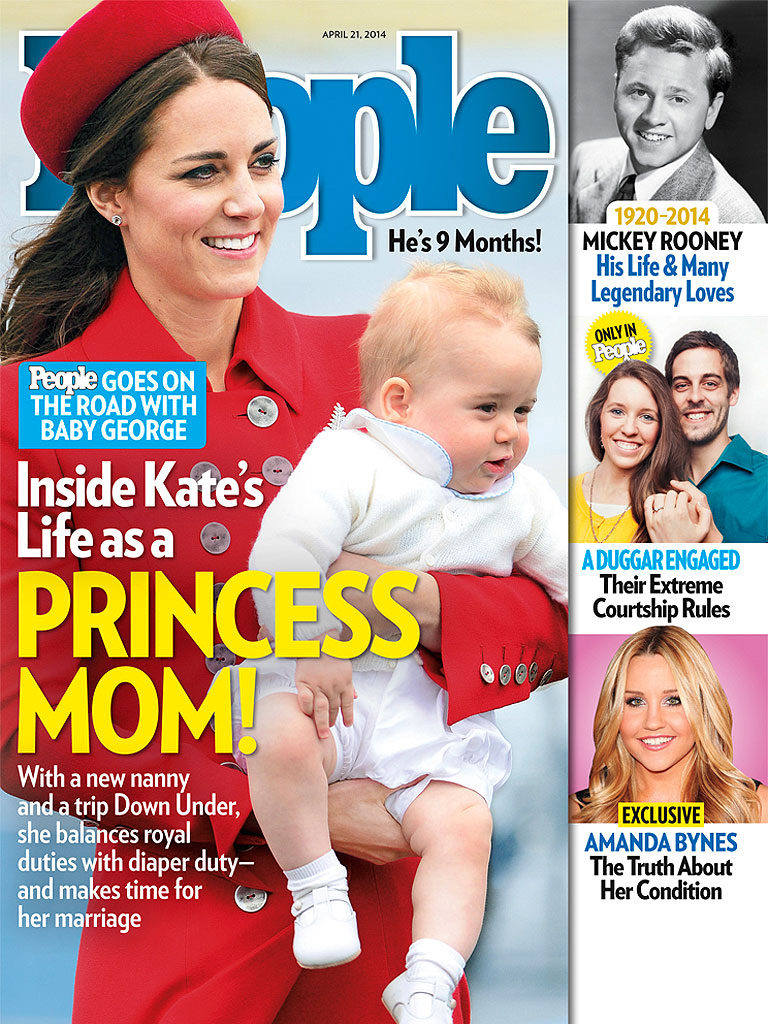 People Magazine's cover this week is all about "PRINCESS" Kate and her magical, grueling royal tour. Which was done by choice, because she and William are so selfless and all they do is give back to the commonwealth nations. Seriously. This short article is full of interesting little details about Kate's hands-on parenting and how much time she spends with George, but not at the expense of getting a little time away with her husband.
Why choose to travel 27 hours by plane with a 9-month-old baby? For Princess Kate, 32, and Prince William, 31, the decision came down to the balance between royal duty and parenthood to their son, Prince George.

The choice to undertake the extensive journey to Australia and New Zealand, where the royal parents touched down with George Monday for a three-week tour, "is entirely their own," William's private secretary, Miguel Head, tells PEOPLE in this week's cover story.

Whether at home in England or on her first journey Down Under, Kate structures her life in a way that allows her to toggle between her royal duties and motherhood.

"When she works in the evening, she spends the preceding day with George," says a royal insider.

The princess also carves out time for romance with her husband of nearly three years. The couple is expected to spend two nights away from George while he remains in the care of new nanny Maria Teresa Turrion Borrallo.

"It's not the future king and wife who will do as she's told," says a friend of the couple, "but a husband and wife in the modern world."
I love this: "When she works in the evening, she spends the preceding day with George." How many evenings has she worked?!?!? I'm being completely serious. I'm looking through our archives so I get this right: she's worked TWO evenings in the past three months (and even then, I think that BAFTA reception was late afternoon, not evening). And we're not counting the week she and William spent away from George to go on holiday to the Maldives.
Additionally, the Telegraph has an amazing story about Prince George's personality. Apparently, he completely "owned" the room, grabbing whatever toy he wanted, accidentally hitting other babies in the face and making the other babies cry. Honestly, I'm laughing. George sounds like a hoot. Kate also told other parents that George was an especially "hungry" baby and that he's only recently slept through the night.
Photos courtesy of WENN, Getty, cover courtesy of People Magazine.