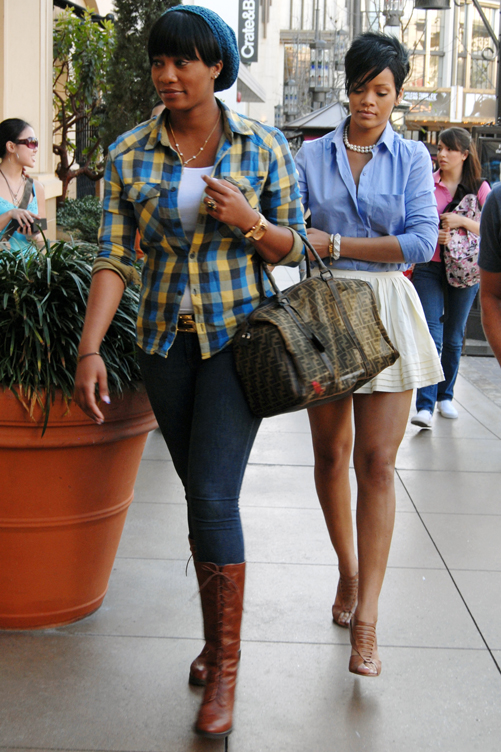 There are obviously a ton of rumors going around about what went down between Rihanna and Chris Brown. That's bound to happen with something of this nature, especially because both parties have remained silent. And people are naturally curious – domestic assaults aren't often reported with celebrities. Right now there's a photograph circulating around the web showing Rihanna with a severely bruised cheek and what appears to be a bite mark on her neck. However TMZ has shown that it's clearly been doctored. But that shows how much interest there is in this case.
According to Us Weekly, two of Rihanna's friends spotted obvious bruises on her neck in December – implying that there has been a pattern of domestic abuse.
Chris Brown may have roughed up Rihanna before their early Sunday morning altercation, two friends reveal in the new issue of Us Weekly (out today).

Brown — who is currently being investigated by Los Angeles county prosecutors after Rihanna allegedly accused him of assaulting her the night before the Grammys — always had a "volatile" relationship with the singer, an insider tells Us.

A Rihanna confidant adds that bruises were clearly visible on the singer's neck in early December. Alarmed, "I asked is everything was OK with her and Chris," says the pal. "She told me, 'We broke up again.' I didn't pursue the issue further."

Meanwhile, Brown's sister, Lytrell "Tootie" Bundy, says the singer, 19, is "doing good" in light of his latest altercation with Rihanna. "He's coping," she told Extra on Wednesday. "He's doing … [as well] as to be expected."

Rihanna is said to be cooperating with Los Angeles detectives as they launch a battery investigation.
[From Us Weekly]
Obviously the veracity of the claims rests entirely on the truthfulness of these two friends – and there's no way to know how thoroughly Us Weekly investigated them. Brown has admitted to threatening to kill his stepfather when he was younger, and he witnessed his mother being abused by him – which was denied by his stepfather. Statistically speaking, the first time police are called over a domestic abuse incident is not the first time one occurs. There's normally been a history of it. Again, these are generalizations. But I would not be surprised to hear of more allegations coming out in the future.
Here's Rihanna at The Grove in Los Angeles with a friend on February 4th. Images thanks to WENN.