Jon Hamm covers the May issue of Men's Fitness, not so much to promote Mad Men's final season, but to promote his first huge star vehicle, Million Dollar Arm. I keep seeing ads for it too – Hamm is another one (like Angelina Jolie) who is getting down with Disney these days. I actually hope Million Dollar Arm is a hit, even if it doesn't look like my cup of tea. I do like that it features young Indian actors though. Anyway, as for Hamm's Men's Health interview… much like his previous rants against the Kardashian family, Hamm is still in rare form when discussing Justin Bieber. He also bad-mouths FX and people who talk about the Hamm Dong. Some highlights:
He's still upset that we're talking about his dong: "Would you want people walking up to you and pointing at your d**k…? I can't believe I'm still talking about this… The fact that I'm painted as this exhibitionist is a little annoying. It's become a meme (behaviour trait). Being someone who people want to photograph, you have to open yourself up to the positive and negative. It is what it is. If I get mad at it I'll look like a douchebag. But it's silly."

He thinks Justin Bieber is a s—thead: "Look at Bieber or whoever. You're like, 'What the f**k, man? What are you doing? Why?' There's no one telling those people no, and it's a shame. [He should have] a mom or a dad or a really good friend who can say, 'Hey, sh**head!' You see people in the world and you're like, 'Do you know how a washing machine works? Do you know how to wash a dish? Life skills are something we're missing… just s**t you needed to learn in life. There used to be a class that kids had to take in high school called home economics, which was cooking and sewing and just s**t you needed to learn in life."

He says there's "this weird backlash" against the upwardly mobile in America: "It's this Sarah Palin kind of conversation where they're like, 'Oh, the elites.' It's become a thing to just aspire to be a regular person. No, actually, you should desire to be better."

He hates that Mad Men's final season is being split up: "It's not up to me. I don't care. But it's funny that that's become the de rigueur way to do a last anything, whether it's Twilight or Hunger Games or Breaking Bad or whatever. You realize it has nothing to do with artistic merit. It's because of money."

He loves Breaking Bad: "Breaking Bad was on such a breakneck hurtling train ride to the end. You're like, 'What is this guy going to do?' That's never been our show. No one could describe it as breakneck or hurtling. Which is great, because that's another way to tell a story. We don't have to be like, 'Who shot J.R.?!' Did you know that Breaking Bad was originally supposed to be on FX? It was too edgy. F–king FX—which now has Sons of Anarchy and trannies and cutting off d–ks! And Louie! But, for whatever reason, they wouldn't do it. And AMC was like, 'Thank you. We'll take this.' "
Is Jon Hamm's truth-telling always welcome, or does he sound like a curmudgeon at some point? Like, I enjoy his interviews because there aren't that many people who really talk about how stupid some of these young celebrities are. But it does feel like Hamm's TRUTH act sometimes comes dangerously close to biting the hand. Think of it this way: what would we be writing if this was January Jones saying all this stuff?
As for the new season of Mad Men… I guess I'll say SPOILERS even though not much has happened. I read some stuff about Don Draper seeming particularly impotent so far, but I thought last night's episode – which took place on Valentine's Day 1969 – was actually really good. It showed Don as a man who wanted to get back to work, and who was actually thinking a lot about work. And OMG is Sally Draper a chip off the old Dick Whitman block. I guess we've always known that, haven't we? But it was pretty much said last night. Also: I would be completely fine with not seeing Megan at all for the rest of the season too. She's so useless. And even though Peggy was acting super-crazy the entire episode, I loved it. She misses Don, but she would never admit it.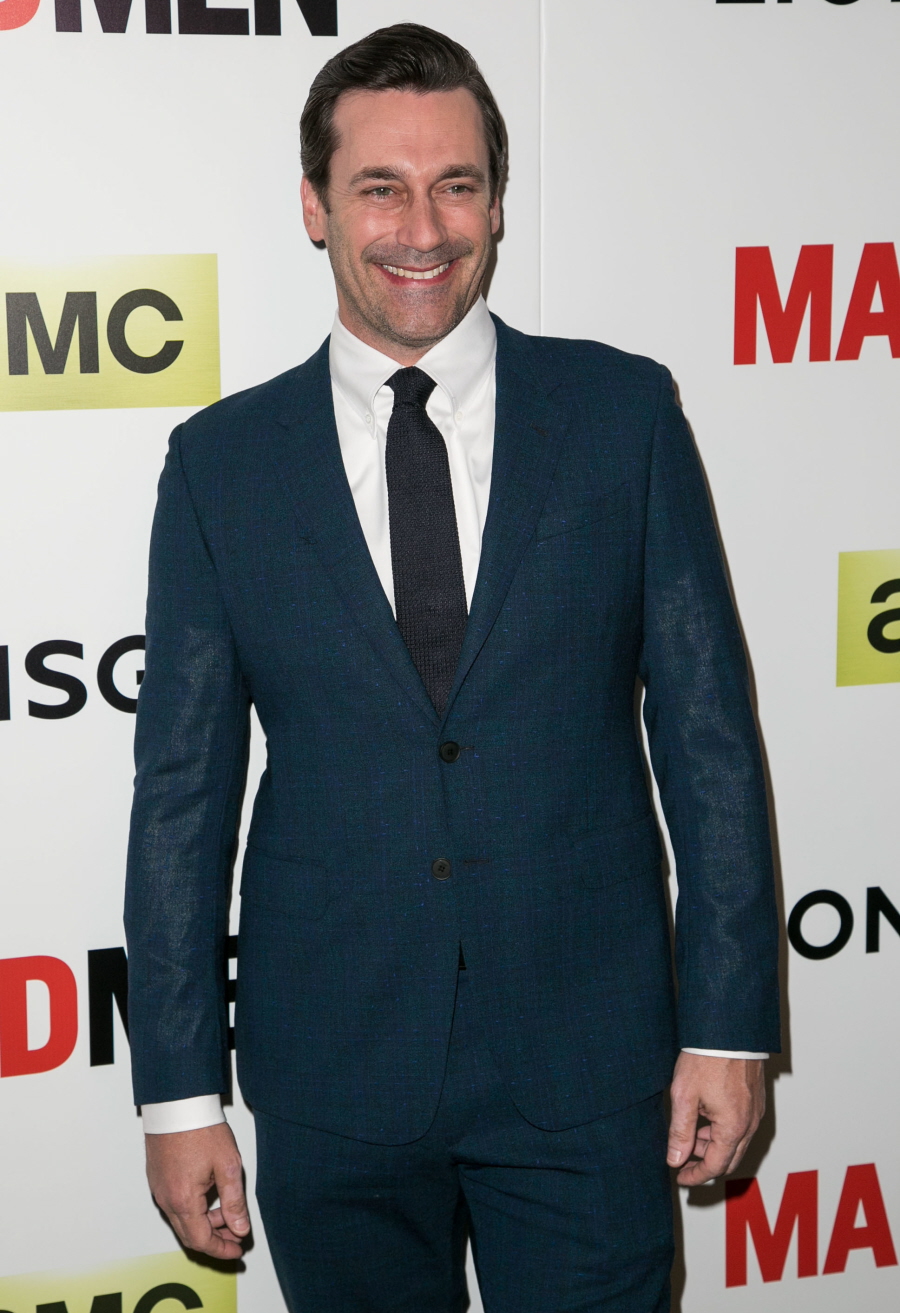 Photos courtesy of Men's Fitness, WENN.