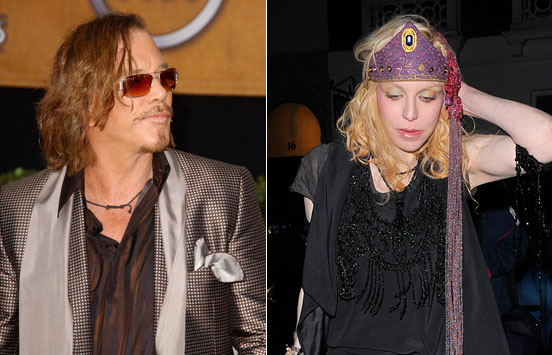 Mickey Rourke was besieged by paparazzi last night, one of whom asked him "is it true you're going out with Courtney Love?"
Rourke used an analogy that reminded me of Gerard Butler's creative answer to rumors of whether he was screwing Cameron Diaz.
Rourke said "I'd rather be on a deserted island with a gorilla." [From video available on TMZ]
Does that mean that he got a taste of the Love and found it sour or that he's so repulsed by her in general he'd rather spend time with aggressive animals? I think it's the latter and props for Rourke for coming up with a doozy. If it were any other woman I might find it offensive, but in this case it makes perfect sense.
Courtney Love is pissing off another high powered star. She is said to be on Madonna's sh*t list after she was mistaken for the pop singer several times in London and given preferential treatment. There's only so much you can do to make plastic surgery look unique:
I'm hearing Madonna is none too happy with Courtney Love for morphing herself to mirror the Material Mom's current look. Madonna was further irked when she heard Love was mistaken for her at least a half-dozen times this past week in several London clubs and one restaurant — where the maitre d' gave Love a better table, thinking she was Madonna!
[From the Chicago Sun Times]
Love has also called out Madonna, and is quoted as saying "Madonna had better stay the hell away from London when I move here to live! There's no room for us both. Buckinghamshire is where I want to go." Maybe she just doesn't want Madonna using up the perks she's cashing in based on the resemblance. Many people would rather see Love exiled to that island that Rourke mentioned, although her daughter is probably relieved at the move if she doesn't have to go with her.