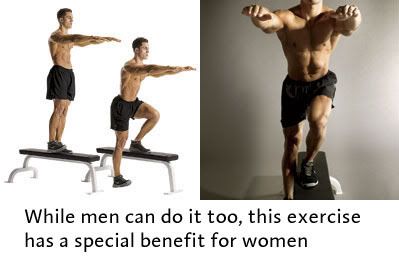 I know this isn't celebrity gossip, but Page Six carried this today and I was quite curious to learn the details of the exercise and find out if it worked. They say there's an exercise that Men's Health covered recently called the single-leg squat that has the added benefit of being arousing for women. In fact several women wrote in to say they experienced orgasms while performing it:
One of our fitness experts, Alwyn Cosgrove, described a great exercise called the single-leg squat," says Men's Health Editor in Chief Dave Zinczenko. "But since the story ran, at least half a dozen women have e-mailed us to report that they experience orgasm during the exercise," an effect attributed to pressure on the pelvic floor. "It's a core exercise, so we're calling the results 'coregasm,' " quipped Zinczenko. It doesn't work for men.
Men's Health interviews experts who claim it works through some combination of squeezing the pelvic muscles while releasing tension in the legs. To get the full effect, they say, you have to work to exhaustion and push yourself to do just a few more reps.
It took me a while to find the actual exercise on the Men's Health website, and it's pretty simple. You stand on a stool or bench that's knee high with one leg off to the side. You flex the foot that's not on the bench and squat until the heel of that foot touches the floor.
I had to try it to test it out, and although I didn't see stars or anything I can report that it works like they say. I am in decent shape, but it's a hard exercise. I used a knee-high stool and could only do about three sets of ten reps on each leg 1/2 way down and had to use the wall to balance. If you're not quite strong enough to perform the full exercise, I guess you could do it halfway like I did with the same effect, or you can train for it using a less difficult modified squat detailed in the article.
To get the most intense benefit, it seems like you have to hang your non-working leg to the side of the bench as Men's Health recommends, not to the front or back as is often done with single-leg squats.
Another exercise that's said to be arousing to women are hanging leg raises using a Roman Chair. That's the frame on which you rest your forearms while raising your legs to work your abs.
I used to do that in the gym all the time and never noticed anything going on down there. My money is on the single leg squat. I'm going to keep practicing that one at home for sure. I sometimes get that running high when I'm on the treadmill or bike, but this is much more motivating.
Update: If you have knee problems, like reader Alex, or are not used to doing weight-bearing exercises you should hold off from doing these as they are much tougher than regular squats. Try to build up your endurance gradually and take it easy at first. Also consult a doctor before beginning any new exercise program as they always say.
Pictures from Men's Health and Goddess.com.au