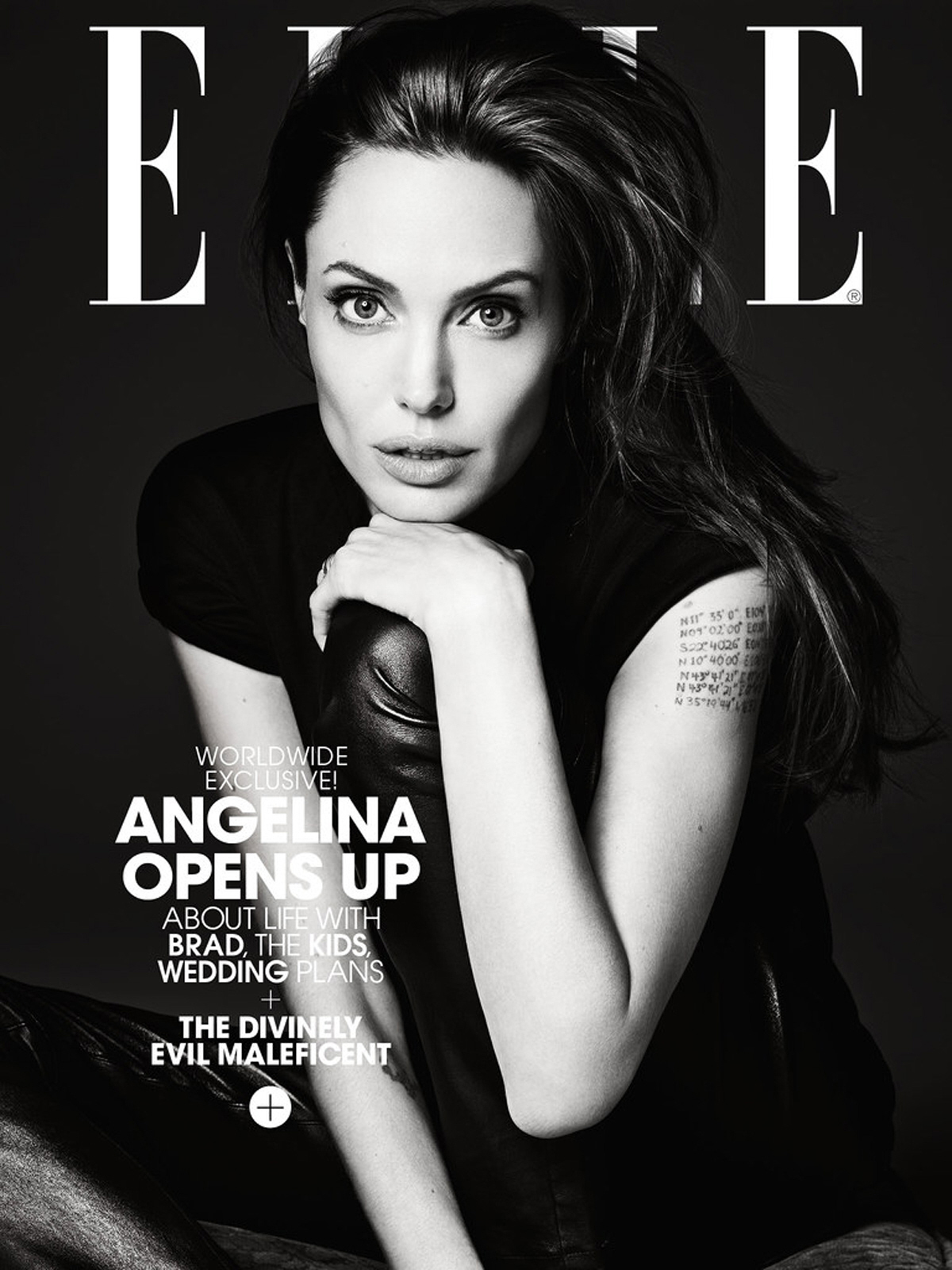 Surprise, bitch. Angelina Jolie covers the June issue of ELLE magazine. ALL OF THEM. As in, Angelina worked out a deal with ELLE to cover not just the American issue, but 20 international editions as part of her promotion for Maleficent. The editorial is called "Untamed Heart." Angelina exclusively wears Yves Saint Laurent and all of the (black & white) photos were taken by Hedi Slimane. LEATHER. YES. I'm just including a couple of pics, but you can see the full editorial here at TFS. Here's the ELLE preview:
Whether she's tackling films, family, or philanthropy, Angelina Jolie has never been one for small measures. As she prepares to terrify children worldwide as Disney's deliciously evil Maleficent (the film opens on May 30th), the actress and director works with Saint Laurent creative director Hedi Slimane on a shoot that spotlights her stripped down, very real self for ELLE's June cover—as well as a 16-page portfolio that will be featured in more than 20 editions of ELLE around the world.

Jolie spoke candidly with ELLE deputy editor Maggie Bullock about life with her fast-growing children (Shiloh's got a half-pipe!), doing only the work that really matters (including the biggest passion project of her career), and why she and Brad are still passionate and "more interested in each other" than ever. In this exclusive preview, Jolie reflects on the perception of her early years in the spotlight:

The tumult of her twenties, was "misinterpreted as [me] wanting to be rebellious," Jolie says. "And in fact it wasn't a need to be destructive or rebellious—it's that need to find a full voice, to push open the walls around you. You want to be free. And as you start to feel that you are being corralled into a certain life, you kind of push against it. It may come out very strange, it may be interpreted wrong, but you're trying to find out who you are."

What she hit upon was a deep and abiding fear "of a life half-lived," she says. "I realized that very young—that a life where you don't live to your full potential, or you don't experiment, or you're afraid, or you hesitate, or there are things you know you should do but you just don't get around to them, is a life that I'd be miserable living, and the only way to feel that I'm on the right path is just to be true to myself, whatever that may be, and that tends to come with stepping out of something that's maybe safe or traditional."

The full interview can be found exclusively in ELLE's June issue, available on the digital newsstand now, and on newsstands in select cities starting May 13, and nationwide on May 20. For more exclusive sneak peeks throughout the month follow @ELLEmagazine on Twitter and @elleusa on Instagram.
What I find annoying is that people are still bringing up Angelina's early 20s like she was some kind of Lindsay Lohan or Charlie Sheen, like she was famously some kind of "disaster." She wasn't. She was wild, for sure. There were drugs involved, especially in the late 1990s. She ran off and married Billy Bob, true. But I maintain: she was no Lohan or Sheen. It was a phase that she grew out of, and people still bring it up in interview after interview. Annoying.
Also – Angelina issued a statement about the young Nigerian girls who was kidnapped by Boko Haram. Angie said in part: "The kidnapping of these young Nigerian girls is an unthinkable cruelty. Sadly, of course, there is real evil in the world. You watch the news and you see all of the people suffering and so much cruelty."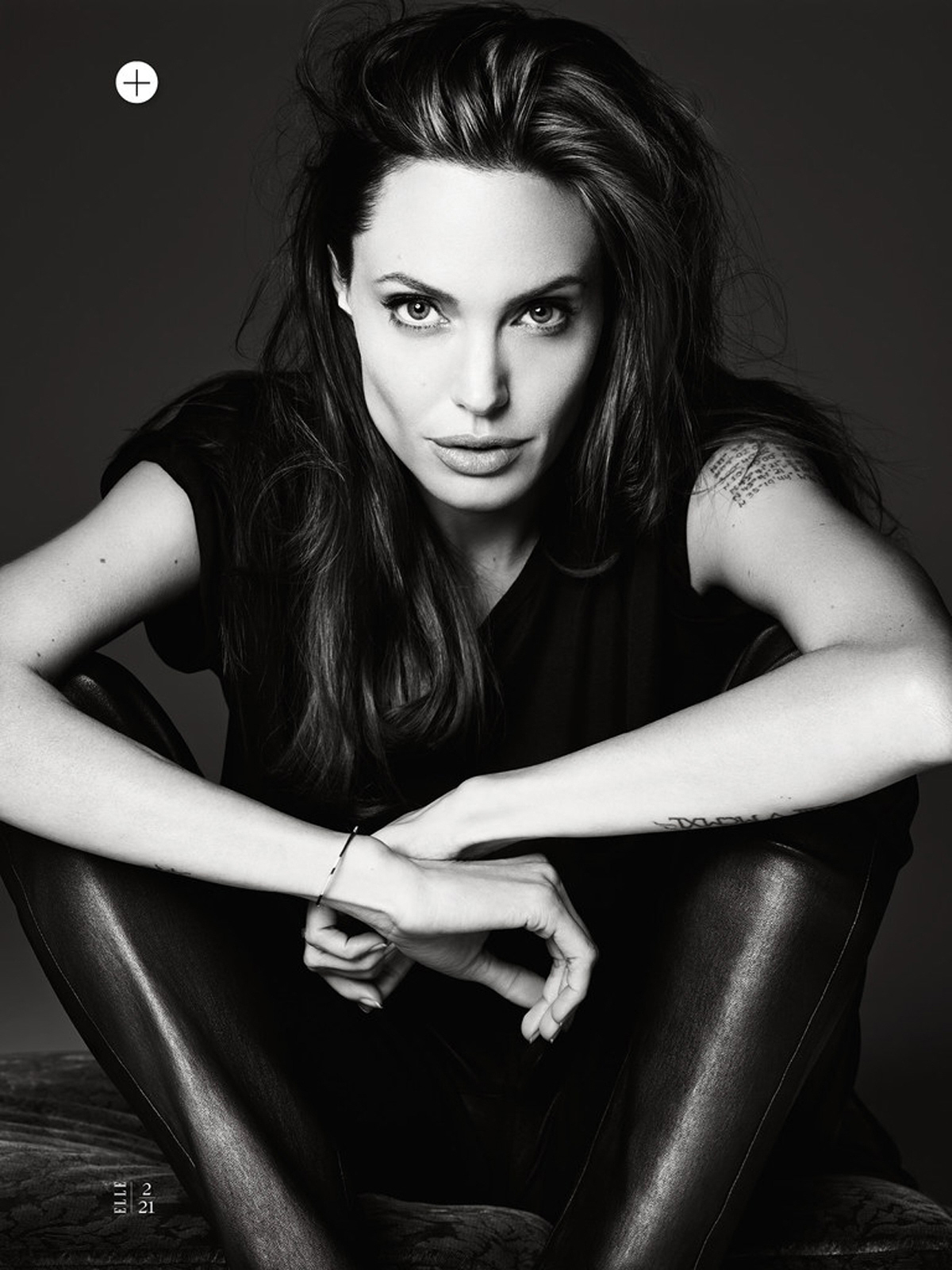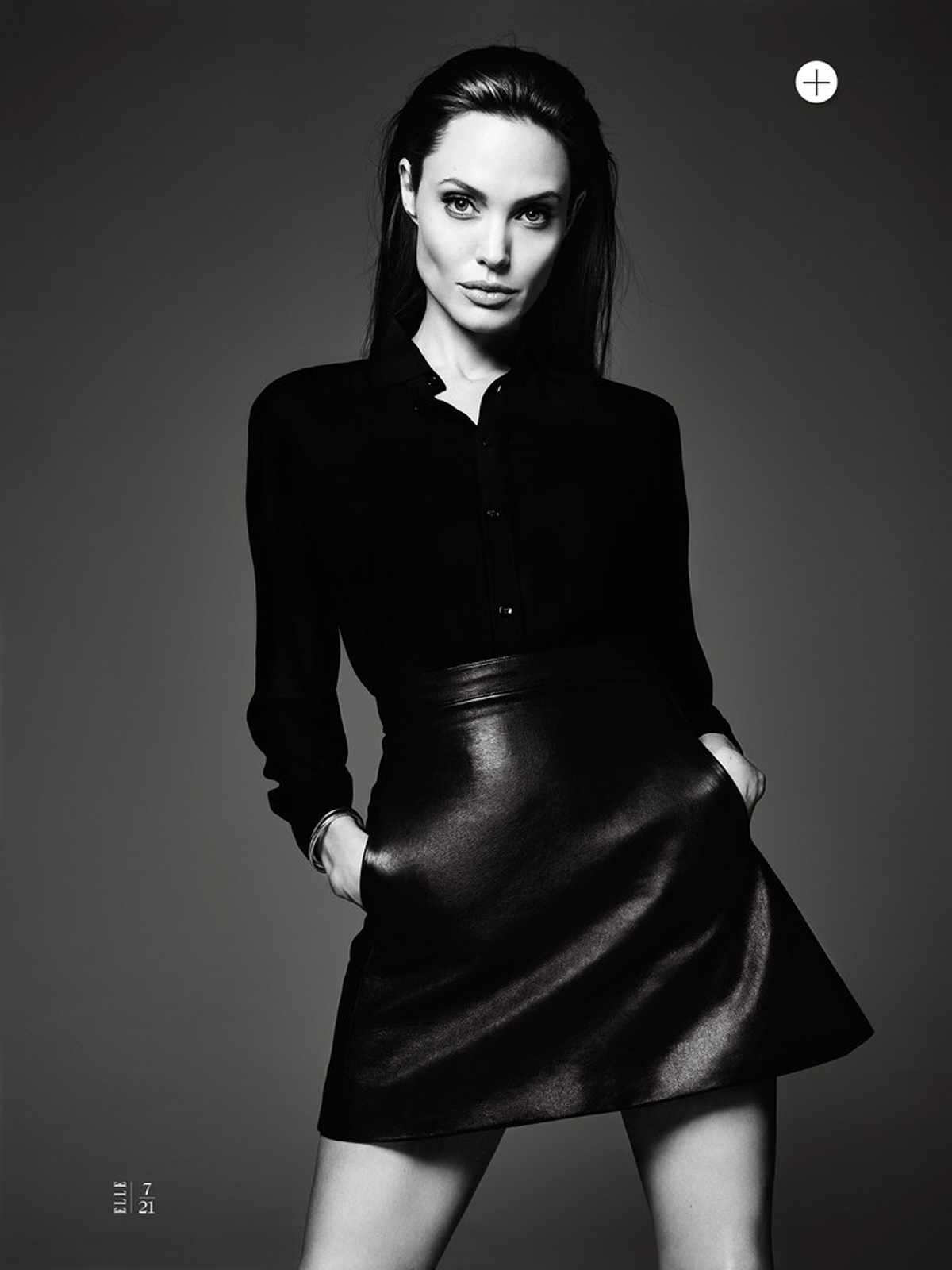 Photos courtesy of Hedi Slimane/ELLE.