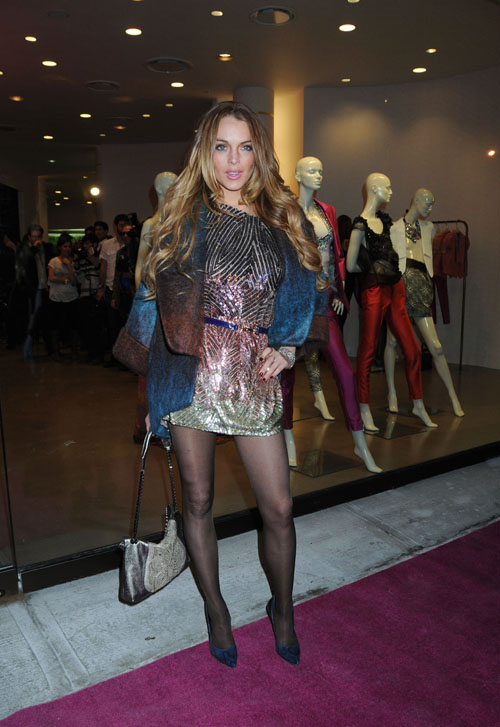 Lindsay Lohan, who has been looking scary skinny recently (and that's with the ten pounds the camera adds!) told a reporter that her weight loss was unintentional. She does admit that she has dropped some pounds, but claims that she has never stepped on a scale and doesn't know how much she weighs. Then she goes on a tangent about being yourself in Hollywood and the ups and downs of young adulthood.
"I eat. I had my Big Mac yesterday from McDonald's," she told Us Sunday at the Matthew Williamson NYC store opening. "I eat just as much as I always have."

The 22-year-old actress (who has raised eyebrows before for her skinny frame) said she thinks she has just been "working a lot." She said she also blames "stress … and lack of sleep when I travel."

Said the star, "I think it's all that stuff that adds up."

Lohan – who said she doesn't know how much weight she has lost ("I've never weighed myself in life," she said) – added that she doesn't think about the pressure to be thin in Hollywood anymore.

"They've already said everything about me that they can say. And I've never really cared then," she said. "I'm my own person, and people can say whatever they want. I'm still going to be the person that I am.

"And I think that's so important for people in Hollywood," she continued. "People have their ups and downs. Kids in college get DUIs. Everyone goes through something, and everyone can relate to something. I think that I don't ever want to pretend to be something that I'm not. I'm not perfect; nobody is perfect. If you try to be perfect, you'll probably go crazy. But you should always accept yourself for who you are. And that's what I've done, and I'm happy."
[from Us]
Right. I understand that people go through dark or tough times in their life, and that young adulthood is hard, that she has gone through all of this in the public eye. But sometimes I get really tired of her mouthing off about accepting who she is while she's in a clearly unhappy relationship, has fallen off the rehab bandwagon, and is starting to look like a skeleton. That's not acceptance; that's denial. Eating a Big Mac isn't going to make you gain back your weight, it's just unhealthy. And the only thing she could be stressed about at this point is her relationship. She's not been working recently.
Oh – and she also claims that her Valentine's weekend was "great" because she "spent it with the person that I love." I don't know if I would call drunken late-night fights "great," but whatever. It's Lindsay.
Lindsay Lohan is shown on 2/15/09. Credit: WENN