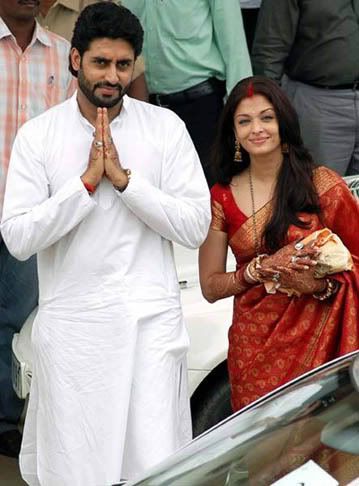 Sorry guys, international bollywood superstar Aishwarya Rai is officially off the market. In a spectacular wedding ceremony dubbed as the "wedding of the century", Aishwarya Rai finally tied the knot with her on-screen (and off-screen) love, Abhishek Bachchan in Mumbai, India.
The traditional festivities had kicked off on Friday with a private marriage ceremony at the Bachan family home, where hundreds of well-wishers cheered the 31-year-old groom as he emerged astride a white stallion, his face covered by a veil of white flowers.

This was followed the next day by the bidai, a ceremony in which the bride bids farewell to her parental home. With all the excitement of their big day over, the newlyweds have apparently jetted off to Venice for a month-long honeymoon.
The wedding was guarded more closely than the Hurley-Nayar wedding. No photographers, nor anyone from the media, were allowed to go inside the Bachchan family's private bungalow, where the actual wedding reception took place. However, thanks to media savvy wedding guests, someone who actually attended the wedding took some photos and sent them to Rediff.com, where they are posted for all to see. Aishwarya and Abhishek look rather tense in those photos, but I guess I would be too if I had thousands of people staring at me.
The first four photos below are from Hello Magazine, and show Aishwarya and Abhishek in a slightly more pleasant mood. The rest are from Rediff.com.