Mila Kunis covers the new issue of Marie Claire. She's promoting her new film, Third Person, but in the interview, she talks mostly about being pregnant, falling in love with Ashton Kutcher and what she wants for her kids. It's actually a great piece full of interesting quotes – you can read some excerpts here. It just reminds me that Mila is actually a really cool girl and I have no idea what she's doing with Ashton. At all. Some highlights:
She loves her new pregnancy boobs: "They're amazing! They've tripled in size. I was a 34A; now I'm a 36C. I'm so excited! I'm telling everyone I know, 'Go ahead, touch them!' Without being an a–hole, I have to say, I love being pregnant."

On what she never wants to do: "I'll never have a clothing line. I promise you, that will never happen."

On her future children: "I just don't want my kids to be a–holes. I feel like so many kids nowadays are. Both of us just want to have well-behaved, honest, nice children who people meet and say, 'That's a good kid.'

On giving birth: "Two people are allowed in my delivery room. My doctor and my significant other. And he is staying above the action. He'll be head to head. Not head to vag. Unless he wants to risk his life and see. But I wouldn't if I were him. I highly doubt he wants to see that being ripped apart and shredded. Because it will be shredded. It's just a matter of how badly."

On her friend-turned-fiancé Ashton Kutcher: "One day, it just changed. All of a sudden, it wasn't the same. And I was really proud of myself for acknowledging that. The best day of my life so far was the proposal. I cried. I was a mess. Not to discredit any relationships in my past, but this relationship is different."
There's a lot to unpack, right? She gives good interview. First of all, she was totally shading all of the B and C-list actresses with their "side projects" and fashion lines. And it was brilliant shade. Secondly, I think she's genuinely thrilled with her pregnancy boobs. It's cute! And I'm totally with her about asking Ashton to stay by the head. I know that's anti-New Age, birth-is-natural, let's have the father "catch the baby" whatever. Nope. Some women (and I suspect many men) don't want that. I love this realism: "Because it will be shredded. It's just a matter of how badly." *shudder* Just another reason why I never want to be pregnant.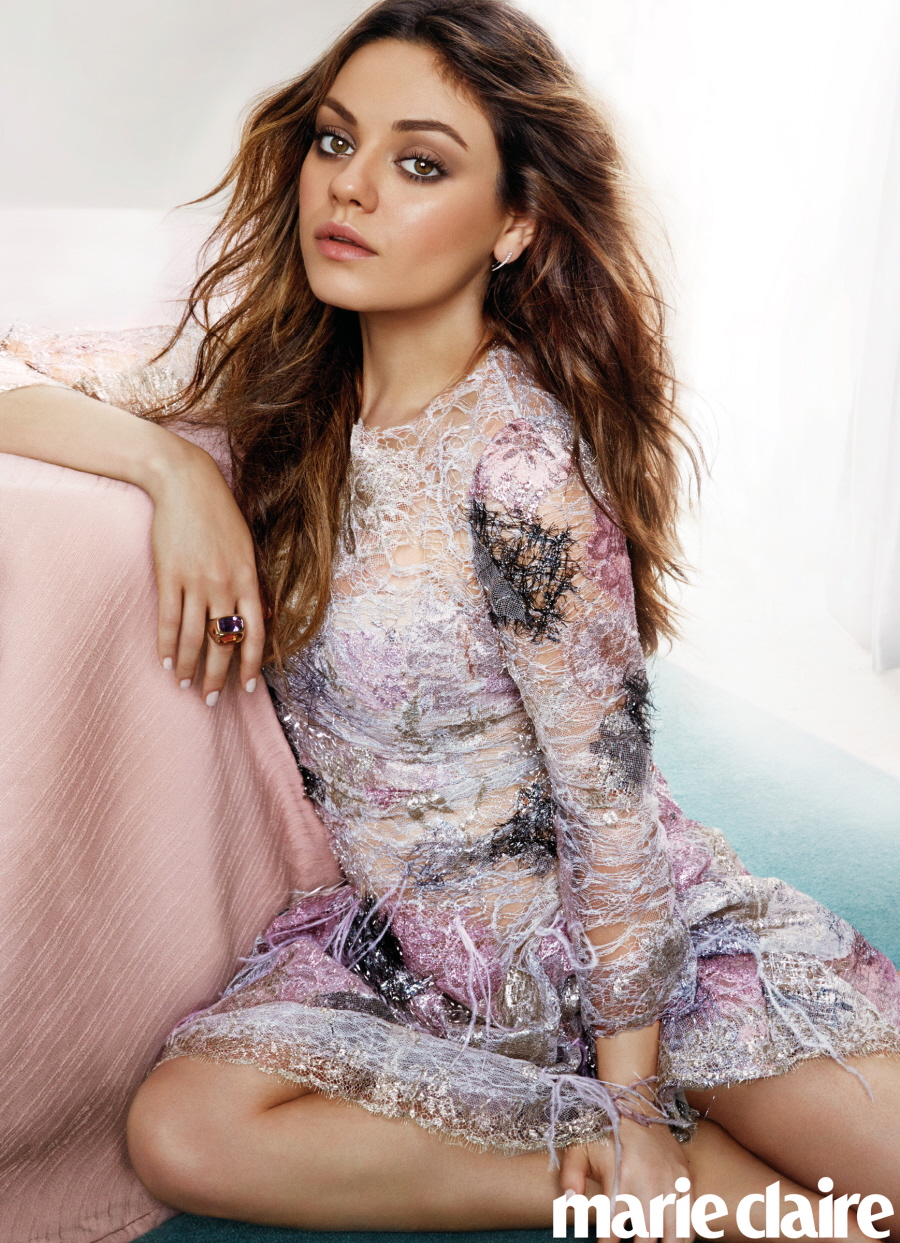 Photos courtesy of Tesh/Marie Claire.