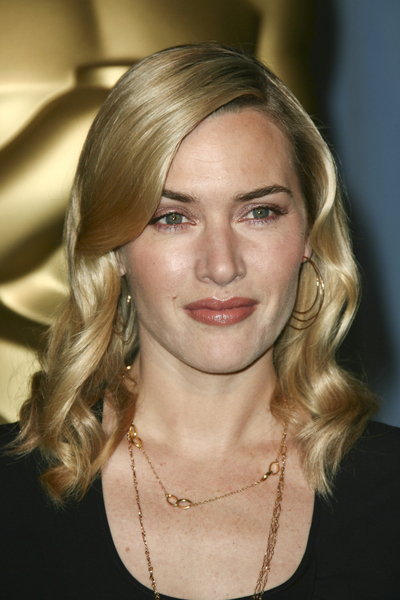 Kate Winslet, up for Best Actress for her role in The Reader, was asked by People about her preparation plans for Oscar night. Her answer in a nutshell: none. She doesn't have an acceptance speech prepared (though statisticians have predicted that she has an advantage over Meryl Streep), and in true Kate Winslet fashion, she doesn't have any special diets or exercise planned before the big night. She is, however, very excited about getting "girlie," and will be relieved when she is able to get off the red carpet to find the restroom.
Do you have an acceptance speech prepared?
I don't at all. I'm just not thinking that far ahead. I just feel so happy to have had this nomination, that it's for a film that was so challenging.

Any dresses in mind?
It's such fun to work out what you're going to wear. You become incredibly girlie. In England we don't have the tradition of prom or anything like that. The closest we came was a tragic school disco where the lights would break and the music was awful. In the last few years – maybe it's age – I feel very settled within myself. I don't feel the red-carpet pressure. I don't know what I'm going to be wearing yet. Hopefully it will be wonderful and relaxed.

Any crazy diets or detoxes?
N.O. [I] absolutely do not. I'm very sort of relaxed and vocal about these things. I have not done a stitch of exercise since October. I literally have not had the time. And I'm just going to eat normally, I'm not going to make cuts. If I'm keeping it together it's by a wing and a prayer. I just want to enjoy this."

What are looking forward to the most?
One of the great 'Okay, you can breathe now moments' is when you've gotten through the red carpet. 'Oh god, what if I trip over, what if I say something stupid, I wonder if they can see the big zit on my chin?' The relief moment is that moment when you get in the doors and there aren't any cameras and you go, 'Wheew! Where's the bathroom?' "
[from People]
It's kind of cute how she words her answer to the "diets or detox" question with a "haven't we been over this?" response. Every actress is asked a similar question around the awards season, and inevitably it's "lots of water and no carbs," which personally wold make me cranky by the time awards night rolled around. And then there are the actresses who claim they don't work out, but their biceps and abs would claim otherwise. Kate on the other hand has always been refreshingly real about her body, and I believe that she's just been living her life and looking gorgeous naturally. I look forward to seeing her on the red carpet and seeing what she chooses to wear. It's her time to shine, whether she wins the Oscar or not.
Kate Winslet is shown at the Oscar Nominees luncheon on 2/2/09. Credit: PRPhotos