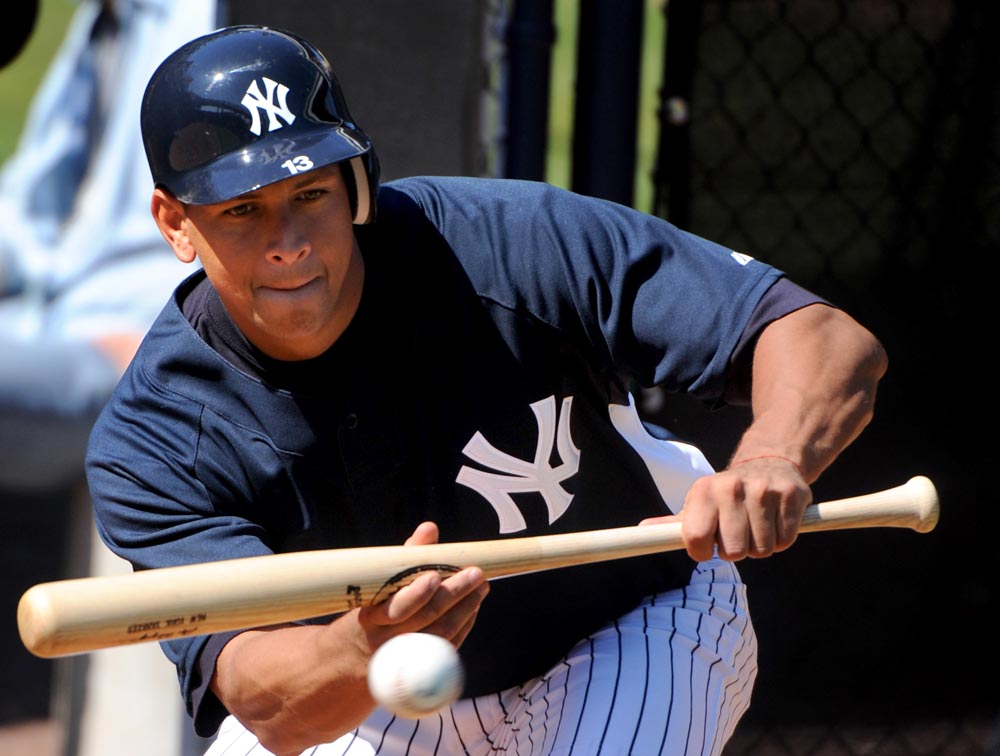 What is about Madonna and the Madge Vadge Motel? It's like the Hotel California – "You can check out any time you like, but you can never leave…" (Off-topic: I love Don Henley). After giving one of the most awkward press conferences in sports history, Alex "I have to take my medicine" Rodriguez is allegedly still obsessed with Madonna. Seriously?
OK! is reporting that A-Rod is trying to make Madonna jealous by stepping out with his own 22-year-old model. Her names is Melissa Britos, and all I can say is that the girl must be a moron. I don't care if she's 22 and naive or whatever, but you're going to hook up with a guy who left his wife for Madonna, then got dumped by Madonna for a 22-year-old Brazilian named Jesus? It sounds like a friggin' telenovela. Actually, I bet if this situation was pitched at a writers' meeting for a telenovela, it would be deemed too unrealistic. OK! has more:
Is Alex Rodriguez trying to make Madonna jealous?

While the pop superstar has been snapped on dates 22-year-old model Jesus Luz, the Yankees slugger made sure he was seen squiring his own 22-year-own model, Melissa Britos, around Miami, Fla., over Valentine's Day weekend.

From canoodling over dinner at The Delano Hotel's Plat Bleu on Feb. 11 — where an eyewitness tells OK!, "They were holding hands and seemed into each other" — to a Feb.13 feast at the Fontainebleau Hotel's Scarpetta, A-Rod, 33, and Adrian Grenier's ex made sure they were snapped wherever they went.

And, a pal of Melissa's tells OK!, "He's wearing Kabbalah bracelets as a message to Madonna."

Too late, A-Rod: Madge's new boy toy Jesus seems to have converted to Kabbalah, too!

You'll have to take another swing at this one.
From OK! Magazine
Haha, "He's wearing Kabbalah bracelets as a message to Madonna." And what message would that be again? "I want to pay $50 for water" or "Will work for red string." Why do I believe this stuff? Because I really think that A-Rod is that stupid, probably.
My earlier reference to A-Rod saying he needs to "take my medicine" is from his news conference a few days ago. Normally, I don't really care about sports or the doping scandals, but that news conference even offended me, a sports ambivalent. MSNBC had good coverage of the press conference, it's an interesting read.
A-Rod is shown at a press conference in Tampa on 2/17/09 and at Spring training on 2/18/09. Credit: UPI/Newscom