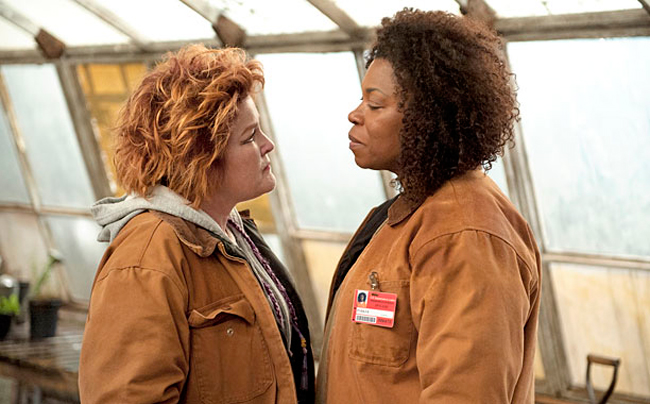 Have you been watching Netflix's Orange is the New Black? A lot of people binge watched the second season because it's such a good show with fascinating female characters. I'm both jubilant and bummed after finishing the season two finale. I'm sad that it's over, but this episode was probably the most satisfying season finale that I've ever watched. This finale didn't leave any huge cliffhangers, but there was one subtle, dangling loose end with Nicky Nichols and her beloved heroin. We'll see how that mess turns out next season, but this show just might make me love television again.
SPOILERS follow.
The second season was all about the shifting of power dynamics at both the staff and inmate levels at Litchfield prison. Of lesser importance during the last few episodes was the ousting of asst warden Natalie Figeroa and the insertion of Joe Caputo, a lesser evil. Piper set that transition in motion, and it was a joy to watch Fig's downfall. Her marriage is a sham, and she lost her cushy job after pouring her heart out ("Heeee used to love me") to Caputo. Then Fig tried to "convince" Caputo (with a beej) into not reporting her embezzlement, but he'd already tipped off the warden. See ya, Fig.
Caputo quickly learns that running a women's prison isn't as easy as Fig's Louboutins made it look. After a stabbing and a schlocking in quick succession, Caputo must fend with not only the SIS but a gaggle of nuns (as opposed to a murder of crows, ha) who show up to support Sister Ingalls' hunger strike. Caputo orders O'Neill and his banjolele to entertain and babysit the not-amused nuns. This weirdness frames the rest of the episode as the inmates deal with the biggest problem of all, Vee.
Other stuff happens too. Larry and Polly arrive in their newly coupled-up state and ask for Piper's "blessing." Piper makes sure that Alex will come back to Litchfield next season. Bennett and Daya are still whining at each other. Pennsatucky remains a lunatic, and now she has a bad haircut. But this episode is mostly about the swift downfall of evil incarnate.
Over the course of the season, we've seen how Vee manipulated Crazy Eyes (and everyone else) into doing her bidding. (Side note: I dislike how they changed Crazy Eyes this season into "the muscle." She should remain the court jester.) It soon becomes apparent that Crazy Eyes will take the blame for schlocking Red. Red's girls aren't about to accept that particular injustice. Nichols and Morello issue a warning. Norma and Gloria whip up a magical kitchen concoction. Counselor Healy (who's been steadily redeeming himself all season) does his part as Vee's two remaining girls decide to tell the truth. And Nichols steals Vee's heroin supply, which may not turn out so well next season. Ugh.
In the end, all of these things help brings bring down Vee, but it all comes down to Rosa, who has concluded, "That Vee, she's a very rude person." Rosa only has a few weeks left to live, and Morello feels terrible. What happens next is excellent. The effect was sheer comedy when the nuns dove out of the way as Rosa busts out of the grounds. Then Rosa took care of everyone's biggest problem in a moment of glory. I hooted, I hollered, and I scared my dogs. It was a swiftly poetic end to the season, and … it will only be another year until the next episode. I'll miss Rosa, but she went out well.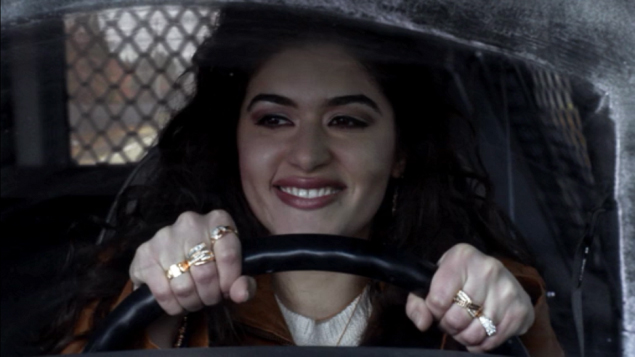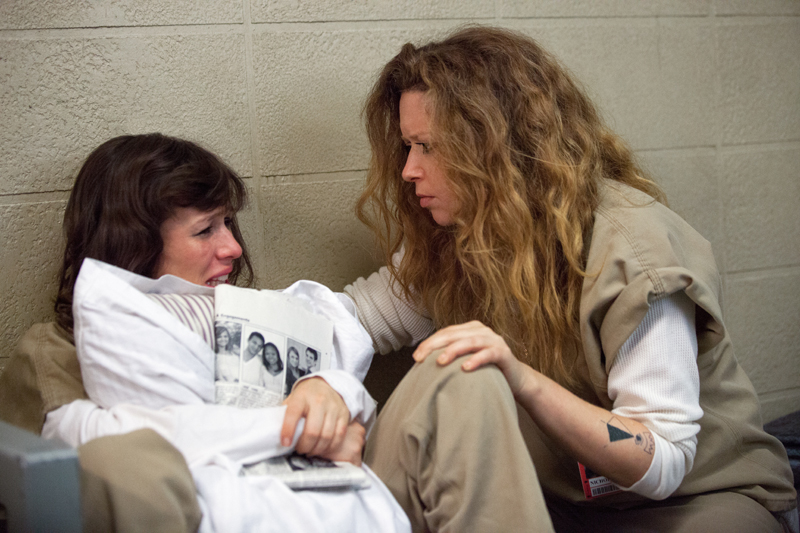 Screencaps & stills courtesy of Netflix